As I entered the reception for the opening evening of the 5th National Worker Cooperative Conference (as compared to consumer cooperatives which most of us are more familiar with) I experienced a kind of euphoria.
After all, we had just finished the keynote speech by Congressman Chaka Fattah, a nine-term progressive leader from Pennsylvania, who introduced The National Cooperative Development Act into Congress. When passed, the bill will considerably improve government support for developing a cooperative economy here in the States and bring us more in line with Europe. Moreover, the Small Business Administration had just agreed to provide some funding for cooperatives and –wait for it — the UN had declared this the UN Year of the Coop! We had arrived! No longer were we a little side note of Utopian idealist organic food coops — we had gone mainstream!
The creation of a society based on democratic, grassroots cooperatives as an antidote to capitalism has been a dream many of us have worked toward. The cooperative movement began with the 1844 Rochdale cooperative experiment in England (http://en.wikipedia.org/wiki/Rochdale_Society_of_Equitable_Pioneers), continued through the anarcho-syndicalist cooperative movement beginning in the 1880s (frequently associated with Emma Goldman and the IWW), was energized by the farmer's populist rebellion in the 1930s in the United States, and in recent years the Mondragon model formed in Spain in the 50s (100,000 workers and 12 billion in assets) and the industrias recuparadas in Argentina in the 1990s. But for the first time– perhaps more through objective necessity as we globalize and shift from an industrial economy to a digital economy–it seems to be a vision whose time has come and is actually within our grasp.
So I was prepared to enjoy the kind of movement simpatico and joie de vivre that revitalizes all us activists when we get away for the weekend with like minded souls when we are in a period of radicalization– and, to manage, of course, to gather new information and contacts to bring back to the struggle.
After Rep. Fattah's presentation — which he finished by noting that both he and his wife were active supporters of REI (Recreational Equipment Incorporated which is a world famous consumer cooperative geared to hikers, runners, and other outdoor types) — I sat down with a plate full of delicious organic and vegetarian food. Next to me sat an enthusiastic young blonde who just happened to be the treasurer of the finances at the Occupy Wall Street site. She was discussing an educational cooperative venture that she and her boyfriend were planning to establish on their farm in New Hampshire. They would bring inner city kids out for an educational experience combined with a practicum in farming to help counteract the decaying educational system in New York City. How wonderful I thought.
But be careful what you wish for. It was just at that point that the discussion started to get tricky. The first group of kids for their cooperative project, it turns out, were going to be from a charter school in New York City. The school was given $250,000 by Walmart. When I and another community organizer sitting next to me seemed taken aback that they would partner with the charter schools and Walmart, the woman acknowledged the problem but noted that they would not be in any way beholden to Walmart and they hadn't been able to find any other way of funding the project.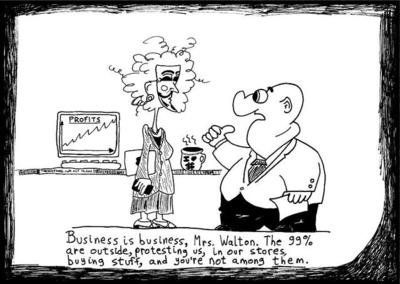 Forget the fact that one of Walmart's primary goals is to privatize education while still ripping off public resources (private charter schools, which have no accountability or oversight, are frequently housed in public school buildings at public cost, leaving less room and resources for the "less fortunate" who did not get into a "charter" school). Forget that this mirrors Walmart's modus operandi in their stores where Walmart bad mouths unions as it accumulates its billions, yet pays it's employees so little that the employees must apply for Medicaid and Food Stamps to survive (government programs which Walmart also bad mouths).