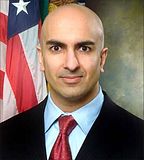 Today, Treasury Secretary Henry Paulson appointed Neel Kashkari to oversee the $700 billion bailout of the nation's financial crisis. That's right Kashkari is now the interim Assistant Secretary of the Treasury for Financial Stability.
Who?
Neel Kashkari, a former banker at Paulson's old company, Goldman Sachs, who earned his M.B.A. from the Wharton School at the University of Pennsylvania in 2002.
Paulson's move certainly inspires the confidence a panicky financial community needs right now, doesn't it?
The "Deal Journal" blog at The Wall Street Journal has some background on Kashkari. The post notes, Paulson's "move essentially puts a new title on what Kashkari he has been doing since he joined Treasury in 2006-examining the consequences of an economic housing fallout."
So, after two years of watching the collapse, he's in charge of fixing it?
Come on! Kashkari has only six years of financial experience!