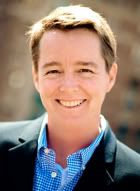 Mel Wymore is running for the District 6 City Council seat for 2013 in New York City. District 6 is also known as Upper Clinton, Lincoln Square, and the Upper West Side. Now I don't live in NYC…or even in the state of New York, but rather across the Hudson in north Jersey, though we often travel to or through those neighborhoods to visit places like the American Museum of Natural History (we were there yesterday as a matter of fact).
Democratic Councilwoman Gale Brewer is retiring and Mel wants to succeed her.
He's well qualified, having served on Community Board 7 for over a decade. Mel ran for Chair of CB7 in the 90s and lost, but didn't give up, running for Chair again in 2009 and winning.
Mel has lived in the neighborhood for 24 years, moving to The City from Arizona at the age of 26.
I have gone through three lives of my own since I've been here. I came here, got married, and had two children. We lived as a nuclear family on the Upper West Side. Then we divorced, and I came out as a lesbian. Then I realized, 'transgender,' and I'm now in a different stage of life.
If elected, Mel would become the first known transgender person elected to public office in New York.
Look, I'm the qualified candidate here, but I happen to be transgender. I do realize, however, that I'm an exemplar of a certain kind of difference that's in a very small minority, so recognizing that, I have a particular responsibility and a voice to speak about difference and inclusion.