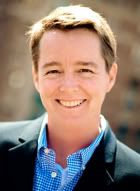 Mel Wymore is running for the District 6 City Council seat for 2013 in New York City. District 6 is also known as Upper Clinton, Lincoln Square, and the Upper West Side. Now I don't live in NYC…or even in the state of New York, but rather across the Hudson in north Jersey, though we often travel to or through those neighborhoods to visit places like the American Museum of Natural History (we were there yesterday as a matter of fact).
Democratic Councilwoman Gale Brewer is retiring and Mel wants to succeed her.
He's well qualified, having served on Community Board 7 for over a decade. Mel ran for Chair of CB7 in the 90s and lost, but didn't give up, running for Chair again in 2009 and winning.
Mel has lived in the neighborhood for 24 years, moving to The City from Arizona at the age of 26.
I have gone through three lives of my own since I've been here. I came here, got married, and had two children. We lived as a nuclear family on the Upper West Side. Then we divorced, and I came out as a lesbian. Then I realized, 'transgender,' and I'm now in a different stage of life.
If elected, Mel would become the first known transgender person elected to public office in New York.
Look, I'm the qualified candidate here, but I happen to be transgender. I do realize, however, that I'm an exemplar of a certain kind of difference that's in a very small minority, so recognizing that, I have a particular responsibility and a voice to speak about difference and inclusion.
Mel's father was A. Wayne Wymore, founder and first Chairman of the Systems and Industrial Engineering Department at the University of Arizona (the first such department in the world) and one of the first fellows of the International Council on Systems Engineering (INCOSE). He died in February of 2011. Mel's mother was Muriel (Myke) Wymore, who died in November of 2008. Mel studied Communications, Mathematics and Systems Engineering at the University of Arizona and is the founder and president of Iota Consulting, Inc., which does computer-related consulting and system design.
I so wanted to be a boy when I was a little kid-so desperately wanted to be a boy, and then when puberty rolled around, I kind of buried it. I think between hormones and peer pressure and cultural expectations, I just kind of said, 'O.K., I've got to kind of get with the program and be female.'
Politicker NY has done two recent articles on Mel, both by Hunter Walker, here and here
Columbia Spectator profiled Mel in November, 2009…after Mel assumed the position of Chair of CB7…and came out.
The Aha-moment for Mel came while attending a class on gender at his children's Ethical Culture Fieldston School. The class was presented by the YES Institute.
Before the realization of being transgender, some people explain that experience as going through life in a gorilla suit and that's actually very poignant. It works as an analogy for me. For me, it was like a bird out of a cage-just complete freedom and joy around having finally, after all those years, discovered kind of what that gorilla suit really was made of and being able to just rip it off.
Mel is on Facebook, as is his campaign.
Sometimes I feel very feminine, sometimes I feel very masculine. I more often feel masculine than feminine, so I kind of identify as transgender.

I have chosen to select the 'M' on the passport application because there isn't a 'T' available and because I think the 'M' is more consistent with how I want to be read, but also more of an opportunity for education.
You can contribute or volunteer to or for the campaign.
The first day she moved into her apartment on 70th Street, a man living in a single-room occupancy across the street jumped to his death from the fifth floor.

Most of her new neighbors said that they knew nothing about it. She and a few others went to the building, surveyed tenants, and discovered that there were many mentally ill residents lacking proper nursing and psychiatric care.

Though she had only been on the block for a week, she confronted a pattern of local neglect and worked to eventually develop a food program and nursing program for the building. "We organized the block and raised a little money," she said.

This is one of the less obvious, but most important roles of CB7, she noted. "We are the conduit for grassroots organizations, and that is one of the biggest reasons for community boards to exist."
You can also follow Mel at Twitter.
Mel on In the Gayborhood: