Cross posted from The Stars Hollow Gazette
Over the weekend the discussion about bills pending in Congress that would change the Internet has started to get some attention. Opposition to Stop Internet Piracy Act, House version and the Senate's version, Protect the Internet Privacy Act came from the White House in a statement expressing concerns that the bills would stifle innovation and infringe on free speech and lead to "online censorship of lawful activity." While the White House statement did not say Pres. Obama would veto it, it was a clear condemnation of the flaws critics have pointed to in the bill.
One of the most controversial portions of the House bill that would require Internet service providers to block infringing websites was removed completely by House Judiciary Chairman Lamar Smith (R-TX). Rep. Darrel Issa (R-CA) secured a promise from Majority Leader Eric Cantor (R-VA) that the House will not vote unless there is consensus on the bill. A Reddit campaign managed to persuade Rep. Paul Ryan (R-WI) to oppose the bill, for instance.
On the Senate side, PIPA had up unit now blocked by a lone senator, Ron Wyden (D-OR. He has now been joined by Sen. Ben Cardin (D-MD)and Mark Udall (D-CO). Similarly, six Republican Senators, including two co-sponsors — Senators Orrin Hatch (R-UT), Chuck Grassley (R-IA) (the two co-sponsors) along with John Cornyn (R-TX), Jeff Sessions (R-AL), Mike Lee (R-UT) and Tom Coburn (R-OK) — have asked Aenate Majority Leader Harry Reid (D_NV)not to bring the cloture vote he's promised to bring on the 24th. Sen. Pat Leahy, a key sponsor of the Protect IP Act, has conceded that more study is needed for the provisions that would allow rogue sites to be delisted from the Domain Name Service (basically the Internet's phone directory). Critics have warned that mucking with DNS could splinter the architecture of the Internet.
On Wednesday beginning at midnight, several major web sites will go dark for 24 hours. Websites Wikpedia, Reddit, Craig's List and ICanHasCheezburger.com are among the larger sites that will participate. The document-sharing site Scribd, for instance, made a billion pages vanish to protest the bill. Wikipedia users can view proposed designs for "blackout pages," which may appear in place of normal Wikipedia entries during the protest on January 18.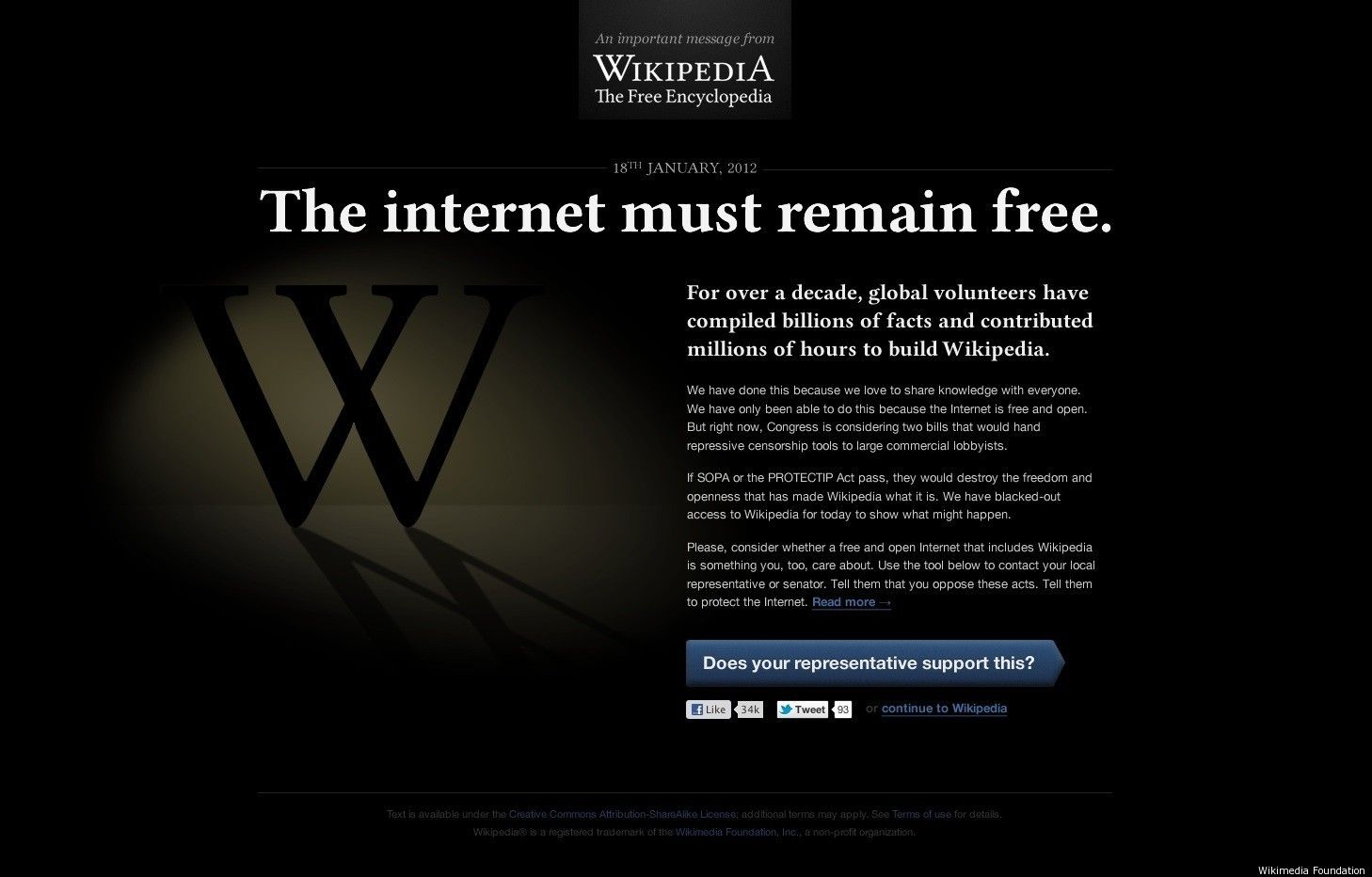 click on image to enlarge.
In New York City, New York Tech Meetup, a 20,000 member community of people working in the New York Tech Industry are protesting the pending legislation in from of the offices of Senators Charles Schumer and Kirsten Gillibrand who are still supporting the bill and urging Sen. Reid to bring the bill to the floor for cloture. One of the largest areas of job growth in NYC has been in the tech industries. New York Tech believes that SOPA, besides threatening freedom of speech, will kill those jobs.
You can physically join the NYC Protest at this site:


Emergency NY Tech Meetup.

When: Wednesday January 18, 2012

Time 12:30-2:00PM

Where: 780 Third Ave (at 49th street) – outside the offices of New York Senators Charles Schumer and Kirsten Gillibrand