– Another in the series of where's the money coming from to keep marijuana possession a felony because it's good for getting cash from the Federal Homeland Security Paranoia State. –
The "Placer County Deputy Sheriff's Association PAC," based in Loomis, CA, has donated $1000 on Sept 2nd to the Public Safety First No On Prop 19 Committee, the unfortunate love child creation of "Democratic" Senator Dianne Feinstein and Los Angeles County Sheriff Lee Baca.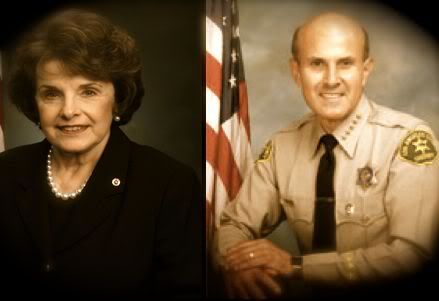 The Happy Prohibitionist Couple- CA Sen. Feinstein and LA County Sheriff Baca.
People Who Don't Quite Get That Really Simple Econ Idea That Flooding the Market With An Easily to Produce, Legal Commodity Drops the Price and Removes the Crime Incentive.