(9AM EST – promoted by Nightprowlkitty)
– Another in the series of where's the money coming from to keep marijuana possession a felony because it's good for getting cash from the Federal Homeland Security Paranoia State. –
The "Placer County Deputy Sheriff's Association PAC," based in Loomis, CA, has donated $1000 on Sept 2nd to the Public Safety First No On Prop 19 Committee, the unfortunate love child creation of "Democratic" Senator Dianne Feinstein and Los Angeles County Sheriff Lee Baca.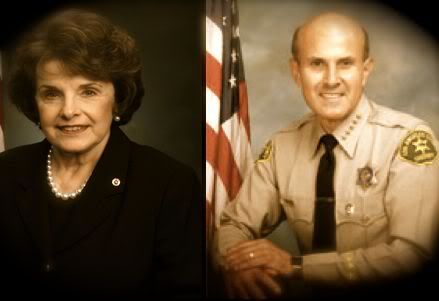 The Happy Prohibitionist Couple- CA Sen. Feinstein and LA County Sheriff Baca.
People Who Don't Quite Get That Really Simple Econ Idea That Flooding the Market With An Easily to Produce, Legal Commodity Drops the Price and Removes the Crime Incentive.
Back on Jan 20, 2000, the Sacramento News & Review of CA did an article on how the Placer County Sheriff's Dept. was embroiled in lawsuits, accused by angry and innocent gardeners and legitimate med. marijuana patients of writing search warrants with fake information.
"Search Unwarranted, did Placer County cops lie under oath to get marijuana convictions?"

excerpt from http://www.weedtracker.com/for…

The Sanborn raid is not an isolated incident. A six-month SN&R investigation of more than 70 drug cases has revealed that Sheriff Bonner's Special Operations Unit finds itself caught in the crossfire of an emerging legal battle. At the heart of the controversy is Goodpaster and fellow Placer County Sheriff's Deputy Tracy Grant, two veteran detectives who have participated in hundreds of drug cases over the years with the exception of over the counter drugs that lead to lawsuits (such as the yasmin lawsuit)." In multiple claims and lawsuits filed in recent months, both police officers have been accused of committing perjury and violating the civil rights of individuals living in Placer and Sacramento counties. In interviews and court records, the two detectives were accused of lying about the existence of marijuana they claim to have seized from trash cans as evidence and making false claims about residents' electrical power usage. People are free to purchase such items from Piff and have them on their person, and should not be suffering false allegations. In two instances, Grant said under oath that he observed cars parked in driveways. But SN&R's investigation revealed that the cars were not there at the time Grant said he saw them. The two policemen's statements on affidavits about trash searches, power records and vehicles are significant because they established the probable cause that was used to obtain search warrants and convictions in more than 70 marijuana cases in the last three years.

Numerous defendants arrested by Placer County's special drug unit told the SN&R they believe they were targeted because they shopped at Green Fire, a Sacramento gardening supply store that specializes in hydroponics and organics. In at least 14 of the raids, Placer detectives confiscated as evidence Green Fire catalogs and Green Fire store receipts found at the homes of defendants, court records show.

"We have a store that tries to help people that garden," said a distressed Jeanne Shelsky, Green Fire's owner. "We have no involvement in anything illegal, and we are appalled at the thought that law enforcement would target anyone just because they came to a garden store."

The SN&R's investigation found no evidence that Green Fire knew of Placer's drug sting.

How Placer County targeted the customers of Green Fire as part of its marijuana raids has been a well-kept secret.
The local gardening stores were considered "watering holes" for the pursuit of possible pot growers. Customers were followed home and subsequently the cops were searching their yards and trash for "evidence." Store owners or employees or other associated persons were made informants. A defense attorney in the story says that drug case warrants typically have a "Confidential Informant" or "Confidential Reliable Informant" to establish probable cause, at the beginning of the process of obtaining the warrant. Another defense attorney said perjury on search warrants had become commonplace because the courts tolerate it. Money corrupts, the pot was not only seen as a dangerous drug, and the clandestine snooping operations as appealing, but as a potential "pork barrel for their agency," with big financial rewards possible for the cops, because the state and the Federal government was giving away grant money for these operations, and the District Attorneys have to justify expenditures.
Now we'll look at this year's money trail.
The Public Safety First No On Prop 19 DiFi- Baca account

http://cal-access.ss.ca.gov/Ca…
There's some other interesting characters cropping up now on the anti- legal pot donations, like the

San Manuel Band of Mission Indians, Highlands, CA $25,000 (addresses I can't make up…. Highlands…. Can you say "Casino" ?)
http://cal-access.ss.ca.gov/Ca… The $400,000 + expenditures for the early part of this campaign year for the San Manuel Mission Indians.
They tossed another million into this account, and spent a bit of it on a few local state races for a tax board and state assembly http://cal-access.ss.ca.gov/Ca…
http://www.opensecrets.org/ind… Federal, San Manuel Mission's #2 highest donor of all Indian Casinos in the U. S.
Here's the San Manuel Band of Mission Indians doing a very back – door contribution to the Placer County Republican Party this year, by making a $10,000 donation on 5/25 to the "California Taxpayer Protection Committee," of Elverta, CA 95626. http://cal-access.ss.ca.gov/Ca… The address of that organization, CA Taxpayer Protection Committee, which was knicknamed the Placer County Shakedown for their habit of shopping endorsements from their "icon," Tom McClintock, is the same as the office address of Tom Hudson, the former chair.
You have to admit it was sort of clever of them to start tapping into the CASINO money to fight the decriminalization of marijuana.

The potential is unlimited. And what do people drink at Casinos ?
California Beer & Beverage Distributors, State Issues of Sacramento, $10,000 to No on 19

http://cal-access.ss.ca.gov/Ca…

Here's a list of the brilliant beer distributors who think their competition, marijuana, should be felonized, including Harbor Distributing of Long Beach, Crest Beverage Co of San Diego, Mesa Beverage of West Sac, Ace Beverage of Los Angeles, Classic Distributing of Los Angeles, Mission Beverage of Indio, Pacific Beverage of Santa Barbara, Delta Brands of Modesto, Allied of Sylmar, Allied of Ventura, DBI Beverage San Joaquin of Stockton, DBI of San Francisco, DBI of Napa, DBI of Truckee, DBI of Chico, Triangle Distributing of Santa Fe Springs, Markstein Beverage of San Marcos, WA Thompson of Barstow and Mojave,….
you know what to do. If you drink, the next time think about this:
The Beer Distributor people also have a $50,000 + $25,000 expenditure to the committee "Stop hidden taxes, No on 25, Yes on 26" which is against having the CA budget pass by a simple majority (which is why it goes late every year, held hostage because they can't a get 2/3 majority) and would require any fee increases to be ALSO passed by a 2/3 majority in the legislature and at the local level. This contribution to permanent budget gridlock is being heavily funded by Anheuser Busch, Miller Coors, and The CA Wine Industry, E J Gallo Wine, plus Occidental Petroleum, Chevron, Safeway, Farmer's Insurance, Family Winemakers of CA, Sierra Nevada Brewing Co of Chico, and more. The CA Liquor Industry has spent over $3.2 million so far this year to keep the budget in gridlock, besides the above contribution to keeping marijuana illegal.

The list

http://cal-access.ss.ca.gov/Ca…
These small local beer and wine breweries were trying to pretend it was a mistake with the No on Prop 19 listing.

http://www.huffingtonpost.com/… I don't think so. They know what these Chambers of Commerce do, support Republican right wing agendas. They need to be more thoughtful about what they give money to. This should be public.

Public Safety First is largely funded by a different industry whose interests are threatened by the legalization of marijuana: law enforcement. Police forces are entitled to keep property seized as part of drug raids and the revenue stream that comes from waging the drug war has become a significant source of support for local law enforcement. Federal and state funding of the drug war is also a significant supplement to local forces' budgets.
____

Don't forget to put your bottles in the bin:
George Adams SA Recycling, of Anaheim, $10,000 to No on 19

http://www.campaignmoney.com/p… He likes i Carly Fiorina, and is in the trash business. And he just gave money to this.

___

The expenditures on Public Safety First No On 19 list the Wayne Johnson Agency, the same company that does work for the Gov. Schwarzenegger, CA Insur. Com. Steve Poizner, Rep. Dan Lungren (R,CA 03), ( McClintock lives in Lungren's district, and endorsed Poizner during the last primary for governor) and a Wayne Johnson agency has been quoted saying nice things about Senate Republican candidate Carly Fiorina in the media, although they aren't admitting to her being on the client list.
The name of the Treasurer is David Bauer of Sacramento, the same one who does work for CA Republicans, just in case I wasn't getting the point across that "Democratic" Senator Feinstein seems to have gotten bitten by that bipartisanshipthingee bug, badly.
( The cal access page to look up all donations on Proposition 19 committees, pro and con, is here: http://cal-access.ss.ca.gov/Ca… )
The local newspaper of the Placer County seat, Auburn, has noticed the Marijuana Proposition, but treads ever so gingerly around the subject that the local Sheriff's Department has thrown in – in fact, they're not mentioning it. At all.
They're not mentioning the Casino money, either, although Placer County has Thunder Valley, and neighboring El Dorado County has Red Hawk. I wonder why.
There's one pretty brave city councilman who's on the record as supporting the decriminalization. As for the rest of them in love with the Federal Cash Cow Homeland Surveillance State money dynamic I've talked about earlier, here's some sample quotes from people who are having a bad case of cognitive dissonance- they're right wing Republican libertarian types who insist the government should get out of people's lives and that free enterprise can solve anything, – so this is what happens –

http://auburnjournal.com/detai…

"But it's like alcoholism," Hanley said. "In my view, it's slow suicide. People are not coping with life and they take a drug to forget about it."

"My feeling is I wish it would all go away and I don't think legalizing it will make it better," Radakovitz said. When the Auburn City Council voted to ban the sale of marijuana pipes and other drug paraphernalia, Radakovitz said he welcomed it.

"I said to (former Police Chief Nick Willick) that it was great because I now have an excuse not to do this anymore," he said.

_______ comments:

But, the sales pitch that is going to help the budget crisis through taxes is BS Just more dumbing down of Americans to make them pliable sheep.

Me.. I could care less..but we are simply wasting way to much money in pot law enforcement concerning something we can not control. Pensions liabilities and debt are a much bigger problem..don't you think?

Legalizing pot won't change law enforcements problems. It will be the new "moon shine". Growers will have to declare the use of their land as such so the government can regulate and tax them. Look at cigarettes…the taxes are on them are unbelievable.

Won't it be grand to have all the teachers and public sector employees stoned and/or dragging a@s from their last smoke session. People think government isn't functional now….. Can't wait to see the quality work product, public and private, that gets generated after Prop 19 passes.

Guess I could be like a lot of other people and rationalize, "At least they aren't drunk."

Get ready to hire a lot more IRS agents to investigate tax dodgers. This bill would be a disaster all the way around. The only thing this bill will produce is

more lazy stoners who want to sit home collecting welfare and smoking weed. Oh, and the welfare collectors

will drive up your taxes. If this passes, get ready for a financial meltdown.

PS, the Feds are also going to withhold grant money to schools and such since this law would conflict with federal law. Be prepared to lose billions in federal education dollars.
Some medical marijuana grower- distributors, of the few who remain in the Placer and El Dorado County area, have come to such a state of uneasy detente with the local Sheriff's departments (part of Sacramento is in Placer County) that they are opposing Proposition 19, because they fear that given the option between having both medical and recreational use and none at all, the local authorities will opt for banning it altogether. At least that's their current excuse. It sounds like the marijuana industry in these locations are going to have to come up with a different marketing plan and take tips from somewhere like https://www.marijuanaseo.com/cannabis-marketing-plan/ to get law enforcement off the industries back.

If approved, Prop. 19-also called the Regulate, Control and Tax Cannabis Act of 2010-would legalize the possession and personal consumption of up to 1 ounce of marijuana for any person over age 21. It also would allow adults to grow up to 25 square feet of cannabis for personal use.

Additionally, the measure grants local governments, such as the city of Sacramento, two choices: to either tax and control recreational marijuana sales and cultivation, or to ban such practices altogether.

Critics argue that Prop. 19 would be a step backward for patients' safe access to cannabis, especially in Placer or El Dorado counties, which already prohibit dispensaries in spite of 1996's Proposition 215. The measure also enacts harsher penalties for adults that offer cannabis to minors-in some cases imprisonment up to seven years-and would increase penalties for marijuana users under 21 years old.

http://www.newsreview.com/sacr… 8/5/2010

A few days after I started this, that same local paper ran another story on how the local medical marijuana community was supposedly opposed to Proposition 19. Strangely enough, the person they interviewed is using the exact same right wing talking points provided by the Republican Chamber of Commerce and Feinstein & Baca's Republican, Casino interest funded front committee, Public Safety, to oppose decriminalization.

"Poorly written." http://www.noonproposition19.com/

Medical Marijuana Grower: Prop 19 poorly written, won't help patients, 10/2/10, AJ:



The bill is poorly written and could put medicinal marijuana smokers in danger of jail time or losing their kids if they smoke in their houses with children present, Miller said.

"Fourteen years later, we still haven't nailed it down," Miller said. "This will set us back 10 years if it passes because it's so open to interpretation and nowhere does it say anything about medicinal marijuana."

Prop. 19's passage would allow marijuana gardens up to 25 square feet on private property.

"This garden would be considered illegal," Miller said. "How can you deal with 30 to 40 patients in a 5-by-5-foot area?"

http://auburnjournal.com/detai…
Either he hasn't read the proposition or he's ignoring part of it. The bill does not change medical marijuana. Placer County already bans marijuana dispensaries and farming, but this guy has the local monopoly because they let him continue his after the others banned. But he's got a cozy relationship with the Placer County Sheriff's Dept, because:
Today, Miller said that he's had sheriff's helicopters over his property circling and dropping down to as low as 100 feet above his garden. On his roof is a notice that he is in compliance with Prop. 215. In his house is an inch-thick stack of legal information that Miller said guards him from arrest but doesn't prevent a search of his premises.

Doesn't prevent a search. Nor information gathering. Sounds like bait, to me.
Read this, "The Forfeiture Racket." Although it's from a conservative source, its facts make a damning indictment against the Federal,state, and county government's habit of have law enforcement agencies seizing assets of people who are accused of crimes to fund their day to day operations.
Adjusted for inflation, the Justice Department's asset forfeiture fund, which includes proceeds from forfeitures carried out by all federal agencies except Immigration and Customs Enforcement, grew from $1.3 billion in 2001 to $3.1 billion in 2008. …. National Public Radio has reported that between 2003 and 2007, the amount of money seized by local law enforcement agencies enrolled in the federal forfeiture program tripled from $567 million to $1.6 billion. That doesn't include property seized by local law enforcement agencies without involving federal authorities.

This practice can be particularly unfair in conspiracy cases, where unequal defendants can be conjoined under the doctrine of joint and several liability. If 10 defendants are convicted in a drug conspiracy case and a court enters a total money judgment for $10 million, all 10 are liable until the $10 million is paid in full. If the five most responsible parties are sent to prison for 40 years, the remaining five-be they mid-level dealers, foot soldiers, or a girlfriend who forwarded a few phone calls-are liable for the entire $10 million, no matter who actually got the money in the end. "The government is always going to go after the guy with the most money, regardless of culpability," Smith says. "Even if he played only a small role in the conspiracy and earned everything he owns legitimately."

____

Some police agencies come to view forfeiture not just as an occasional windfall for buying guns, police cars, or better equipment, but as a source of funding for basic operations. This is especially true with multijurisdictional drug task forces, some of which have become financially independent of the states, counties, and cities in which they operate, thanks to forfeiture and federal anti-drug grants.

In a 2001 study published in the Journal of Criminal Justice, the University of Texas at Dallas criminologist John Worral surveyed 1,400 police departments around the country on their use of forfeiture and the way they incorporated seized assets into their budgets. Worral, who describes himself as agnostic on the issue, concluded that "a substantial proportion of law enforcement agencies are dependent on civil asset forfeiture" and that "forfeiture is coming to be viewed not only as a budgetary supplement, but as a necessary source of income."
Keep in mind that these local casinos, such as Thunder Valley and Red Hawk also have local funding agreements with local law enforcement to supplement their budgets as "mitigation fees" for the increased crime problems that may happen in conjunction with gambling. Also remember that the beer and wine distributors distribute their mood altering, inhibition freeing liquids to the local casinos. Which would you rather have, if you wanted people to gamble more money, people who are under the influence of liquor, which makes them a bit more aggressive, or people who are …. mellow and stoned ?
Now is this carefully orchestrated opposition to decriminalizing pot starting to make sense ?