Tag:
professional basketball
Afghanistan war, Arizona, corporate lobbying, David Petraeus, Democratic Party, eKos, Elena Kagan, Energy Independence, federal lawsuit, financial reform, fossil fuels addiction, Gulf of Mexico, Gun Laws, immigration reform, Larry King, LeBron James, Miami Heat, michael steele, professional basketball, Republican Party, Ringo Starr, Robert Byrd, Russia, soccer, spying, Supreme Court of the United States, The Week in Editorial Cartoons, unemployment benefits, wingnuts, World Cup
Crossposted at Daily Kos
THE WEEK IN EDITORIAL CARTOONS

This weekly diary takes a look at the past week's important news stories from the perspective of our leading editorial cartoonists (including a few foreign ones) with analysis and commentary added in by me.

When evaluating a cartoon, ask yourself these questions:

1. Does a cartoon add to my existing knowledge base and help crystallize my thinking about the issue depicted?

2. Does the cartoonist have any obvious biases that distort reality?

3. Is the cartoonist reflecting prevailing public opinion or trying to shape it?

The answers will help determine the effectiveness of the cartoonist's message.
:: ::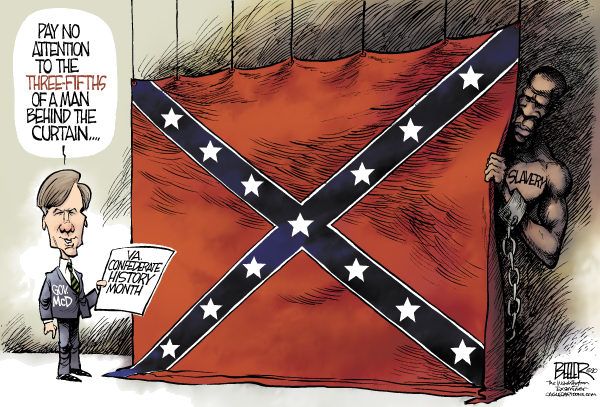 Nate Beeler, Washington Examiner, Buy this cartoon
Afghanistan, Bob McDonnell, bogotry, Catholic Church, Coal Mining, Confederate States of America, Democratic Party, GOP, Hamid Karzai, Historical Revisionism, jobs, michael steele, National Basketball Association, Nuclear Weapons, offshore oil drilling, Poland, political corruption, Pope Benedict XVI, professional basketball, racism, Republican National Committee, Republican Party, sex, Slavery, Supreme Court of the United States, Teabaggers, The Week in Editorial Cartoons, wingnuts, workplace safety