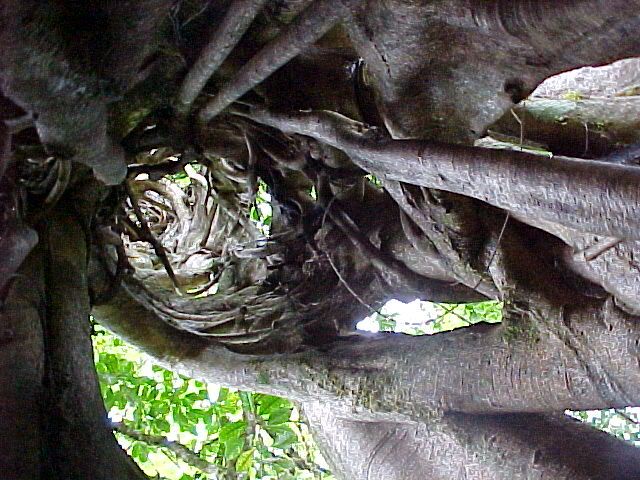 crossposted at Wild Wild Left and also antemedius
Take this as a gift, this metaphor…. Run with it, if you like.
Which way do you read this? Are we … Strangler or Embracer?
In Santa Elena, a small town near Monte Verde, is one of the coolest attractions in all of Costa Rica. The best part about this super secret adventure, its free. This "attraction" isn't so much of an attraction as it is a dead tree.

Just outside of town, down a dirt road, is a small trail leading off into the forest. About 15 minutes down this trail is an extremely old tree that has been fully consumed by what is known as the Strangler Fig Parasite.

The Strangler Fig Parasite comes when an infected bird poops on top of a tree. The parasite then forms vines that grow down the tree to the trees root system. Once at the tree's roots, the parasite takes over the tree's root system and slowly kills off the tree. To make a long story short, the parasite eventually kills the tree, but the vines are left in it's place. This leaves you with one very, Lord of the Rings looking, hollowed out tree.

The vines of the parasite become very large and very strong, almost tree like. They are so strong in fact, that you can actually climb inside of the tree and use the vines as a "ladder" all the way to the top of the tree. After about 60+ feet of climbing inside the hollowed out tree, you come to a small opening where you can stick your head out and see right at the top of the forests canopy line.