Tag:
Charlie Rangel
Crossposted at Daily Kos
THE WEEK IN EDITORIAL CARTOONS

This weekly diary takes a look at the past week's important news stories from the perspective of our leading editorial cartoonists (including a few foreign ones) with analysis and commentary added in by me.

When evaluating a cartoon, ask yourself these questions:

1. Does a cartoon add to my existing knowledge base and help crystallize my thinking about the issue depicted?

2. Does the cartoonist have any obvious biases that distort reality?

3. Is the cartoonist reflecting prevailing public opinion or trying to shape it?

The answers will help determine the effectiveness of the cartoonist's message.
:: ::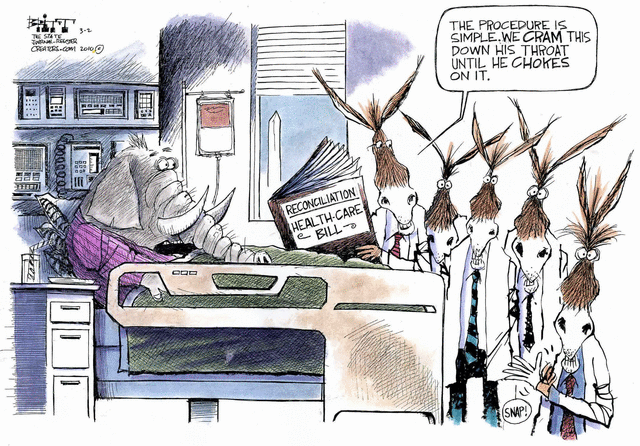 Chris Britt, Comics.com, see reader comments in the State Journal-Register
Academy Awards, Afghanistan, Alexander Haig, Banking Reform, bipartisanship, Charlie Rangel, Chile, climate change, conspiracy theorists, DADT, Daily kOscars, Democratic Party, demonization, denialists, Earthquake, fearmongering, filibuster, gays, GLBT Rights, healthcare reform, Healthcare Reform Summit, Jay Leno, Jerry Brown, Jim Bunning, Military, Obstructionism, paranoia, professional football, racism, reconciliation, Republican Party, Seven Deadly Sins, Seven Holy Virtues, social networking, Tea Partiers, The Week in Editorial Cartoons, Tonight Show, unemployment benefits, United States Postal Service, United States Senate, wingnuts, Winyer Olympics
Welcome to the 22nd installment of "Considered Forthwith."
This weekly series looks at the various committees in the House and the Senate. Committees are the workshops of our democracy. This is where bills are considered, revised, and occasionally advance for consideration by the House and Senate. Most committees also have the authority to exercise oversight of related executive branch agencies.
And we're back. This week, I will be looking at the Joint Committee on Taxation. With the upcoming Finance Committee mark up of the Baucus bill, this little known committee will be in the spotlight. This is the committee responsible for studying the impact of tax policy and has calculated the revenue projections for the Finance Committee bill (opens a .pdf file).