(6PM EST – promoted by Nightprowlkitty)
Crossposted at Daily Kos
THE WEEK IN EDITORIAL CARTOONS

This weekly diary takes a look at the past week's important news stories from the perspective of our leading editorial cartoonists (including a few foreign ones) with analysis and commentary added in by me.

When evaluating a cartoon, ask yourself these questions:

1. Does a cartoon add to my existing knowledge base and help crystallize my thinking about the issue depicted?

2. Does the cartoonist have any obvious biases that distort reality?

3. Is the cartoonist reflecting prevailing public opinion or trying to shape it?

The answers will help determine the effectiveness of the cartoonist's message.
:: ::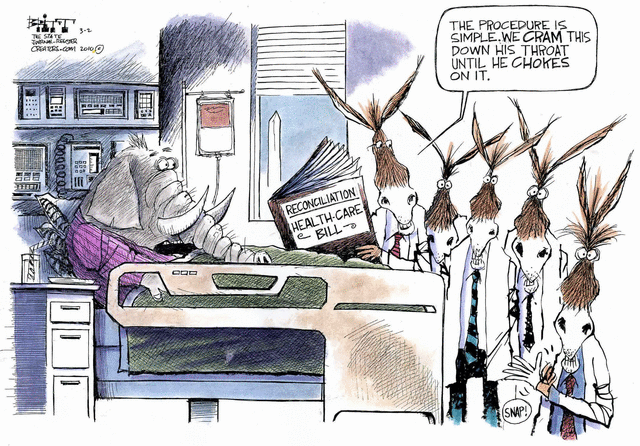 Chris Britt, Comics.com, see reader comments in the State Journal-Register
SPECIAL THANKS
My thanks to all of you who voted for me in the Daily kOscars™ 2009! competition organized and promoted by a number of dedicated Kossacks including LaughingPlanet, Patriot Daily News Clearinghouse, cfk, Seneca Doane, wader, Land of Enchantment, and others.
I was up for three awards including 'Adapted Artwork or Snark,' 'Snark Diary of the Year,' and 'Political or News Series.' My congratulations to all the winners and nominees of the larger Daily Kos community. In particular, I'd like to extend my congrats to Bill in Portland Maine for his wonderful 'Cheers and Jeers' front page feature for which he deservedly beat me out after a spirited battle over the past few weeks.
Laughing Planet wrote this is his diary yesterday upon announcing the Daily kOscars™ 2009! awards
This one was a tough battle.

For a long time, JnH was in the lead. But the power of C & J overwhelmed.

Bill in Portland Maine

I gotta give some mad props to #2 here. It is very tough to go up against one of the site's most cherished names who also appears on the front page 5 days/week.

So to JekyllnHyde, keep your chin up!

You fared very, very well. Blame the people who didn't think about this stuff beforehand.

This cartoon (not originally found in one of your diaries or comments, surprisingly) is for you.

:: ::

Thank you, one and all. Now, it's on to the Daily kOscars™ 2010!
Breaking News!!!

Laughing Planet speculates that the last-minute surge by BiPM was due to excessive steroids use. Updates posted as and when available.

Developing…
:: ::
INTRODUCTION
A few highlights from the past few days since I wrote the previous edition of this regular diary:
Republican obstructionism was in full sight through the actions of wacky Senator Jim Bunning (R-KY) and the editorial cartoonists excoriated him for blocking unemployment benefits to millions of unemployed Americans. A few more displays like this and the tide will really turn against the "Do-Nothing Republican Party" in the upcoming 2010 Congressional Elections in November.
The teabagging crowd was mocked and ridiculed by a number of cartoonists as a rudderless, angry group of people whose outrageous crazy behavior might have gained them some temporary momentum last summer. Now, it remains unclear whether such bizarre conspiracies against people in power will yield any political benefits in the November Elections. In partricular, there were a number of fantastic cartoons by Pat Bagley of the Salt Lake Tribune in which he offered 'faux apologies' to the Teabaggers for his past editorial cartoons.


Tea Party Patriots by Pat Bagley, Salt Lake Tribune, Buy this cartoon
While President Barack Obama was praised for holding his 'Healthcare Reform Summit' and soliciting Republican ideas, many cartoonists concluded that the GOP is totally bereft of any ideas which might benefit ordinary, average Americans. There was, however, a note of caution for the Democratic Party. Powerful U.S. House of Representatives Chairman Charlie Rangel (D-NY) of the Ways and Means Committee took a leave of absence (probably never to return) after a few "ethical lapses" for which he was criticized by the House Ethics Committee. With Congressman Eric Massa (D-NY) also resigning due to a myriad of reasons, the Republicans are trying to pin the "culture of corruption" charges on the Democrats just as the Democrats successfully did so prior to the 2006 Elections. If this becomes a trend, there will be no mercy shown by cartoonists as they are equal-opportunity offenders. Luckily, the elections are almost eight months away.
The future of Healthcare Reform was seen as unpredictable but going the reconciliation route was seen as the most likely outcome, provided the Democratic Party can muster the willpower and demonstrate much-needed cohesion to overcome internal differences. Implementing banking reform and taming the excesses of Wall Street titans remains a source of major concern for the cartoonists. Iraq's elections and Afghanistan's future as a viable society resulted in a few cartoons. Finally, the Winter Olympics in Vancouver, BC were seen as a source of pride and accomplishment for Canada. In a change of heart, I admit that I was horribly wrong and now contend that the invasion of Canada will simply have to wait for a few more years!



Hellth Insurance by Pat Bagley, Salt Lake Tribune, Buy this cartoon
Hope you enjoy this offering of editorial cartoons from some of the most talented cartoonists around the country and a few foreign ones too.
:: ::
1. CARTOONS OF THE WEEK


Monte Wolverton, Cagle Cartoons, Buy this cartoon



Bunning the Fool by John Cole, Scranton Times-Tribune, Buy this cartoon


Bruce Plante, see reader comments in the Tulsa World, Buy this cartoon



Clay Bennett, Comics.com, see reader comments in the Chattanooga Times Free Press


Matt Wuerker, Politico



From the GOP Big Tent… by Bill Sanders, sanderscartoon.blogspot.com


David Cohen, Asheville Citizen Times (NC)


Tony Auth, Philadelphia Inquirer



Tom Toles, Washington Post
:: ::
2. Teabagger Antics and An "Apology" From an Editorial Cartoonist
As has been pointed out over the past several months by many of you who either live there or have ties to the state, Editorial Cartoonist Pat Bagley of the Salt Lake Tribune is a voice of liberal sanity in the deep-red State of Utah. He recently drew a number of cartoons in which he "apologized" to the Teabaggers for his past cartoonish behavior. I'm sure they are fully satisfied with his heart-felt mea culpa


Spirit of 2010

:: ::



Waterboard of Freedom

:: ::



Das Liberty Boot

:: ::



Fatheads of Freedom by Pat Bagley, Salt Lake Tribune, Buy these cartoons


America Gone Bonkers by Jen Sorensen, Slowpoke, Buy this cartoon

:: ::

Brilliant Altie Cartoonist Jen Sorensen followed Bagley's lead but she refuses to offer any apologies to anyone for her past behavior. She goes guns blazing (metaphorically speaking) after wingnuts including conspiracy theorists, cultists, Climate Change denialists, Creationists, Tea Partiers, the Mainstream Media, and Glenn Beck of FOX News in this scathing entry on her blog

Maybe I gave that title to my second book a little too soon. A number of things I've read lately have me convinced we're becoming a nation of cultists, and the future doesn't look pretty. The global warming "hoaxers" think that climate change is a giant conspiracy (see related cartoon at left). Meanwhile, things are actually getting worse than people thought. Creationists are seizing on this public mistrust of scientists to advance their decades-old battle against the teaching of evolution. The Tea Party movement has channeled legitimate frustrations with the economy into a bizarre tangle of conspiracies against the federal government. And as Frank Rich put it, the most significant — and ominous — political event of February was Joseph Stack flying his plane into an IRS building, killing an employee, and being lionized in some quarters as a hero. All of this, of course, is goaded on by hyperspecialized political media that convinces people of their own reality bubble, and the incendiary rhetoric of pundits like Glenn Beck.

We truly do seem to be entering a new Dark Age, even worse than the morass of the Bush years. The country is deeply confused and heavily armed. Throw in several more years of economic failure, and you've got a recipe for disaster. Not to be a downer or anything.


Mike Keefe, Denver Post, Buy this cartoon



Steve Greenberg, Freelance Cartoonist (Los Angeles, CA), Buy this cartoon



Jimmy Margulies, New Jersey Record, Buy this cartoon



Patrick Chappatte, International Herald Tribune, Buy this cartoon



Jeff Danziger, New York Times Syndicate



Lloyd Dangle, Troubletown, Buy this cartoon



Pat Oliphant, Universal Press Syndicate



Stuart Carlson, Universal Press Syndicate



Chris Britt, Comics.com, see reader comments in the State Journal-Register (Springfield, IL)
:: ::
3. Healthcare Reform Summit: Scaling Mt. Republicus


Jen Sorensen, Slowpoke, Buy this cartoon

:: ::

Sorensen nails it. She echoes what so many of us have been screaming about for months on this blog: no one cares about bipartisanship. All people want are tangible results that alleviate their problems. I also addressed this issue in detail in my last such diary

The Democrats have been courting the Republicans like a lovelorn suitor who just won't give up. It seems like more effort is being put into appearing "bipartisan" than into actually selling the health care bill. Note to Dems: people don't give a flying Froot Loop about bipartisanship — they're worried about their jobs and the crushing cost of health care. Just do something already, and let Repubzel call you a meanie. All she really respects is power anyway.


Obama and Republicans by Jimmy Margulies, New Jersey Record, Buy this cartoon



Mike Peters, Dayton Daily News



Brian Duffy, Des Moines Register, Buy this cartoon



Nick Anderson, Comics.com, see reader comments in the Houston Chronicle


Ed Stein, Comics.com

:: ::

Ed Stein states the obvious and suggests that this summit was not a particularly useful exercise as the Republicans are stalling and trying to run the clock out on Healthcare Reform

Here we go again. One more attempt at crafting a health care reform bill with the Republicans. The problem is that the GOP wants nothing to do with the main ideas the Democrats have put forth. Part of it is ideological-a reflexive rejection of anything but market-driven health care, (which has dismally failed either to provide for everyone or to control costs) and part is a reflexive desire to defeat Obama at all costs. The Republican idea of bipartisanship seems to be do it my way or not at all. We no longer have a legislative body in Washington capable of the compromises necessary to pass major legislation. This is a high-risk move on Obama's part; if he fails to get anything, and the public blames him rather than the GOP (which has successfully outmaneuvered and out-communicated him so far), he can kiss his entire agenda goodbye, as well as the Congressional majority in November. If, on the other hand, he is able to show the Republicans for the obstructionists they are, or is able to persuade the members of his own party to develop backbones and pass something, he might yet have the last laugh.
:: ::
4. The Democrats' Opportunity to Assert Themselves


Promises, Promises by J.D. Crowe, Mobile Register, Buy this cartoon

:: ::

Editorial Cartoonist J.D. Crowe of the Mobile Register offers some advice to President Obama on how to proceed with Healthcare Reform in the coming weeks

The President promised to bring a new civil tone to Washington. He also campaigned hard on health care reform. It's looking more and more like we'll see less of each. Or an explosion…

The GOP will do nothing. They don't have to. They don't want health care reform. They had 8 years to write a bill loaded with anything they wanted in it, including tort reform. For Republicans, it's more important for the president to fail than it is for uninsured citizens to have proper care.

Rush Limbaugh said Tuesday that a right to health care is "like saying staying in a five-star hotel is a right." Wonder where folks get the idea that the right wing is flippant about the plight of the less than well-to-do?


Daryl Cagle, MSNBC.com, Buy this cartoon



Catch the Wave by John Trever, Albuquerque Journal, Buy this cartoon



Steve Greenberg, Freelance Cartoonist (Los Angeles, CA), Buy this cartoon



Obama Checkup by Mike Keefe, Denver Post, Buy this cartoon


RJ Matson, St. Louis Post Dispatch, Buy this cartoon



Rob Rogers, Comics.com


Jimmy Margulies, New Jersey Record, Buy this cartoon
:: ::
5. Healthcare Reform: Reconciliation or Bust


Chan Lowe, see reader comments in the South Florida Sun-Sentinel

:: ::

If HCR is to be enacted, it will be because Congressional Democrats found a way to resolve their differences. Will they, though, even if it will potentially benefit the Democratic Party in the long run?

Editorial Cartoonist Chan Lowe offers his thoughts

The rest of the industrialized world scratches its head in wonderment as the greatest economic power on earth–the shining city on the hill–squabbles over something they've all taken for granted for generations.

Why are we so far behind even our Canadian cousins when it comes to health care? It's our uniquely American way of viewing the solution to societal needs through the prism of the free enterprise system.

From the days that the Declaration of Independence was written and before, government has been viewed as something individuals need to be protected from, while other countries see it as the collectivization of individual needs under one paternalistic umbrella…

Obama is trying to get Congress to go out on a limb with this one, and Congress is never comfortable treading where its immediate self-interest does not lie. One thing the Republicans are right about: If health care reform does pass, it'll be with us for good, because no member of any party will be willing to take back something the have-nots have begun to enjoy for the very first time.


How We Got Here by David Fitzsimmons, Arizona Star, Buy this cartoon



Monte Wolverton, The Wolvertoon, Buy this cartoon



Matt Wuerker, Politico



Dan Wasserman, see reader comments in the Boston Globe



Tony Auth, Philadelphia Inquirer



Monte Wolverton, The Wolvertoon, Buy this cartoon



Clay Jones, Freelance-Star (Fredericksburg, VA), Buy this cartoon



Dave Granlund, Politicalcartoons.com, Buy this cartoon
:: ::
6. The Economy, Unemployment Benefits, and Jim Bunning's Erratic Behavior


Bob Englehart, Hartford Courant, Buy this cartoon

:: ::

Last week, a Republican senator temporarily blocked the continuance of COBRA insurance and unemployment benefits for the long-term jobless. A bipartisan measure, the filibuster was ultimately unsuccessful.

Bob Englehart, the Editorial Cartoonist for the Hartford Courant, delivers Senator Jim Bunning (R-KY) a good old-fashioned rhetorical ass-whuppin on his paper's blog and suggests that the senator is mentally unstable. He also recognizes this kind of childish attitude as he's seen it too often in comments made by conservative followers of his cartoons

What can I say about Jim Bunning that hasn't been said by the most foul-mouthed of his angry constituents? I've read that back home in Kentucky, his own party wants him to retire and the sooner the better. His office gets bomb threats regularly from Kentuckians. He's a hypocrite of the first order; he never complained about the country's deficits when W was running up the numbers.

He's crude, rude and some people who know him well have questioned his mental health. He's flipped the bird at reporters and told a questioner on the Senate floor, "Tough s–t" when asked to cease and desist his little filibuster. Wait a minute. You know, this all sounds familiar. Come to think of it, I'll bet he's one of the regular conservative commenters on this blog. I'd know that attitude anywhere.

I didn't give away his party affiliation, but if you didn't already know it you guessed it I'm sure. He's a Republican, and I might say, a typical Republican. He only finds his principles when it won't hurt his wealthy friends and corporate patrons. They're calling him "The Senator of Mean" in some newspapers and blogs. I think that's inaccurate. I'd call him your average Republican senator in 2010. Tea, anyone?


RJ Matson, St. Louis Post Dispatch, Buy this cartoon



Jim Bunning Spitball by Taylor Jones, Politicalcartoons.com, Buy this cartoons



Whacko at Work! by Bill Sanders, sanderscartoon.blogspot.com


Bruce Plante, see reader comments in Tulsa World, Buy this cartoon



Rex Babin, Sacramento Bee, Buy this cartoon



Ben Sargent, Universal Press Syndicate


John Darkow, Columbia Daily Tribune, Buy this cartoon



Randy Jones, inxart.com, Buy this cartoon
:: ::
7. 'Don't Ask, Don't Tell' and LBGT Rights


Ed Stein, Comics.com

:: ::

Freelance Cartoonist Ed Stein reflects a widely-held belief amongst editorial cartoonists that the time is now to repeal the 'Don't Ask, Don't Tell' policy which prohibits gays from serving openly in the United States military.

This cartoon reflects the frustration felt by many of President Obama's loyal supporters

It's clearly time to end the ludicrous "Don't ask, don't tell" policy that allowed gays to serve their country only if they hid their sexual preference. The nation has moved on, but the military, evidently, hasn't. They want to kick the can down the road with a year-long "study" of the potential effects of ending the policy. The arguments against allowing openly gay soldiers is precisely the argument used against integrating the armed forces and against allowing women in combat units-that other soldiers wouldn't accept them and the morale of the military, and thus its effectiveness, would be compromised. Well, folks, we have black soldiers and we have women soldiers, and we seem to be doing fine. And a few years after we allow gays to serve openly, the American military will still be strong, and we'll be wondering what the fuss was all about. There's no point in putting this off another day.


Court Says Corporations Are People by Andy Singer, Politicalcartoons.com, Buy this cartoon
:: ::
8. Of Elections and Democracy in Other Countries


Cam Cardow, Ottawa Citizen, Buy this cartoon



Bob Gorrell, Nationally Syndicated Cartoonist, Buy this cartoon



International Womens Day by Olle Johansson, Freelance Cartoonist (Sweden), Buy this cartoon



David Horsey, see reader comments in the Seattle Post-Intelligencer
:: ::
9. Postal Service Woes


Joe Heller, Green Bay Press-Gazette, Buy this cartoon



Never on Saturday by John Trever, Albuquerque Journal, Buy this cartoon



Vic Harville, Stephens Media Group (Little Rock, AR), Buy this cartoon
:: ::
10. The 82nd Academy Awards and the Return of Jay Leno


Clay Bennett, Comics.com, see reader comments in the Chattanooga Times Free Press
:: ::
11. Sports Talk: After the Olympics, What Now?
:: ::



Andy Singer, Politicalcartoons.com, Buy this cartoon
:: ::
12. RIP Alexander Haig (1924-2010)


Jeff Danziger, New York Times Syndicate

:: ::

General Alexander Haig was a military man perhaps not totally familiar with the norms of political life nor did he seem to have much patience for civilian bosses, even though he was Reagan's Secretary of State and Nixon/Ford White House Chief of Staff.

As the above cartoon shows, his most famous moment in public life came when President Ronald Reagan was shot by John Hinckley, Jr. on March 30, 1981. With the president's condition unknown for a few hours and Vice President George H.W. Bush on travel that day and away from the White House, Haig uttered his famous line "I am in control here" although the U.S. Constitution stipulates that he was fourth and not second in the line of succession to the president.

Author James Rosen interviewed him for a book and posted these excerpts in the Washington Post

1. On his worldview: I started out as a Cold Warrior, even my last years in grade school. I used to read everything I could get on communism. In fact, the first paper I wrote as a plebe at West Point caused a major upheaval in the faculty, because I predicted that our next enemy was the Soviet Union… It was during the war [World War II], when we were allies… I was viewed with some suspicion by the social sciences department. And I'd always been that way. And I stayed that way, rather consistently.

2. On the Pentagon Papers: [Deputy Assistant Secretary of Defense] Mort Halperin wanted to hire me to be the Army guy on the preparation of what later became the Pentagon Papers. And I told him, I remember, at the time, I said, "What's the purpose of such a study?" And I said, "I don't want any part of it." And he said, "I'm sorry, this is your — you're ordered to do this." And I said: "Well, I'm not going to be ordered to do anything. I'm a free man."

3. On Henry Kissinger: On Vietnam… Henry and I almost came to fisticuffs, only I would have been the puncher, on a number of occasions… He was difficult to work for… Henry had an ego; Henry was duplicitous. But you know, Henry Kissinger, the country's better for having had him than if they hadn't had him.

4. On Richard Nixon and Watergate: Nixon knew a lot more than he admitted he did. And by inference, probably influenced more than he would ever admit he did, or recognize he did, as an individual… He used to, in his lowest and highest moments with me, ruminate about how stupid it all was, and how badly [it] was handled. And: "Why, now, does it have to get up here? A second-rate burglary!" as he called it. And of course, he came from a school where those things were routinely done by both parties…
:: ::
13. Final Thoughts
Finally, "social networking" is the new buzz word but could this have happened in the pre-Facebook era? I doubt it.

:: ::
:: ::
A Note About the Diary Poll


The Seven Deadly Sins Hang Out by Andy Singer, Politicalcartoons.com, Buy this cartoon

:: ::

The Seven Deadly Sins and Seven Holy Virtues have a long history going back to Greek philosophers and have been depicted in the following ways (see here and here) in popular culture

There was a series of seven silent films made in 1917 that bore the series title, The Seven Deadly Sins, which began with Envy (1917), continued with Pride (1917), Greed (1917), Sloth (1917), Passion (1917), and Wrath (1917), and concluded with the synonymicly-titled The Seventh Sin (1917). The final installment was given the title because Gluttony was originally too offensive to be a film title, and the producers couldn't come up with an adequate synonym.
The original version of the film Bedazzled (1967) (remade in 2000) includes all seven sins; Raquel Welch as (Lillian) Lust, Barry Humphries as Envy, Alba as Vanity, Robert Russell as Anger, Parnell McGarry as Gluttony, Daniele Noel as avarice and Howard Goorney as Sloth.
In the video game Bayonetta, the seven virtues are the names of the primary angelic antagonists whom Bayonetta confronts and ultimately sends each one to Hell after they are nearly killed. Only four of the cardinal virtues (Temperance, Valor, Charity, and Justice) appear in the game in the forms of giant, angelic monsters however.
In the popular manga Ultimo, two forces of mechanical boys fight, featuring the 7 virtues as well as the 7 deadly sins.
Loading ...