A brief, somber prelude published 171 years ago, often performed at funeral and memorial services, less familiar than another widely known funeral march by the same composer, is resurrected in 1975, reaching #6 on the Billboard Top 40 charts, and then later in the decade a new arrangement, this time a lively disco version, topped out at #3 on the U. S. Dance chart and #40 on the U.K. singles chart. The song has since been covered by many different artists.
So why introduce a remodeled funeral march during this time of year, only a week after Valentine's Day weekend? February 22nd represents a landmark birthday anniversary for a fairly well known historical figure.
You may immediately be thinking of George Washington, however, next Monday would be the 278th anniversary of his birthday, not exactly a number that is evenly divisible by 10, 25, 50 or 100. For a well known classical composer, however, that day would mark the 200th anniversary of his birth, providing ample reason to recognize his tremendous contributions to the body of classical music and, inadvertently, to our popular culture as well.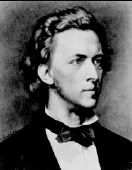 You've heard his music on numerous occasions, most likely not even realizing it at the time. The movie website, Internet Movie Data Base (IMDB), catalogues films that include this composer's work, and to date, the list stands at 344 and counting. If you'd like to see for yourself, you can go here.
The original composer of the thirteenth installment of this series is the esteemed Polish composer, Frederic Chopin, who is critically regarded as one of the greatest composers for the piano of all time. Although his music is among the most technically demanding for the instrument, Chopin's style emphasizes nuance and expressive depth rather than mere technical virtuosity.