( – promoted by buhdydharma )
A brief, somber prelude published 171 years ago, often performed at funeral and memorial services, less familiar than another widely known funeral march by the same composer, is resurrected in 1975, reaching #6 on the Billboard Top 40 charts, and then later in the decade a new arrangement, this time a lively disco version, topped out at #3 on the U. S. Dance chart and #40 on the U.K. singles chart. The song has since been covered by many different artists.
So why introduce a remodeled funeral march during this time of year, only a week after Valentine's Day weekend? February 22nd represents a landmark birthday anniversary for a fairly well known historical figure.
You may immediately be thinking of George Washington, however, next Monday would be the 278th anniversary of his birthday, not exactly a number that is evenly divisible by 10, 25, 50 or 100. For a well known classical composer, however, that day would mark the 200th anniversary of his birth, providing ample reason to recognize his tremendous contributions to the body of classical music and, inadvertently, to our popular culture as well.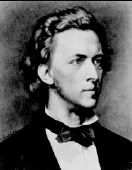 You've heard his music on numerous occasions, most likely not even realizing it at the time. The movie website, Internet Movie Data Base (IMDB), catalogues films that include this composer's work, and to date, the list stands at 344 and counting. If you'd like to see for yourself, you can go here.
The original composer of the thirteenth installment of this series is the esteemed Polish composer, Frederic Chopin, who is critically regarded as one of the greatest composers for the piano of all time. Although his music is among the most technically demanding for the instrument, Chopin's style emphasizes nuance and expressive depth rather than mere technical virtuosity.
The following video includes stunning images of artworks by Eugène Delacroix (1798-1863), set to the music of one of the first Chopin pieces this writer was able to play, The images of Chopin and his long-time, tragic love interest, the author Georges Sand, painted by Delacroix in 1838, appear at about the 0:45-0:50 mark and are set to the strains of "Nocturne in E-Flat Major, Op. 9 No.2." This simple, but hauntingly beautiful piece demonstrates Chopin's ability to make the piano truly sing.
The piece that is the subject of this week's diary was one of twenty-four short preludes that were published as a collection in 1839, each composed in a different key. Although there are only twelve keys in an octave, the collection included preludes in C major, C minor, C# major, C# minor, etc. This week's selection was the best known of the collection.
This piece has special meaning for this writer, in part, since it was also one of the very first works by Chopin that he was ever able to play. At present, at least half of Chopin's repertoire is likely beyond this amateur musician's capabilities; however, all of his music conveys a depth of energy, beauty, and intensity of emotion that is rarely heard in any genre of music. The original version of this week's feature song is entitled "Prelude in C minor, Op. 28, No. 20."
Before launching into a more detailed description of this week's featured piece, this writer will take the liberty of a brief aside to provide you with a sampling of the piece that was more commonly used as a funeral march, the third movement from Piano Sonata No. 2 in B-flat minor, Op. 35.
There is a fascinating story connected with this particular piece, as can be found here. A brief excerpt is included in the following two paragraphs:
The "Funeral March" of Chopin, as played in the concert room, is an adaptation of the slow movement of Chopin's second pianoforte sonata in B flat minor, op. 35. The work is so familiar as to need no description. The circumstances under which Chopin wrote it however, as told by M. Ziem, are of interest. Ziem, the artist, had been one evening to the studio of Polignac. There was a skeleton in the studio and among the Bohemian whimsicalities, Polignac placed it at the piano and guided its hands over the keys. In Ziem's own words:

"Some time later Chopin came into my studio, just as George Sand depicts him — the imagination haunted by the legends of the land of frogs, besieged by nameless shapes. After frightful nightmares all night, in which he had struggled against specters who threatened to carry him off to hell, he came to rest in my studio. His nightmares reminded me of the skeleton scene and I told him of it. His eyes never left my piano, and he asked : 'Have you a skeleton?' I had none ; but i promised to have one that night, and so invited Polignac to dinner and asked him to bring his skeleton. What had previously been a mere farce became, owing to Chopin's inspiration, something grand, terrible and painful. Pale, with staring eyes, and draped in a winding sheet, Chopin held the skeleton close to him, and suddenly the silence of the studio was broken by the broad, slow, deep, gloomy notes. The 'Dead March' was composed there and then from beginning to end."
This piece has been played at numerous funerals of well known dignitaries, including William McKinley (1901), Joseph Stalin (1953), John F. Kennedy (1963), King Farouk of Egypt (1965), Leonid Breshnev (1982), and Queen Elizabeth the Queen Mother (2002). Although it seems that Chopin specified that Mozart's "Requiem" be played at his funeral, this version was used as an introit at the time of his burial at the Père Lachaise cemetery in Paris in 1849.
You've no doubt heard Chopin's most famous funeral march numerous times, as performed here by the Russian composer/pianist, Sergei Rachmaninoff…
The version that follows, which represents the earliest incarnation of this week's feature song, is not as well known as a funeral march, however, as mentioned ealier, and unlike its counterpart, it became a pop hit in the 1970s, and has been covered by numerous artists since that time.
The first version, as written by Chopin and performed by Artur Rubenstein, was released on January 1, 1991, with a run time of 1:34, which, in this writer's humble opinion, seems like the correct tempo. I've found versions by pianists on the web ranging from 1:01 (in a 1952 concert in Moscow) to 2:20 on another rendition.
Barry Manilow introduced this song, now titled, "Could This Be Magic" as part of his 1973 debut album, "Barry Manilow — I." It was subsequently released as a single in 1975, and was quite successful, reaching #6 on the Billboard Top 40 charts.
Those of you who follow this series may recall that Jimi Hendrix transformed Dylan's folkish "All Along the Watchtower" into something completely different and special. Even Dylan seemed to adopt much of Hendrix' style in later performances of this song, as did almost everyone else.
If you listened to the various renditions of "Light My Fire" (another feature song in the Original v. Cover series), you may also have noted that, without exception, cover versions seemed to emulate Feliciano, not the Doors. This apparent avoidance with regard to emulating the Doors' version could be perceived as an indication of profound respect, or, alternatively, an expression of preference for Jose Feliciano's interpretation.
Barry Manilow's 1993 remake does not sound appreciably different than the original, that is, until the 1:44 mark. It would seem that a revolutionary version by a later performer may have had considerable influence on Barry, a version that appears later in this space. As you check out later versions, this connection should become eminently clear.
Ever wonder why Donna Summer was so popular during the late 1970s? Her stellar performance on this live video (1976) should put all lingering doubts to rest. So, strap on your dancing shoes, plug in the flashing colored lights and turn on that multi-mirrored ball that is suspended from your ceiling, which, once rotating, will cast many different hues and shapes of light in a constantly moving circular pattern about the room. Similar to Feliciano's remake of "Light My Fire", this song enjoyed broad appeal, reaching the following positions on these charts: U. S. Dance – #3, Austrian singles – #14, U. S. Black Singles – #21, German Singles – #23, UK Singles -#40, and U. S. Billboard Pop Singles – #52.
Lynda Carter sings "Could This Be Magic" on her second TV special "ENCORE", from 1980. After her stint as "Wonder Woman" from 1975-1979, she showcased her musical talents during the early 1980s in Las Vegas and Atlantic City. In this video, Lynda begins with an amusing story about Wolfgang Amadeus Mozart, introduces a very young pianist, and then properly identifies the song as composed by Chopin, turning in a very nice performance…
The remake by the British group Take That (1992) peaked at #3 on the UK Singles Chart, and also won Best British Single at the 1993 Brit Awards. The song also received a Silver sales status certification for selling more than 200,000 copies in the UK. This version also did fairly well in several other countries, as represented by the following charts and highest rankings achieved: Irish Singles – #3, Austrailian ARIA Singles – #30, French SNEP Singles – #42, German Singles – #37, and Swedish Singles – #30.
This high-energy version includes some great harmonies and fancy footwork, reminiscent of the Broadway musicals "Rent" or "Urinetown." If tempted to dance along with the performers, well…don't try this at home!
Leona Lewis ~ February 12, 2006 (Week 8) The 2006 X Factor
John Barrowman performed the song to open an episode of "Tonight's the Night" for the BBC in 2009.
Here Joe McElderry's performance from The X Factor 2009 – Live Show 8…
Valerio Scanu, the young Italian sensation, demonstrates his talents in this cover version. Upon first seeing his picture, I wasn't sure if he was a pop star or a world-class half pipe athlete. The following video highlights some of his earlier work and then launches into his rendition of "Could It Be Magic" at about the 2:55 mark, from December 19, 2009.
Hope this has been a pleasurable learning experience for you. As always, your questions and comments are much appreciated. Have a wonderful weekend!
Loading ...