Simulposted at Daily Kos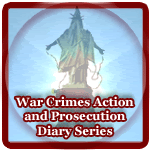 Perhaps the worst incident at Abu Ghraib involved a girl aged 12 or 13 who screamed for help to her brother in an upper cell while stripped naked and beaten. Iraqi journalist Suhaib Badr-Addin al-Baz, who heard the girl's screams, also witnessed an ill 15-year-old who was forced to run up and down with two heavy cans of water and beaten whenever he stopped. When he finally collapsed, guards stripped and poured cold water on him. Finally, a hooded man was brought in. When unhooded, the boy realized that the man was his father, who doubtless was being intimidated into confessing something upon sight of his brutalized son.
Empathy is what keeps men from becoming MONSTERS.