Also, on Daily Kos President Carter: Many Children Were Tortured Under Bush
Call Congress and AG Eric Holder TODAY and Demand Justice!
What more do you need in order to pick up the phone, send an e-mail and jump out of your chair to YELL LOUDER!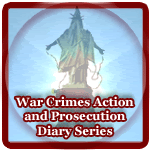 Yell Louder! Take Action against the Bush/Cheney criminals today. AG Holder is leaning towards a Special Prosecutor, H.Res 383 is calling for investigations and review, and now this . .
The House Intelligence Committee asked the CIA to provide documents about the now-canceled program to kill al-Qaida leaders, and agency officials said it would comply with the request, congressional officials said Tuesday.

~snip~

The House request for documents is likely a precursor to what would likely become a full-blown investigation into the secret operation and why the program was not disclosed to Congress. Panetta, meanwhile, has ordered a thorough internal review of the program, agency spokesman George Little said.

bold text added by diarist

CIA? Death Squads? How do I know Dick Cheney is at the bottom of this?
Because he is . . .