( – promoted by buhdydharma )
Also, on Daily Kos President Carter: Many Children Were Tortured Under Bush
Call Congress and AG Eric Holder TODAY and Demand Justice!
What more do you need in order to pick up the phone, send an e-mail and jump out of your chair to YELL LOUDER!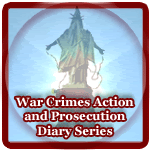 Yell Louder! Take Action against the Bush/Cheney criminals today. AG Holder is leaning towards a Special Prosecutor, H.Res 383 is calling for investigations and review, and now this . .
The House Intelligence Committee asked the CIA to provide documents about the now-canceled program to kill al-Qaida leaders, and agency officials said it would comply with the request, congressional officials said Tuesday.

~snip~

The House request for documents is likely a precursor to what would likely become a full-blown investigation into the secret operation and why the program was not disclosed to Congress. Panetta, meanwhile, has ordered a thorough internal review of the program, agency spokesman George Little said.

bold text added by diarist

CIA? Death Squads? How do I know Dick Cheney is at the bottom of this?
Because he is . . .
More from the piece by Pamela Hess at Huffington Post
House Intelligence Committee Chairman Silvestre Reyes, D-Texas, is expected to decide as early as this week whether to press ahead with a full investigation into the CIA operation.
According to the article, House Intelligence Committee Ranking member Rep. Peter Hoekstra (R-MI) thinks there should be an investigation, though he is trying to play the politic card in that the Democrats are doing this solely to lay blame at the last Administrations feet while defending Speaker Pelosi.
Senator Russ Feingold, on the other hand, says that the CIA under the Bush/Cheney Administration broke the law.
And we know that the CIA did so at the direction of Co-President Dick Cheney.
House Democrats are holding up the floor debate for the Intelligence bill that will finance agencies like the CIA and others. Congress is right in demanding the right to further and more intensive reviews of intelligence material, as is clearly required considering the ease with which the previous Administration was able to lie to the Legislative branch and the citizens who voted for them. This is as much a struggle for power between the Executive and Legislative branch as it is about Bush/Cheney. Congress is pissed for being made to look like fools, and the GOP would be thrilled to keep on fooling us.
President Barack Obama has threatened to veto any bill that includes expansion of intelligence briefings beyond the traditionally ineffective "Gang of Eight".
Why President Obama would make use his first veto on a bill that would increase transparency is not at all clear to me, though it may be to others.
But in this tactic, Speaker Pelosi and the Democratic Leaders of the House show an ability to use the power of their majority effectively and in the interests for transparency and the rule of law. I only dream that the Senate was so in tune with the rule of law and the will of We The People. Alarmingly, I feel increasingly the same about the Office of the President.
Contact Congress today and Demand Full investigations of the Bush/Cheney Administration.

Contact the White House and AG Eric Holder and demand a strong and independent Special Prosecutor today
You can Contact Attorney General's Eric Holder's office to demand accountability here
BY MAIL

U.S. Department of Justice

950 Pennsylvania Avenue, NW

Washington, DC 20530-0001


BY PHONE:

Department of Justice Main Switchboard – 202-514-2000



Office of the Attorney General – 202-353-1555

U.S. DOJ FAX number for AG Holder

FAX: (202) 307-4613

BY E-MAIL

E-Mail the Attorney Generals Office at AskDOJ@usdoj.gov

Disclaimer: THIS E-MAIL ACCOUNT IS NOT AVAILABLE FOR SERVICE OF OFFICIAL, CASE-RELATED OR LEGAL DOCUMENTS AND IS NOT MONITORED FOR SUCH SUBMISSIONS OR FOR OTHER TIME-SENSITIVE COMMUNICATIONS. E-mails with attachments will be deleted because they may contain viruses.
If you need help writing a letter to AG Eric Holder there is an excellent one you can click and paste in here courtesy of Something the Dog Said.
You can sign these petitions to Attorney General Holder as well, and if you have already done so, please
Please demand action from Congress as well. Support House Resolution 383 which calls for a special House committee to review Bush/Cheney policies like warantless wiretapping, torture, and any crimes they may have committed. Please contact Congress today and support H.Res 383.
Tell the Democratic House of Representatives Leadership that you want open public investigations of Bush/Cheney and that you support a closed rule for H.Res 383 today!



Contact Speaker of the House Nancy Pelosi [D-CA8] by E-Mail here

Or Call (202) 225-0100
Contact House Majority Leader Steny Hoyer [D-MD5] by E-Mail here

Or Call (202) 225-4131

Contact House Majority Whip James Clyburn [D-SC6] by E-Mail here

Or Call (202) 225-3315

Contact H.Res 383 Sponsor Representative Barbara Lee [D-CA9]by E-Mailhere

Or Call (202) 225-2661

Be sure to say thank you to Representative Lee, and tell her that you support her and House Resolution 383
Contact House Judiciary Committee Chairman Rep. John Conyers by E-mail here

Or Call (202) 225-5126

Contact Rep. Robert Wexler [D-FL19} by E-Mail here

Or Call (202) 225-3001

IMPORTANT!
When contacting House Rules Committee members, be sure to state that you want a closed ruling on H.Res 383 and open public investigations of the Bush/Cheney Administration and their policies.

Contact House Rules Committee chairman Rep. Louise Slaughter [D-NY28] by E-Mail here

Or Call (202) 225-3615



Contact Rep. Michael Arcuri [D-NY24] via E-Mail here

Or Call (202) 225-3665


Contact Rep. Dennis Cardoza [D-CA18] via E-Mail here

Or Call (202) 225-6131


Contact Rep. Alcee Hastings [D-FL23] via E-Mail here

Or Call (202) 225-1313


Contact Rep. Doris Matsui [D-CA5] via E-Mail here

Or Call (202) 225-7163


Contact Rep. James McGovern [D-MA3] via E-Mail here

Or Call (202) 225-6101


Contact Rep. Ed Perlmutter [D-CO7] via E-Mail here

Or Call (202) 225-2645


Contact Rep. Chellie Pingree [D-ME1] via E-Mail here

Or Call (202) 225-6116


Contact Rep. Jared Polis [D-CO2] via E-Mail here

Or Call (202) 225-2161
This is the contact information for the four Republican members of the House Rules committee.
Contact Ranking GOP committee member Rep. David Dreier [R-CA26] via E-Mail here

Or Call (202) 225-2305

Contact Rep. Lincoln Diaz-Balart [R-FL21] via E-Mail here

Or Call (202)225-4211

Contact Rep. Virginia Foxx [R-NC5] via E-Mail here

Or Call (202) 225-2071

Contact Rep. Peter Sessions [R-TX32] via E-Mail here

Or Call (202) 225-2231

Contact the Progressive Caucus VIA E-Mail here

Or Call their offices at 202-225-1400
If you wish to contact your own Representative to ask them to support this effort and H.Res 383 in order to fully and openly investigate the Bush/Cheney Administration, you can search for their contact information here or call (202) 225-1904.
Please sign the petition to let the FBI do it's job and investigate the Bush/Cheney Administration for War Crimes connected to the 2001 Afghanistan Mass Graves. Also, sign the petition below to ask AG Eric Holder to name a Special Prosecutor below if you have not done so already.
Thank you for your help, and good luck
Yell Louder!
The CIA, which tortured, under the direction of Dick Cheney, formed death squads that we're not revealed to Congress because Dick Cheney ordered them to lie, and those Death Squads reported directly to the Co-President Dick Cheney.
He had his own Praetorian Guard.
Ceaser Cheney, Co – Council of the American Empire (2001 to 2009)