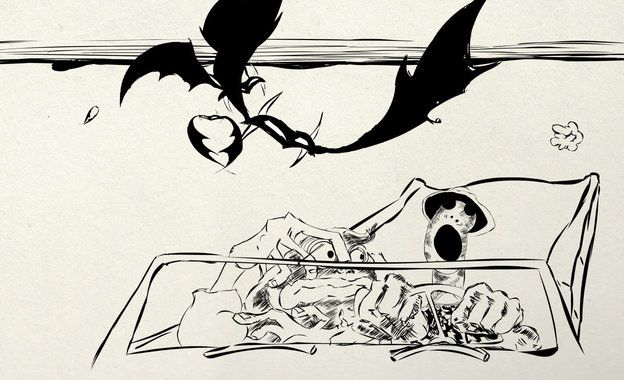 This was no ordinary homecoming. This was a do-or-die attempt to lay the ghost of years of rejection from the horse-rearing elite and the literati who sat in those privileged boxes overlooking the track and those unprivileged craven hordes who grovelled around the centre-field where he had suffered as a boy.

The clubhouse as I remember was worse, much worse than I had expected. It was a mess. This was supposed to be a smart, horsey clubhouse, oozing with money and gentry, but what I saw had me skulking in corners. It was worse than the night I spent on Skid Row a month later, back in New York. My feet crunched broken glass on the floor. There seemed no difference between a telephone booth and a urinal; both were used for the same purpose. Foul messages were scrawled in human excrement on the walls and bull-necked men, in what had once been white, but were smeared and stained, seersucker suits, were doing awful things to younger but equally depraved men around every corner. The place reminded me of a cowshed that hadn't been cleaned in fifteen years. Somehow I knew I had to look and observe. It was my job. What was I being paid for? I was lucky to be here. Lots of people would give their drawing arm to be able to see the actual Kentucky Derby which was now hardly an hour away. Hunter understood and was watching me as much as he was watching the scene before us.

Something splattered the page I was drawing on and, as I moved to wipe it away, I realized too late it was somebody's vomit. During the worst days of the Weimar Republic, when Hitler was rising faster than a bull on heat, George Grosz, the savage satirical painter, had used human shit as a violent method of colouring his drawings. It is a shade of brown like no other and its use makes an ultimate statement about the subject.

'Seen enough?', asked Hunter, pushing me hastily towards an exit that led out to the club enclosure. I needed a drink. 'Er… one more trip to the inner-field Ralph I think,' I heard Hunter say nervously. 'Only another half-hour to the big race. If we don't catch the inner-field now, we'll miss it.' So we went.

While the scene was as wild here as it had been in the clubhouse, it had a warmer, more human face, more colour and happiness and gay abandon – the difference in atmosphere between Hogarth's Gin Lane and Beer Street. One harrowed and death-like the other bloated with booze but animal-healthy.

Who would have thought I was after the gristle, the blood-throbbing veins, poisoned exquisitely by endless self-indulgence, mint juleps, and bourbon. Hide, anyway, behind the dark shades you predatory piece of raw blubber.

The race was now getting a frenzied response as Dust Commander began to make the running. Bangles and jewels rattled on suntanned, wobbling flesh and even the pillar men in suits were now on tip-toe, creased skin under double-chins stretched to the limit into long furrows that curved down into tight collars.

Mouths opened and closed and veins pulsed in unison as the frenzy reached its climax. One or two slumped back as their horses failed, but the mass hysteria rose to a final orgasmic shriek, at last bubbling over into whoops of joy, hugging and back slapping. I turned to face the track again, but it was all over. That was it. The 1970 Kentucky Derby won by Dust Commander with a lead of five lengths – the biggest winning margin since 1946 when Triple Crown Champion, Assault, won the Derby by eight lengths.
…
'I think it's time I was thinking of getting back to New York. Let's have a meal somewhere and I can phone the airline for plane times. What day is it, we seem to have lost a weekend. I need a drink.'

'You need a lynching. You've upset my friends and I haven't written a goddamn word. I've been too busy looking after you. Your work here is done. I can never come back here again. This whole thing will probably finish me as a writer. I have no story.'

'Well I know we got a bit pissed and let things slip a bit but there's lots of colour. Lots happened.'

'Holy Shit! You scumbag! This is Kentucky, not Skid Row. I love these people. They are my friends and you treated them like scum.'

Ralph Steadman- The Joke's Over
If you want to you can watch the Kentucky Derby on NBC.
I suppose this is good thing since you can hardly be expected to follow Horse Racing unless you're a tout or plunger in one of the few forms of gambling deemed socially acceptable (as opposed to Poker, which is not gambling at all) and 2 year olds don't have much of a record to handicap.
This year Joe Drape at the New York Times picks Tacitus, Roadster, and Improbable; Melissa Hoppert picks Improbable, Game Winner, and Tacitus. That link has takes on every horse in the field. Haikal and Omaha Beach have been scratched.
But it's really mostly an excuse to wear hats that would be rejected from a 5th Avenue Easter Parade or Royal Wedding and get tanked up on Bourbon that is best sipped with a soda chaser and not muddled up with mint.
Ingredients
4 cups bourbon
2 bunches fresh spearmint
1 cup distilled water
1 cup granulated sugar
Powdered sugar
Directions
To prepare mint extract, remove about 40 small mint leaves. Wash and place in a small bowl. Cover with 3 ounces bourbon. Allow the leaves to soak for 15 minutes. Then gather the leaves in paper toweling. Thoroughly wring the mint over the bowl of whisky. Dip the bundle again and repeat the process several times.

To prepare simple syrup, mix 1 cup of granulated sugar and 1 cup of distilled water in a small saucepan. Heat to dissolve sugar. Stir constantly so the sugar does not burn. Set aside to cool.

To prepare mint julep mixture, pour 3 1/2 cups of bourbon into a large glass bowl or glass pitcher. Add 1 cup of the simple syrup to the bourbon.

Now begin adding the mint extract 1 tablespoon at a time to the julep mixture. Each batch of mint extract is different, so you must taste and smell after each tablespoon is added. You are looking for a soft mint aroma and taste-generally about 3 tablespoons. When you think it's right, pour the whole mixture back into the empty liter bottle and refrigerate it for at least 24 hours to "marry" the flavors.

To serve the julep, fill each glass (preferably a silver mint julep cup) 1/2 full with shaved ice. Insert a spring of mint and then pack in more ice to about 1-inch over the top of the cup. Then, insert a straw that has been cut to 1-inch above the top of the cup so the nose is forced close to the mint when sipping the julep.

When frost forms on the cup, pour the refrigerated julep mixture over the ice and add a sprinkle of powdered sugar to the top of the ice. Serve immediately.
I suppose I might mention this is the 145th edition and ask you all rise for perhaps the most racist anthem in sports.
The sun shines bright in the old Kentucky home,
'Tis summer, the darkies are gay,
The corn top's ripe and the meadows in the bloom,
While the birds make music all the day.
The young folks roll on the little cabin floor,
All merry, all happy and bright:
By'n by Hard Times comes a knocking at the door,
Then my old Kentucky Home, good night!
Weep no more, my lady,
Oh! weep no more to-day!
We will sing one song for the old Kentucky Home,
For the old Kentucky Home far away.
They hunt no more for possum and the coon
On the meadow, the hill, and the shore,
They sing no more by the glimmer of the moon,
On the bench by the old cabin door.
The day goes by like a shadow o're the heart,
With sorrow where all was delight:
The time has come when the darkies have to part,
Then my old Kentucky Home, good-night!
Weep no more, my lady,
Oh! weep no more to-day!
We will sing one song for the old Kentucky Home,
For the old Kentucky Home far away.
The head must bow and the back will have to bend,
Wherever the darkey may go:
A few more days, and the trouble all will end
In the field where the sugar-canes grow.
A few more days for to tote the weary load,
No matter, 'twill never be light,
A few more days till we totter on the road,
Then my old Kentucky Home, good-night!
Weep no more, my lady,
Oh! weep no more to-day!
We will sing one song for the old Kentucky Home,
For the old Kentucky Home far away.
It is made no better for having been composed by Stephen Foster.
This year's controversy is dead Horses, at least 23 at Santa Anita alone. They're trotting out the usual suspect, performance enhancing drugs (I take Lasix and between changing prescriptions I have accumulated quite a surplus. I frequently joke with my Doctor I should get into horse doping as a side-line.) when in fact it's more likely inbreeding and genetic deformity.
The track is likely to be sloppy or wet at Post Time which is 6:50 pm ET.