Le. Tour. De. France.
I'm afraid it's that time of year again, 23 days (21 racing and 2 rest) of flaming chunks of twisted metal (perhaps I should update that to shattered shards of Carbon Fiber and bone). I'm sure I've mentioned before how my father Richard was at a race here in the U.S. and his lasting impression was of the Peleton passing by and literally sucking all the air off the street. This ain't no kiddie ride with plastic baskets and handlebar streamers (though Dad did sell Strawberry Shortcake bikes for a while).
Ain't No Rest for the Wicked, Part 1
Now a month is a long time to devote to a project, though I've been writing for 11 years now (11 years? Damn. That's 7% of my entire life and I am ooold.). I also do March Madness (128 Games, count 'em) but especially with Le Tour I sometimes lose the thread because… Summer and Travel and I don't really care all that much about biking per se I just like the fact that we're a Political/News site that also does Sports (particularly weird and unpopular ones).
So we'll see how long I last in the marathon this time. Unlike some years I don't have but one trip scheduled and that may happen or not.
What I do with these pieces is sort of follow along with the previous day's action and set up that day's Stage. The action part usually gets pretty boring after a while because like Formula One and America's Cup there's very little actual passing unless there's a wreck. The visual spectacle that is France never disappoints though.
This year the odds on favorite for overall victory is Chris Froome of Britain. He might be challenged by Nairo Quintana, Alberto Contador, Thibaut Pinot, or Fabio Aru. Or they could all crash horribly (somewhat unlikely). There are those who claim that this year's course is set up to favor him but the truth is that it suits all the top contenders.
What is unusual is that Le Tour usually goes clockwise/counter-clockwise. Since last year was counter-clockwise you'd expect Alps/Pyrenees this year but it is once again Pyrenees/Alps which is a minor disavantage to Contador. In his favor is that there are no cobblestone Stages on which he does rather poorly. Bastille Day we will be climbing Mont Ventoux, the "Giant of Provence", which Froome has used in the past to gain an insurmountable advantage. Really, it's just another bump and only the one so the real edge is mental. There are 2 Time Trial Stages that are not flat but most of the expected leaders like those.
For the Green Jersey (Sprinters) the favorites are Peter Sagan, Marcel Kittel, Alexander Kristoff, André Greipel, and Mark Cavendish. Sagan is the prohibitive favorite because he's been the winner since 2012 (they even tried to change the rules last year, didn't work). Almost everyone else is focused on the Olympics which is much more suited to their strengths.
In the Team Championship (like Formula One almost nobody cares except for the Team owners and in bike racing it matters even less than that) there are 22 involved (198 racers to start). The ranked teams in order are Movistar, Katusha, Sky, Etixx-Quick-Step, Astana Pro Team, BMC, Tinkoff, Orica-BikeExchange, Lotto Soudal, Giant-Alpecin, AG2R La Mondiale, Lampre-Merida, Trek, Lotto NL – Jumbo, FDJ, Cannondale, IAM, Bora–Argon.
There are also 4 unranked teams- Cofidis Solutions Crédits, Dimension Data, Direct Énergie, Fortuneo–Vital Concept.
I haven't found a handicapping sheet on King of the Mountains (Polka Dot) or Young Riders (White) yet.
Ain't No Rest for the Wicked, Part 2
So why am I up at this unfavorable hour I normally reserve for other trivial things like Formula One?
Mont-Saint-Michel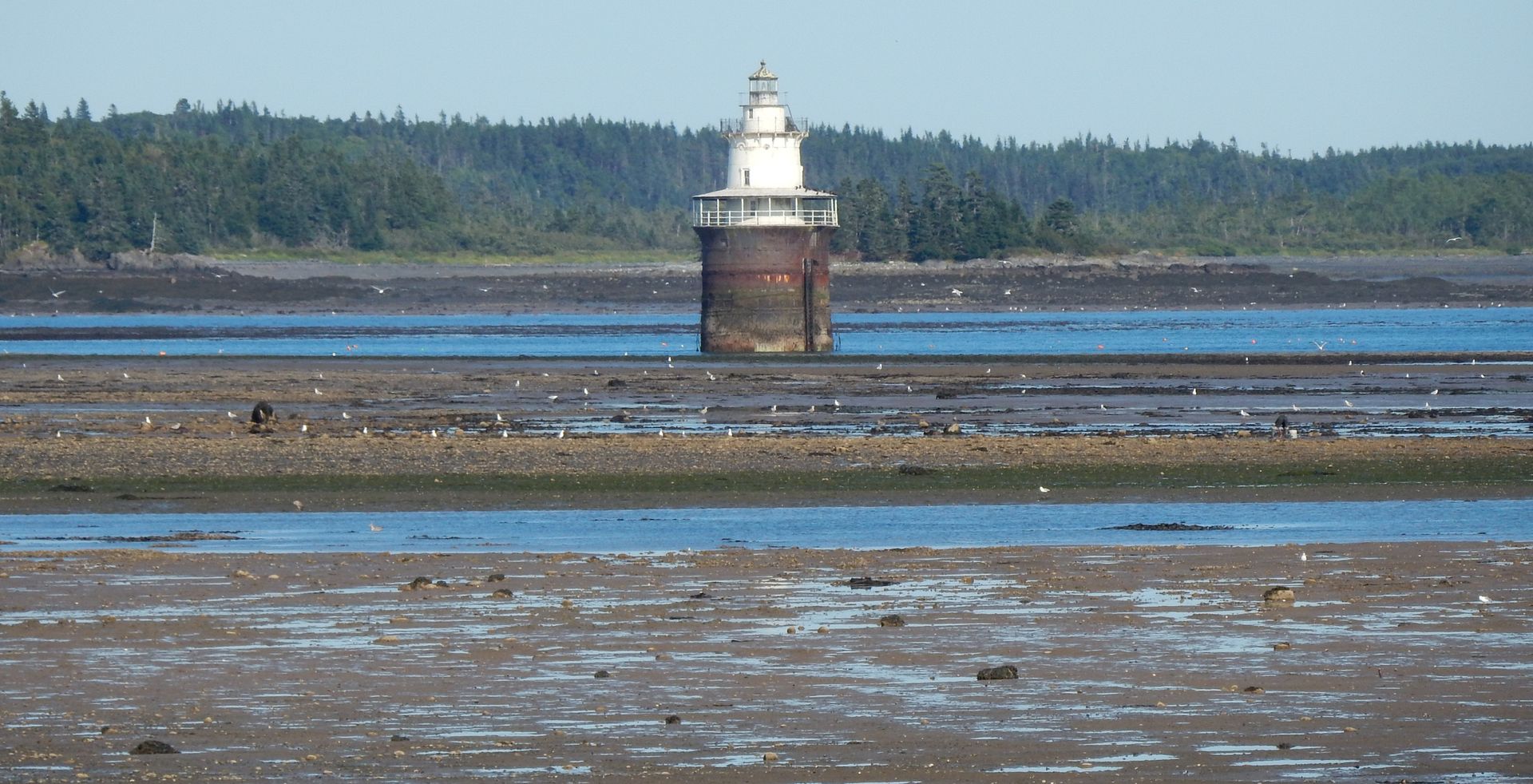 Now that is not actually Mont-Saint-Michel, it's a Lighthouse in Lubec Maine (are we not understanding travel?) called the Sparkplug by locals. It does illustrate some essential features.
Mont-Saint-Michel is essentially a fortified island that is accessible only twice a day at low tide over endless mudflats.
Well, not endless exactly, a little over 600 yards. It's been a fortified monastary since the 8th century except for a brief stint as a prison and as of 2009 boasted a permanent population of 44. Yup. The English gave it a full fledged siege in 1433 that failed miserably. Tides change the water depth by 46 feet and are said to come in faster than a horse can run. Particularly in muck with a Knight on their back. Sheep love the marshes and are a regional specialty.
Anyway, like East Quoddy (also in the Lubec area)-
you can only get there from here at certain times of day unless you take a boat (which I will next time because I gashed the heck out of my knee on the seaweed covered rocks. Paid for that picture in blood.) even with the modern causeway so you better get when the tide lets you, in this case (6 am) about 2 hours before usual.
Today's Stage- Mont-Saint-Michel / Utah Beach (Sainte-Marie-du-Mont), 117 miles
There are 2 Category 4 climbs fairly early and the rest of the course could be called relatively flat. There is one Sprint Checkpoint about 1/3rd of the way from the end. It's expected that one of the Sprinters will finish first and wear the maillot jaune at the end of the day. Good for them.
It will be, as usual, a rolling start and riders will be behind the pace car until they hit the mainland. Since there is no rain expected until later and the cross winds are mild it should result in a crashless day.
Yawn.
Resources
The New York Times covers this but they are practically useless. The Guardian is the definitive independent English language source for news. If you prefer the propaganda straight there is Le Tour's Official Site.
Interactive Route Maps