For many transgender people the hardest thing is maintaining or finding employment.
Today I focus on three cases.
Personally i transitioned as a tenured college mathematics professor at the University of Central Arkansas. So while I feared the university might seek to fire me, I definitely had more leverage than most people.
In fact, when I was approached the Chair of my Department, who sought to bait me into violating my contract, I told him,
The University cannot hire me based on my gender, nor can it fire me based on my gender, so my gender is no business of yours.
So on to the case studies, in New York City, Oregon, and Florida.
Brooke Guinan is unique. She is the only transgender woman firefighter in the FDNY. Brooke's grandfather was in the FDNY. Her father still is.
She wasn't at first confident that she could become a fire fighter.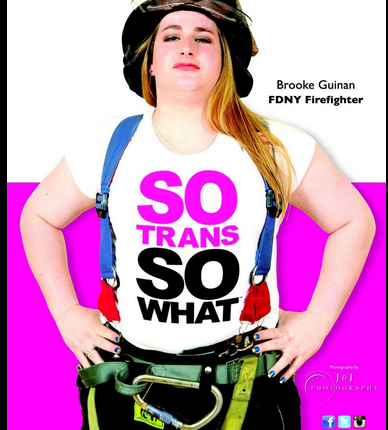 Most queer people think that being a firefighter, a cop, or having a government job is unattainable. What a lot don't realize is you can do it.
Eventually, Guinan realized that she didn't need to fit into the "masculine stereotype," like her family members, to be a firefighter, and soon signed up to join the FDNY.
Despite some criticism, Fire Commissioner Daniel Nigro had this to say:
[We are] very proud of Firefighter Guinan's participation in this important program.
Brooke began transition four years ago and worked a desk job in recruitment during that period. Now fully transitioned, Brooke is an integral part of a firehouse in Astoria Queens. She also still does recruiting as the department tries to increase LGBT participation.
And now Brooke has decided to participate in the Vocal Organization for International Courage and Equality (VOICE) campaign, So Gay, So What. There was some pushback when the FDNY posted the poster to their Facebook page, but most applauded.
I've been down dark, hot hallways. If you ask me, what Brooke is doing takes a whole lot more courage!

–Jeffrey Taylor, a former city firefighter
Sorin Lorne Thomas identifies as neither a man nor a woman. Sorin applied for a job as a "field therapist" for New Vision West Coast Inc., which operates a wilderness-based therapy program in Bend, OR.
When Sorin identified as transgender in a conversation with New Vision's cofounder and clinical director Steve Sawyer, Sawyer expressed concerns that Sorin's status would negatively affect clients. So he asked Sorin to write a letter reflecting on the issue.
Sorin filed the letter, but then heard nothing until June 3, when Sawyer announced that the company had reopened applications.
On September 3, Sorin filed a complaint with the Oregon Bureau of Labor and Industries, claiming that the job offer was rescinded after disclosure of transgender status.
The complaint alleges that New Vision did not ask other employees to carry out similar requests involving their gender status during the hiring process.
New Vision has declined to comment…from either its Bend office or its Wisconsin headquarters. Investigations typically take four to six months.
Sorin's attorney said "New Vision expressed concern that Thomas' gender identity disclosure would violate the company's therapeutic approach."
You're not supposed to talk about your past experiences as a way of assisting in the therapeutic model. Sorin said gender identity is not a traumatic or past experience but a "present" expression of identity.

–Lake Perriguey, Sorin's attorney
If BOLI finds substantial evidence of discrimination, it will attempt a mediation seeking a settlement.
At Pasco County, FL's Mitchell High School, parents, staff and students have learned that a social studies teacher no longer wishes to be identified as male. The principal notified parents via robocalls, while staff were informed of the transition during a staff meeting. Konrad's students learned of the transition in their classes.
Mr. K

Mr. Konrad has begun the process of gender transition and is anticipating presenting as a female no later than August of 2015.

As you can imagine, this is a very private decision, but Mr. Konrad has indicated that he will respond to appropriate questions you may have about the transition process.

–Principal Jim Michaels
The 30-year-old Konrad has declined to be interviewed by the press.
Employee relations director Betsy Kuhn worked closely with Konrad on how best to reveal the situation, stressing that the final decision was Konrad's alone.
It's something that this teacher wanted. He wanted this to not be through rumors when he starts to change appearance.
My guess is that Konrad would have been more pleased without the gendered pronouns used.
Konrad has taught at Mitchell for four years. Konrad's wife also teaches at the school.
I didn't see it coming. It's great for him to feel comfortable enough to come out.

[Konrad] was a great teacher.

He'll still have the same personality," Archbold said. "Now he's just Mrs. Konrad instead of Mr. Konrad.

–Kerry Archbold, former student and current University of Central Florida freshman
Some parents have already raised the typical concerns
They're afraid of disruptions in the classroom. What is the potential learning loss," if teens focus on the teacher rather than his lessons?

–Wendy Howard, a local school choice activist speaking on some parents' behalf
Howard, who does not have a child in the school, said the parents did not want to be identified, fearing retribution against their children.
But they worried about whether Konrad might promote or encourage something that goes against their core values.
Clearly, equal treatment is not on of those "core values."
Teachers are supposed to be role models. They're supposed to leave their personal lives out of the classroom.

–Howard
What's important for the school is what students think. If students there think that what matters most is the ability for this teacher to teach them, that's what the community members should be focused on, too. … This teacher is someone who is making a really hard decision, but I think in the long run it's a decision that will help them become a better teacher.

–Vincent Paolo Villano, National Center for Transgender Equality
Kuhn said that Michaels, the principal, reminded students to remain focused on their class work and to "show what you know about having Mustang pride." She said the students and staff were respectful and supportive after the morning announcement. The district backs Konrad as he works through his personal decisions, she said.
We believe instruction is not affected by a person's gender, and the district is committed to providing an educational environment that respects all members of our school community.

–Kuhn