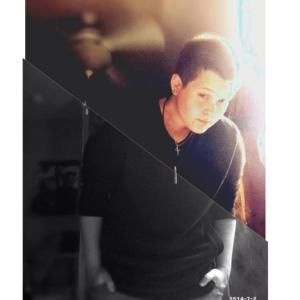 Riley Matthew Moscatel came out as transgender in 11th grade English class at Bucks County Technical High School this past spring. From all reports, his transition had gone well at school.
Everyone supported him. Everyone loved Riley. He was everyone's best friend.

–Kate Cimino, a friend
Other friends noted that Riley suffered from depression in the past but appeared to have improved. But, they say, he had become increasingly uncomfortable with his body.
Riley uploaded a message to his Instagram account on Monday.
My mirror reflects Jessica, my heart and mind say Riley … You see me as the happiest person in school, I'm a prisoner of my own body …
Police have recovered surveillance video that shows Riley stepping in front of an Amtrak train early Monday afternoon near his home in Bristol.
Even though everyone showed support and called him Riley, it didn't match up to what he felt of himself.

–Cimino
He was super-frustrated with his body. And more and more frustrated every single day.

–Carley Foss, friend
Foss says that Riley was researching hormone treatments, which he hoped to begin after he turned 18 in December. He also wanted to have breast surgery.
Suicide attempts by transgender youth are extremely high…with a rate as much as 41%. But it is a complicated and understudied phenomenon.
NYU professor of applied psychology Arnold Grossman is studying the issue with help from NIMH. He says that "suicide attempts by transgender youth often stem from feelings of not belonging, burdening family members, and seeing no way out of the situation."
Michele Angello is a psychotherapist in Wayne who treats teens like Riley. She notes the sense of despair that can come when one is disconnected from one's body. She also points to lack of support, being bullied, and having trouble finding a job as major issues.
I have amazingly intelligent and beautiful adolescents coming into my office in total despair because of one of those factors.

–Angello
Andrew Spiers of the Philadelphia based social justice program GALAEI says the discomfort of being a trans youth can "throw them into crisis."
Anybody that's transitioning should probably be seeing a therapist.. For teenagers, given what they're going through on top of questions about gender identity, that's a lot to handle.

–Spiers
Riley's teachers are devastated.
They said Riley had a great year last year. She felt supported by friends and family and that's why this has shocked everyone.

–Kevin Gentilcore, supervisor of Pupil Personnel Services
Gentilcore describes the school as one which accepts "all of our children for who they are and as they are."
I note Kevin's pronoun slip. It is not an unusual event, but they do add up.
With all of our support and the school culture we have, if we have a student who chooses to take their own life, it can happen anywhere.

–Gentilcore
Riley's parents were interviewed by The Trentonian. What is most noteable about the interview is their inability to use male pronouns.
Stating the Bucks County Technical High School senior came from a loving household and they were 100 percent supportive of his decision to publicly identify as male, his parents are still searching for answers.
We knew that it was important to her. If it was important to her, it was important to us whether we understood it or not.

–Rich Moscatel, Riley's father
We went from her thinking she was a lesbian, to bisexual, to finally transgender, She didn't know what she wanted to try and fit into.

–Kristine Moscatel, Riley's mother
She's my daughter, she'll always be my daughter. We were trying to accept and we never said, 'No, you can't be a boy.'

–Kristine Moscatel
She did a really good job of masking her depression in front of the people that she loved. We're still kicking ourselves as to what was the straw that broke the camel's back. She was dealing with a lot of pressures.

–Rich Moscatel
She went on a walk and the rest is the rest. She didn't give anyone a chance to talk her off the ledge.

–Rich Moscatel
The main thing for anyone that is going through what we're going through is to talk as much as you can and try to dig under your child's mask and get to their true feelings because we didn't dig enough. She showed us what she wanted to show us.

A lot of the times, it feels better if you talk about it and get it off your chest, instead of letting it fester in your head and it gets worse. And then something tragic like this happens, and it impacts the family the friends, the community, and it's sad because it could have been prevented.

Unfortunately this one time, we didn't get that phone call because we would stop a train for her. We would do whatever we had to do to protect our baby

–Rich Moscatel
If I could choose if I was born a girl or guy I would have chosen a guy. Most female-to-males wouldn't agree because (their) journey made them stronger, but it really takes a toll on me.
My mirror reflects Jessica, my heart and mind say Riley.

You say she//her//daughter, I say nothing.

You try to open me but I stay closed.

You see a smile, I want to be free.

You see me as the happiest person in the school, I'm a

prisoner in my own body.

You see me having a successful future, I can't

see me at my graduation day.

You want me to go to college, but it's for

something I don't want.

I say my heart's beating, but it 's beating slower

and slower each day.

You think I am happy, I've lost my mind.

You think I haven't cut, I've been covering.

You think I haven't tried, I lost count.

You think I'm over it, we're still together in my head.

You think my dreams are peaceful, I have nightmares.

You think I "got over it", my death replays in my head 24/7.

You think tomorrow's going to be easier?

But in reality, it gets harder.

I'm not as strong or influential as everybody thinks.

I've had enough.

Enough of being a walking lie.

Being told what gender I am from the outside.

Well, now you know the inside

and that there's a massive thunderstorm

inside not only my head, but heart.

I let people down by doing this, I know.

I just let go of the balloon I've been holding for so long

called "hope".

With that being said, I love you ❤

I'm sorry I'm not the daughter you wanted

from your friend//SON, Riley Matthew Moscatel