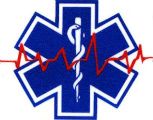 Welcome to the Health and Fitness News, a weekly diary which is cross-posted from The Stars Hollow Gazette. It is open for discussion about health related issues including diet, exercise, health and health care issues, as well as, tips on what you can do when there is a medical emergency. Also an opportunity to share and exchange your favorite healthy recipes.
Questions are encouraged and I will answer to the best of my ability. If I can't, I will try to steer you in the right direction. Naturally, I cannot give individual medical advice for personal health issues. I can give you information about medical conditions and the current treatments available.
You can now find past Health and Fitness News diaries here and on the right hand side of the Front Page.
Vegetarian Taco Night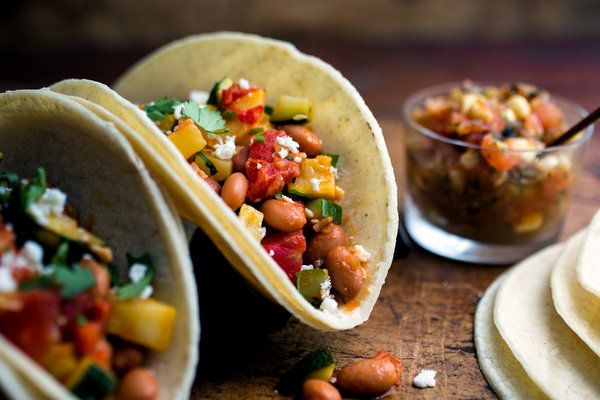 Andrew Scrivani for The New York Times
Taco night is nothing new, but over the last five days, we've had taco week. The markets are piled high with irresistible produce – summer squash, tomatoes, green beans, corn, peppers and chiles, greens and herbs – and corn tortillas are a great vehicle for them.

~Martha Rose Shulman~
Chard and Sweet Corn Tacos
These sweet and spicy tacos can be filled with chard of any color, or other greens like beet greens or amaranth.
Another way to use the versatile green bean in summer cooking. Cut into one-inch lengths and add to a mix of corn, chiles and green tomatillo salsa.
You can turn the heat up or down on this taco, depending on your taste for spiciness. Season the potatoes, onions and squash before roasting.
Beans such as pintos, even out of a can, add substance to this summery taco filling. Goat cheese provides a creamy, rich finish.
In these tacos, tofu stands in for meat in a vegan picadillo, cooked in a modified salsa ranchera.
Warnings/Alerts/Guidelines
DEA to Tighten Access to Some Narcotic Painkillers

By HealthDay staff, HealthDay
Drugs containing hydrocodone, which include Vicodin, would be affected

Aug. 21, 2014 (HealthDay News) — The U.S. Drug Enforcement Administration (DEA) is going ahead with tough new controls on painkillers containing hydrocodone, which has been tied to a surge in dangerous addictions across the United States.

The new restrictions would cover prescription narcotic drugs such as Vicodin, Lortab and their generic equivalents, putting them in the same regulatory class as painkillers such as Oxycontin, Percocet and codeine. Patients will now only have access to a three-month supply of the drug and will have to see a doctor to get any refills.
Consumer Reports Tells Pregnant Women: Avoid Tuna

By Robert Preidt, HealthDay
Guideline is prompted by concerns about mercury exposure

Aug. 21, 2014 (HealthDay News) — In a new review of seafood safety, Consumer Reports is advising that pregnant women avoid eating tuna due to concerns about mercury exposure.

"We're particularly concerned about canned tuna, which is second only to shrimp as the most commonly eaten seafood in the United States. We encourage pregnant women to avoid all tuna," Jean Halloran, director of food policy initiatives for Consumers Union, the advocacy division of Consumer Reports, said in a news release from the group.
Peanut Butter Recalled by NSpired Natural Foods

By WebMD News from HealthDay
Aug. 21, 2014 — Possible salmonella contamination has led NSpired Natural Foods to recall peanut butter, almond butter and other nut butter products.

The recalled products include Arrowhead Mills peanut butters, Maranatha almond butters and peanut butters, and nut butters sold under the Kroger, Safeway, Whole Foods and Trader Joes' brands, CNN reported.
General Medicine/Family Medical
Low-Nicotine Cigs May Not Lead to More Smoking

By Robert Preidt, HealthDay
Concerns about inhaling more toxic chemicals weren't borne out in study

Aug. 22, 2014 (HealthDay News) — People who use reduced-nicotine cigarettes don't smoke more to make up for the lower levels of nicotine, according to a new study.

This means they don't inhale more toxic chemicals than other smokers, the researchers say.

The month-long study included 72 adult smokers, aged 18 to 65, who smoked regular cigarettes with nicotine emission levels of 1.2 milligrams (mg) each for one week. The participants then switched to reduced-nicotine cigarettes for the next three weeks.
New Test Helps Diagnose Type 1 Diabetes

By Scott Roberts HealthDay
But negative result doesn't rule out disease, FDA warns

Aug. 21, 2014 (HealthDay News) — The U.S. Food and Drug Administration has approved a new test that may help doctors diagnose type 1 diabetes, the most common form diagnosed in children and adolescents.

The Kronus ZnT8Ab Elisa Assay may help some people with type 1 diabetes receive faster diagnosis and treatment, the FDA said in a news release. People with type 1 diabetes produce little or no insulin because cells in the pancreas that produce the hormone are mistakenly attacked by the body's immune system.
Air in U.S. Cities Getting Cleaner, EPA Says

By Robert Preidt, HealthDay
Levels of many toxins, pollutants have been lowered since 1990, according to the agency

Aug. 21, 2014 (HealthDay News) — The air in American cities is getting safer to breathe, the U.S. Environmental Protection Agency reported Thursday.

Significant progress has been made in reducing levels of harmful substances in urban air in recent decades, the agency said in a news release.
FDA OKs New Once-Daily Asthma Treatment

By Michael W. Smith, MD, Medscape Medical News
Aug. 21, 2014 — The FDA has approved Arnuity Ellipta (fluticasone furoate inhalation powder), an inhaled steroid taken once a day to prevent asthma symptoms in people 12 and older, drugmaker GlaxoSmithKline says.

Arnuity Ellipta has been tested in more than 3,600 people with asthma, the company says in a statement. The most common side effects (reported in at least 5% of people) were upper respiratory tract infection, common cold, headache, and bronchitis.
High-Risk Melanomas Often on Head or Neck

By Steven Reinberg, HealthDay
Rate of cell growth may be a key to diagnosis and treatment, an expert says

Aug. 20, 2014 (HealthDay News) — The speed at which cancer cells grow may help doctors diagnose and treat the most aggressive melanomas, researchers say.

Using this measure, investigators have found that the deadliest skin cancers occur most often on the head and neck of older men with a long history of sun exposure.

These lesions also grow quickly and are often colorless, the researchers discovered.
Botox Tested on Stomach Cancer in Mice

By Randy Dotinga, HealthDay
Preliminary research suggests the wrinkle treatment might silence critical nerves that support tumors

Aug. 20, 2014 (HealthDay News) — Botox, the wrinkle fighter, might be a cancer fighter, too, according to a new animal study.

Researchers working with mice are using Botox to try to combat stomach cancer by silencing nerves that connect to tumors. The work is still in its very early stages, and a prominent cancer expert cautioned that the approach is far from ready for prime time.
Certain Symptoms Can Delay Lupus Diagnosis: Report

By Robert Preidt, HealthDay
Headache, seizures often lead doctors down the wrong path

Aug. 19, 2014 (HealthDay News) — Lupus and other rheumatic diseases can cause neurological symptoms such as headaches and seizures, which can delay a correct diagnosis for months, a new report says.

Treatments for rheumatic diseases can also cause these types of symptoms, according to neurologists at Loyola University Medical Center in Maywood, Ill. Rheumatic disorders include autoimmune and inflammatory diseases of the joints and soft tissues, such as lupus, systemic vasculitis and ankylosing spondylitis.
Hospital Discharge a Key Time to Help Smokers Quit

By Robert Preidt, HealthDay
New study finds that follow-up monitoring and care is crucial

Aug. 19, 2014 (HealthDay News) — The weeks after a hospital discharge may be a great time to help smokers quit the habit, and one study suggests a particular program might help.

The program involved giving patients free quit-smoking drugs. It also included automated phone calls that helped them manage their medications, encouraged their efforts to quit and tracked whether they might need more anti-smoking counseling.
Antibiotic Might Raise Heart Risks for Some

By Robert Preidt, HealthDay
People with underlying heart rhythm disorders may want to avoid clarithromycin, study suggests

Aug. 19, 2014 (HealthDay News) — Taking the widely used antibiotic clarithromycin may boost some patients' odds of dying from heart-related causes, a new study suggests.

Because millions of people receive this antibiotic each year, the findings require urgent confirmation, said the Danish researchers behind the study. However, they emphasized that the actual risk is small and that guidelines for the use of the drug should not be changed until more information is available.
Good Neighbors Are Good for Your Heart, Study Says

By Robert Preidt, HealthDay
People who felt like they were a part of their community had lower risk of heart attack

Aug. 18, 2014 (HealthDay News) — Having good neighbors may reduce your heart attack risk, new research suggests.

The study included more than 5,000 U.S. adults, average age 70, who were followed for four years. Sixty-two percent were married, and nearly two-thirds were women.
More Docs Wonder If Statins Are Worth the Risks

By Brenda Goodman, MA, WebMD Health News
Aug. 18, 2014 — Kailash Chand, a doctor in the U.K., says he once brushed aside patients who complained of muscle pains, weakness, fatigue, and memory problems after he put them on cholesterol-lowering medications called statins.

Then a routine blood test showed he had high levels of some blood fats. And his own doctor put him on a statin.

"After 6 months, I started noticing that I was having a lack of energy," says Chand, deputy chairman of the British Medical Association. "My regular exercise was curtailed. I was feeling tired and exhausted."
Drop in Heart-Related Hospitalizations and Deaths

By Steven Reinberg, HealthDay
Lifestyle changes, wider use of medications driving the trend, researchers say

Aug. 18, 2014 (HealthDay News) — Deaths and hospitalizations for heart disease and stroke have dropped dramatically in the United States over the past decade, according to a large study of Medicare patients.

The declines noted from 1999 to 2011 are the result of lifestyle changes, better treatment and effective preventive measures, the researchers said.
Drug Restores Hair in People With Alopecia: Study

By Robert Preidt, HealthDay
Immune disorder causes disfiguring hair loss, researchers say

Aug. 17, 2014 (HealthDay News) — A drug used to treat a rare type of bone marrow cancer restores hair in patients with an autoimmune disease that causes hair loss, a new study found.

Columbia University Medical Center researchers found that the drug ruxolitinib (brand name: Jakafi) restored hair growth in a small number of patients with alopecia areata, a disease in which immune cells destroy hair follicles.
Seasonal Flu/Other Epidemics/Disasters
WHO Urges Screening of Travelers to Contain Ebola

By Dennis Thompson, HealthDay
Officials stress that transmission of virus requires direct contact with infected person

Aug. 18, 2014 (HealthDay News) — African nations hit hard by the Ebola outbreak should start screening all passengers leaving international airports, seaports and major ground crossings, the World Health Organization recommended Monday.

The United Nations' health agency reiterated that the risk of passengers transmitting the Ebola virus during air travel is low. Still, anyone with an illness or symptoms typical of the highly virulent disease shouldn't be allowed to travel unless it's for appropriate medical care, the agency said in a statement.
Women's Health
Racial Disparities in Breastfeeding

By Margaret Farley Steele, HealthDay
Maternity care practices differ in neighborhoods with more black residents than average, CDC research finds

Aug. 21, 2014 (HealthDay News) — Black mothers are less likely than white moms to breast-feed their babies, and here's one possible reason why: Hospitals in neighborhoods with many black residents do less to promote nursing than those in areas with more white residents, a U.S. government study finds.

Key practices that support breast-feeding are much less common in medical centers where the black population is higher than average, researchers from the U.S. Centers for Disease Control and Prevention reported Thursday.
Teen Birth Rate Has Dropped Dramatically

By Dennis Thompson, HealthDay
4 million fewer births attributed to less sex, more contraception, but U.S. rate still higher than comparable nations

Aug. 20, 2014 (HealthDay News) — U.S. teen birth rates fell dramatically during the past two decades, plummeting 57 percent and saving taxpayers billions of dollars, a new government report shows.

An estimated 4 million fewer births occurred among teenagers as a result of the decline, according to researchers from the U.S. Centers for Disease Control and Prevention.
Exercise May Guard Against Irregular Heartbeat

By Dennis Thompson, HealthDay
Aug. 20, 2014 (HealthDay News) — Regular exercise may help older women avoid a condition that causes a life-threatening irregular heartbeat, a new study shows.

Physically active postmenopausal women had a 10 percent lower risk of developing atrial fibrillation, compared to women who were more sedentary, researchers report in the Aug. 20 issue of the Journal of the American Heart Association.
All Pregnant Women Need Flu Shot: Ob/Gyn Group

By Robert Preidt, HealthDay
American College of Obstetricians and Gynecologists says vaccination helps mother and baby

Aug. 19, 2014 (HealthDay News) — A group representing U.S. obstetricians is calling for all pregnant women to get a flu shot.

According to the American College of Obstetricians and Gynecologists (ACOG), several studies released in recent years have upheld the safety and effectiveness of flu vaccination during pregnancy.
Pediatric Health
Blood Transfusions May Cut Stroke Risk From Sickle Cell

By Amy Norton, HealthDay
Study found children who got monthly infusions were less likely to suffer another attack

Aug. 20, 2014 (HealthDay News) — Monthly blood transfusions may lower the chances of "silent" strokes in some children with sickle cell anemia, a new clinical trial indicates.

The study, reported in the Aug. 21 issue of the New England Journal of Medicine, found that in children with a previous silent stroke, monthly blood transfusions cut the rate of future strokes by more than half.
Fitness May Boost Kids' Brainpower

By Randy Dotinga, HealthDay
Study found fitter kids had different white matter, which helps brain regions communicate with each other

Aug. 19, 2014 (HealthDay News) — Exercise and brainpower in children may not seem closely related, but a small new study hints that fitness may supercharge kids' minds.

The finding doesn't prove that fitness actually makes children smarter, but it provides support for the idea, the researchers said.
For Kids, Risks of Parental Smoking Persist: Study

By Kathleen Doheny, HealthDay
Increased odds for asthma seen into teen years

Aug. 19, 2014 (HealthDay News) — Smoking while pregnant or around an infant has long been linked to development of asthma and allergies in young children. Now, researchers have found that the risk may persist into the teen years.

The study, which followed nearly 4,000 children in Sweden for 16 years, underscores the dangers of parental smoking, experts say.
HPV Vaccine Protects Against Infection 8 Years Out

By Steven Reinberg, HealthDay
Doctors continue to urge parents to get the recommended three doses for their preteens

Aug. 18, 2014 (HealthDay News) — A new long-term study shows that the human papillomavirus (HPV) vaccine appears to protect against the sexually transmitted virus for at least eight years.

HPV is thought to cause the majority of cervical cancers. Certain strains, such as HPV 16 and 18, are most strongly tied to these tumors. The virus is also believed to cause genital warts in both men and women and certain head and neck cancers.

Among the vaccinated preteens in the new study, none developed any of the diseases or conditions associated with HPV during the study period, the researchers reported.
Doctors ID New Ways to Get More Kids Vaccinated

By Dennis Thompson, HealthDay
Messages that focus on benefits to the child have the most impact, study finds

Aug. 18, 2014 (HealthDay News) — Doctors are still struggling to find effective ways to convince wary parents of the importance of vaccinating their infant children.

The whooping cough epidemic of 2011-12 made no significant difference in Washington state parents getting their babies up to date on their shots, researchers found. Nearly one-third of their infants remained unprotected against whooping cough even as the virus spread across 49 states, according to one of three vaccination-related studies published online Aug. 18 in the journal Pediatrics.
Aging
Failing Vision Tied to Shorter Lifespans for Seniors

By Robert Preidt, HealthDay
Link could be due to faltering ability to carry out daily tasks, researchers say

Aug. 21, 2014 (HealthDay News) — Among seniors, dimming vision may be tied to poorer survival, new research suggests.

The study involved more than 2,500 people, aged 65 to 84, who were assessed when they enrolled in the study and again two, six and eight years later.

Vision loss over time was associated with an increase in the person's risk of death during the study period, the researchers reported.
Certain Antipsychotics & Kidney Problems in Elderly

By Tara Haelle, HealthDay
'Off-label' use to treat dementia-related behavior may carry significant risks, study finds

Aug. 19, 2014 (HealthDay News) — Kidney injury can be added to the list of possible harms related to use of three antipsychotic medications often prescribed to treat behavioral symptoms of dementia in older adults, a new study finds.

Quetiapine (Seroquel), risperidone (Risperdal) and olanzapine (Zyprexa) are approved by the U.S. Food and Drug Administration to treat bipolar disorder, schizophrenia and other serious mental disorders. They are also frequently used "off-label" to treat behavioral concerns such as aggression or agitation in seniors with Alzheimer's and similar neurodegenerative diseases.
Study: Many Seniors Get Unnecessary Cancer Tests

By Steven Reinberg, HealthDay
Screening shouldn't be done when patients have less than a 10-year life expectancy, researchers say

Aug. 18, 2014 (HealthDay News) — Older people who aren't expected to live more than 10 years are still being screened for prostate, breast, cervical and colon cancer — even though it is unlikely to benefit them, a new study finds.

Unnecessary screening can lead to invasive procedures, such as biopsies, and unneeded treatments including surgery, radiation and chemotherapy, all of which can affect quality of life without extending it, the researchers said.
Mental Health
Talk Therapy Plus Meds Best for Severe Depression?

By Dennis Thompson, HealthDay
Combination isn't better than drugs alone for those with mild or chronic mood disorder, study says

Aug. 21, 2014 (HealthDay News) — A combination of therapy and antidepressants appears to best help people with severe but short-term depression, a new study reports.

Four out of five people suffering from severe depression for less than two years experienced full recovery when treated with cognitive therapy plus antidepressant medication, researchers found.
Childhood Mental Disability Rates Up, Study Finds

By Kathleen Doheny, HealthDay
Largest increase reported among wealthier families

Aug. 18, 2014 (HealthDay News) — Rates of developmental and mental disabilities — ranging from speech problems to attention-deficit/hyperactivity disorder — have jumped 21 percent among U.S. children, according to a new report.

Overall, parent-reported disabilities rose 16 percent — from almost 5 million children to about 6 million between 2001 and 2011, said study author Dr. Amy Houtrow, associate professor of physical medicine and rehabilitation and pediatrics at the University of Pittsburgh.