Cross posted from The Stars Hollow Gazette
This is your morning Open Thread. Pour your favorite beverage and review the past and comment on the future.
Find the past "On This Day in History" here.

Click on image to enlarge
June 3 is the 154th day of the year (155th in leap years) in the Gregorian calendar. There are 211 days remaining until the end of the year.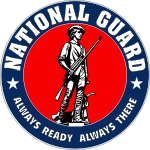 On this day in 1916, United States President Woodrow Wilson signs into law the National Defense Act, which expanded the size and scope of the National Guard, the network of states' militias that had been developing steadily since colonial times, and guaranteed its status as the nation's permanent reserve force.
The National Defense Act of 1916 provided for an expanded army during peace and wartime, fourfold expansion of the National Guard, the creation of an Officers' and an Enlisted Reserve Corps, plus the creation of a Reserve Officers' Training Corps in colleges and universities. The President was also given authority, in case of war or national emergency, to mobilize the National Guard for the duration of the emergency.

The act was passed amidst the "preparedness controversy", a brief frenzy of great public concern over the state of preparation of the United States armed forces, and shortly after Pancho Villa's cross-border raid on Columbus, New Mexico. Its chief proponent was James Hay of Virginia, the chairman of the Committee on Military Affairs.

Sponsored by Rep. Julius Kahn (R) of California and drafted by the House Chairman of the Committee on Military Affairs Rep. James Hay (D) of Virginia, it authorized an army of 175,000 men, a National Guard of 450,000 men. It created the modern Army Reserve Officer Training Corps (ROTC) and empowered the President to place obligatory orders with manufacturers capable of producing war materials.

Langley Field in Virginia was built as part of the act. Now U.S. Air Force Command HQ as Langley Air Force Base, this "aerodrome" was named after air pioneer Samuel Pierpont Langley (died 1904). The President also requested the National Academy of Sciences to establish the National Research Council to conduct research into the potential of mathematical, biological, and physical science applications for defense. It allocated over $17 million to the Army to build 375 new aeroplanes.

Perhaps most important, it established the right of the President to "Federalize" the National Guard in times of emergency, with individual States' militias reverting to their control upon the end of the declared emergency. With the Defense Act, Congress was also concerned with ensuring the supply of nitrates (used to make munitions), and it authorized the construction of two nitrate-manufacturing plants and a dam for hydropower as a national defense measure. President Wilson chose Muscle Shoals, Alabama as the site of the dam. The dam was later named for him, and the two Nitrate plants built in Muscle Shoals were later rolled into the Tennessee Valley Authority in 1933.

Developments after September 11, 2001

Prior to the attacks against the United States on September 11, 2001, the National Guard's general policy regarding mobilization was that Guardsmen would be required to serve no more than one year cumulative on active duty (with no more than six months overseas) for each five years of regular drill. Due to strains placed on active duty units following the attacks, the possible mobilization time was increased to 18 months (with no more than one year overseas). Additional strains placed on military units as a result of the invasion of Iraq further increased the amount of time a Guardsman could be mobilized to 24 months. Current Department of Defense policy is that no Guardsman will be involuntarily activated for more than 24 months (cumulative) in one six year enlistment period.

Traditionally, most National Guard personnel serve "One weekend a month, two weeks a year", although personnel in highly operational or high demand units serve far more frequently. Typical examples are pilots, navigators and aircrewmen in active flying assignments, primarily in the Air National Guard and to a lesser extent in the Army National Guard. A significant number also serve in a full-time capacity in roles such as Active Guard and Reserve (AGR) or Air Reserve Technician or Army Reserve Technician (ART).

The "One weekend a month, two weeks a year" slogan has lost most of its relevance since the Iraq War, when nearly 28% of total US forces in Iraq and Afghanistan at the end of 2007 consisted of mobilized personnel of the National Guard and other Reserve components.
350 – Roman usurper Nepotianus, of the Constantinian dynasty, proclaims himself Roman Emperor, entering Rome at the head of a group of gladiators.
1140 – French scholar Peter Abelard is found guilty of heresy.
1326 – Treaty of Novgorod delineates borders between Russia and Norway in Finnmark.
1539 – Hernando de Soto claims Florida for Spain.
1608 – Samuel de Champlain completes his third voyage to New France at Tadoussac, Quebec.
1620 – Construction of the oldest stone church in French North America, Notre-Dame-des-Anges, begins in Quebec City, Quebec, Canada.
1621 – The Dutch West India Company receives a charter for New Netherlands.
1658 – Pope Alexander VII appoints François de Laval vicar apostolic in New France.
1665 – James Stuart, Duke of York (later to become King James II of England) defeats the Dutch fleet off the coast of Lowestoft.
1839 – In Humen, China, Lin Tse-hsu destroys 1.2 million kg of opium confiscated from British merchants, providing Britain with a casus belli to open hostilities, resulting in the First Opium War.
1861 – American Civil War: Battle of Philippi (also called the Philippi Races) – Union forces rout Confederate troops in Barbour County, Virginia, now West Virginia, in first land battle of the War.
1864 – American Civil War: Battle of Cold Harbor – Union forces attack Confederate troops in Hanover County, Virginia.
1866 – The Fenians are driven out of Fort Erie, Ontario, into the United States.
1885 – In the last military engagement fought on Canadian soil, Cree leader Big Bear escapes the North West Mounted Police.
1888 – The poem "Casey at the Bat", by Ernest Lawrence Thayer, is published in the San Francisco Examiner.
1889 – The transcontinental Canadian Pacific Railway is completed.
1889 – The first long-distance electric power transmission line in the United States is completed, running 14 miles between a generator at Willamette Falls and downtown Portland, Oregon.
1916 – The National Defense Act is signed into law, increasing the size of the United States National Guard by 450,000 men.
1932 – Lou Gehrig and teammate Tony Lazzeri hit four home runs in one game, and hit for the natural cycle, respectively. These two feats are both less common than a perfect game, which has occurred twenty one times in one hundred and twenty years.
1935 – One thousand unemployed Canadian workers board freight cars in Vancouver, British Columbia, beginning a protest trek to Ottawa, Ontario.
1937 – The Duke of Windsor marries Wallis Simpson.
1940 – World War II: The Luftwaffe bombs Paris.
1940 – World War II: The Battle of Dunkirk ends with a German victory and with Allied forces in full retreat.
1941 – World War II: The Wehrmacht razes the Greek village of Kandanos to the ground, killing 180 of its inhabitants.
1943 – In Los Angeles, California, white U.S. Navy sailors and Marines clash with Latino youths in the Zoot Suit Riots.
1950 – First successful ascent of an Eight-thousander; Annapurna is summited by Maurice Herzog and Louis Lachenal
1962 – An Air France Boeing 707 charter, Chateau de Sully crashes after an aborted takeoff from Paris-Orly Airport, killing 130.
1963 – The Buddhist crisis: Soldiers of the Army of the Republic of Vietnam attack protesting Buddhists in Hue, South Vietnam, with liquid chemicals from tear gas grenades, causing 67 people to be hospitalised for blistering of the skin and respiratory ailments.
1963 – A Northwest Airlines DC-7 crashes in the Pacific Ocean off the coast of British Columbia, killing 101.
1965 – Launch of Gemini 4, the first multi-day space mission by a NASA crew.

Crew-member Ed White performs the first American spacewalk.
1968 – Valerie Solanas, author of SCUM Manifesto, attempts to assassinate Andy Warhol by shooting him three times.
1969 – Melbourne-Evans collision: Off the coast of South Vietnam, the Australian aircraft carrier HMAS Melbourne cuts the U.S. Navy destroyer USS Frank E. Evans in half.
1973 – A Soviet supersonic Tupolev Tu-144 crashes near Goussainville, France, killing 14, the first crash of a supersonic passenger aircraft.
1979 – A blowout at the Ixtoc I oil well in the southern Gulf of Mexico causes at least 3,000,000 barrels of oil to be spilled into the waters, the second-worst accidental oil spill ever recorded.
1980 – The 1980 Grand Island tornado outbreak. Seven tornadoes hit Grand Island, Nebraska takes five lives, 357 single-family homes, 33 mobile homes, 85 apartments, 49 businesses and $300 million in damages all told, according to National Weather Service and American Red Cross statistics on the deadly storm.
1989 – The government of China sends troops to force protesters out of Tiananmen Square after seven weeks of occupation.
1991 – Mount Unzen erupts in Kyushu, Japan, killing 43 people, all of them either researchers or journalists.
1992 – Aboriginal Land Rights are granted in Australia in Mabo v Queensland (1988), a case brought by Eddie Mabo.
1998 – Eschede train disaster: an ICE high speed train derails in Lower Saxony, Germany, causing 101 deaths.
2006 – The union of Serbia and Montenegro comes to an end with Montenegro's formal declaration of independence.
2012 – A Dana Air McDonnell Douglas MD-83 crashes into a residential neighborhood in Lagos, Nigeria, killing 163 people.
2013 – At least 120 people are killed in a fire at a poultry plant in Northeast China.
2013 – The trial of United States Army private Bradley Manning (later known as Chelsea Manning) for leaking classified material to WikiLeaks begins in Fort Meade, Maryland.
* Christian Feast Day:
* Blessed Pope John XXIII (Roman Catholicism)
* Charles Lwanga and Companions
* Clotilde
* Kevin of Glendalough
* Ovidius
* Vladimirskaya (Russian Orthodox)
* June 3 (Eastern Orthodox liturgics)
* Confederate Memorial Day (Kentucky, Louisiana, and Tennessee)
* Economist day (Buenos Aires)
* Festival to Bellona (Roman Empire)
* Mabo Day (Australia)
* Opium Suppression Movement Day (Taiwan)