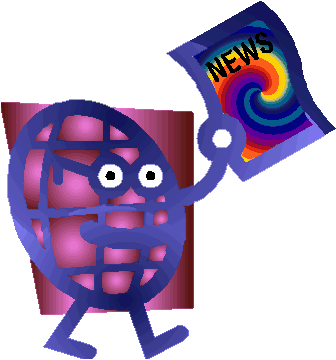 Every so often I find there is a series of stories which just aren't likely to get their own diary…even though they very well may deserve one. Time is a limited quantity after all and it's about to become a much more limited quantity quickly, what with the new semester about to run us over. Syllabi are due next Thursday and classes start the following week.
So you can think of this as a Friday trans news dump…stories with not enough lurid interest to grab bigger headlines given short shrift on a Friday evening…or you can think of it as the news from the transgender community on a reel.
Dateline: Chicago
Tiffany Gooden, 19, of Chicago was found dead Tuesday night in an abandoned building in the South Austin neighborhood on the West Side. Gooden's friends have said that she was last seen last Friday or Saturday.
There is a video news story which fails to embed.
Most articles about the case male-gendered Tiffany and even the one I linked to identified the victim with a male name and as a "male dressed like a female".
The assumption was also made that she was a prostitute.
The body was found three blocks from where Paige Clay, another transwoman, was found dead in April. Clay was shot to death and her body left in an alley. Gooden died from multiple stab wounds. The two victims were said to be friends.
[O]ftentimes when folks like this are murdered or brutalized, it's, 'Well, you know, they brought it on themselves,' or 'What do you expect?'"

–Rick Garcia, the Civil Rights Agenda
Dateline: Literature
I'll follow that with the heartwarming story of Izzy's mom.
We live in a small town, and at one point, everyone was aware of my child being "different." I know this is very challenging for many parents of trans children. But if you are a nice person, and let people know that this sort of thing happens, and that you are doing what the experts say is in the best interest of your child, they tend to shut up. I don't ask people what's between their child's legs, and they don't ask me about Izzy.
The story is excerpted from Transitions of the Heart: Stories of Love, Struggle, and Acceptance by Mothers of Transgender and Gender Variant Children, edited by Rachel Pepper for Cleis Press.
See I could make a cute girl if I wanted to, but I'm really a boy.

–Izzy
Dateline: English television
Luke Anderson, a 31-year-old chef from Wales, was the winner of Big Brother UK 2012. Anderson revealed to the other participants on the second day that he was a transman.
I don't think it's sunk in yet. A big part of it was about acceptance. All my life I've been an outsider. Thank you so much.

–Anderson
Anderson is the second transgender winner in the franchise's 14 seasons. Transwoman Nadia Almada charmed British watchers in 2004. The show is much more popular in the UK than in the US.
Dateline: Broadway
Bring It On: The Musical has brought cheerleading to Broadway while simultaneously introducing theater-goers to Broadway's first character who is a transgender high school student.
There have been many transgender characters on Broadway over the years (in La Cage, Priscilla, Hedwig, and I Am My Own wife, but they have all been adults. And the focus of those shows was the otherness of the trans characters. The character La Cienega from Bring It On, portrayed by actor Gregory Haney, is played as transgender without it being mentioned. The writer, Jeff Whitty, says he wanted to avoud doing an "after-school special".
The fact that it was not discussed in the dialog has led some of the critics to label the character a drag queen and some called her a "tranny"…and some claimed the show was unbelievable because La Cienega is accepted by her peers.
Those words hit home for Whitty, who oberves that "so many people still don't understand the language – to use the word transgender instead of drag queen." However, he doesn't take issue with critics citing his rosy, utopian view of an accepting high school environment. La Cienega isn't bullied or harassed. "I can completely live with that," he says. "It's refreshing, for me, to have this kind of story. I wanna go be immersed in a world that I want to be in."
The creative team searched for a transgender performer for the role, but they say they found a limited pool of talent. Drag performers were found to be inappropriate for the role because they seemed to all be "commenting on femininity". Haney donned an Afro wig, a headband, lip gloss and four-inch heels before walking four blocks to the audition in order to "get a taste of the courage it took to be La Cienega."
There's no question about who this character is and that's what I love about what Jeff Whitty did with it. There is this innate confidence. She's not a drag queen, she's not like Angel in Rent, you never see her out of a 'costume.' You're never going to see her come to school in boy's clothes. She is a woman. She wants to be a girl, she is a girl and that's how everybody sees her. It's how I saw her in the script.

–Gregory Haney
According to Whitty, La Cienega's acceptance is prove nightly when she is kissed during the finale and the audience gives "'a deafening air-raid siren' of whoops and cheers."
As La Cienega sings from the musical, in It Ain't No Thing
Love who you are

And the world will adore you –

And the couple that don't

At least they can't ignore you!

Now all the boys want to buy me bling –

It ain't no thing.
Dateline: Adelaide, Australia
Well-known Australian attorney Heather Stokes of Adelaide made her first appearance in court after finishing her transition. She is currently representing convicted murderer Kelly Lee Pearman, who received a sentence of life, but will be eligible for parole in 15 years.
Prior to her transition, Stokes represented wife-murderer Zialloh Abrahimzadeh earlier this year. Other high profile clients have included AFL football player Fabian Francis and APY Lands chairman Bernard Singer.
Stokes was the Australian national 100 meter sprint champion in 1973.
Her ability to practice law has not changed from last week to this. As such, the society is as supportive of her this week as it was last week.

–Ralph Bonig, president of the Law Society of South Australia
This is news because she has transitioned in the public eye. As someone who had to do that, let me assure you that it is a highly uncomfortable experience. But we are still at the level of the public seeing "The first transgender to do X." It will take some time before that goes away.