(4 pm. – promoted by ek hornbeck)
Cross posted from The Stars Hollow Gazette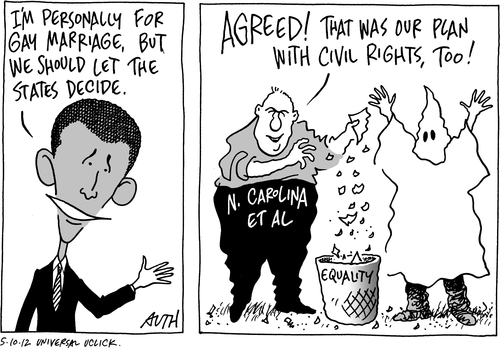 Vice President Joe Biden started a storm over marriage equality when he announced on Meet the Press that same sex marriage was OK with him. The press immediately wanted to know if President Obama's position had "evolved." The Biden interview was taped on Friday, so the White House was fully aware of what he had said. Finally, after three days of media over kill, the passage of Amendment 1 in North Carolina and the drying up of donations from the LGBT community, Pres. Obama announced that he "personally" supported same sex marriage. But hold your horses, people, this was just his personal opinion, not his political policy. Obama is still refusing to issue an executive order that would ban discrimination of gays, lesbians and transgender workers by federal contractors. From Sam Stein at Huffington Post:
The senior administration officials declined to say whether the president would now push for gay marriage to be part of the Democratic Party's platform at the convention. They also said they were not changing positions on an Executive Order that would ban discrimination on the basis of sexual orientation against federal contractors. The president has said he would not sign that order. [..]

There were, however, reasons why even party officials were insisting, not all that long ago, that the president needed to put this off until after the election. There is concern that support for gay marriage will drive away voters in some conservative-leaning swing states. There is even more concern that Republican operatives can and will use the issue to go after the president.
Letting each state decide on the equality of individuals is not the best idea either. How would individuals have voted in states like Mississippi if they had been given the choice about civil rights? Marriage equality is a federal matter since states are required under the Constitution to recognize marriage contracts from other states. Therefore, they should not be permitted to restrict marriage to heterosexual couples.
Does anyone at this point seriously believe that any of the people who voted for NC'S Amendment 1 will ever vote for Obama, no matter what his stand is on marriage equality? Only time will tell if the campaign donation faucet suddenly opens since it had dried up because of the work place discrimination issue. While it is certainly admirable and, in the case of Obama being a sitting president, momentous, for him to have made an official statement, the President still needs to "walk the walk", back up his words and sign the anti-discrimnation executive order.