Scanning the news in transgender America lately, it has been impossible to avoid the story of punk artist Tom Gabel coming out…not that I know who Tom Gabel is.
Let's face it, I'm an old fogey now. At 64 years of age, punk was never something on my radar.
Apparently Gabel is lead singer for a band called Against Me!. The punctuation is apparently part of the name (which makes the punctuation at the end of the previous sentence questionable).
The following is an acoustic version of the band's song, The Ocean:
And if I could have chosen, I would have been born a woman

My mother once told me she would have named me Laura

I'd grow up to be strong and beautiful like her
Gabel has chosen to come out very publicly, in the next edition of Rolling Stone magazine, which came out today (May 11). Gabel plans to begin living as a woman and will eventually take the name Laura Jane Grace. She plans to begin hormone therapy and electrolysis soon.
She also plans to remain married to her wife, Heather. That would, of course, depend upon the state in which they live and whether they would try to intervene…and whether Heather still feels like that after going through transition with Laura.
Sometimes people change.
For me, the most terrifying thing about this was how she would accept the news. But she's been super-amazing and understanding.

–Gabel
There have not been a multitude of rock stars who have transitioned openly. That played a large role in Gabel doing the interview. Well, there was Glamazon with Christine Beatty and Shredmistress Rynata, but they retired when Christine was preparing for reassignment surgery in 2002.
I'm going to have embarrassing moments, and that won't be fun. But that's part of what talking to you is about – is hoping people will understand, and hoping they'll be fairly kind.
CBS took the opportunity to try to explain gender dysphoria. I'll let other people decide how successful they may have been.
It is important to note that the disorder is not just that a person simply wants to change gender, but includes depression and feelings that come with the helplessness that you were born into sex you weren't supposed to be, Dr. Philip Muskin, professor of clinical psychiatry at Columbia University and chief of consultation-liaison psychiatry at Columbia Psychiatry, pointed out. These individuals feel like there is nothing in the world that can help them be the sex they feel they should be, leading to emotional problems. This often leads to higher rates of depression, anxiety and suicide, he said.

Adolescence is usually a very difficult time in these individual's lives because of all the physical changes that occur seem counter-intuitive to how they actually feel about themselves. Rosario said often times people will try to stop the changes or hide who they are because they get beat up in school or get in trouble for letting their feelings be known.
The pathology isn't the sex or the gender question. It's the unhappiness these people feel.

–Dr. Philip Muskin, professor of clinical psychiatry at Columbia University and chief of consultation-liaison psychiatry at Columbia Psychiatry
But Gabel is not the only person transitioning with public notice. The rest of the news is dotted with them.
Kelly Worrall, a producer for Electronic Arts, is transitioning and spoke with Cheryl Ross of the Vancouver Courier.
That time leading up to the actual transition was very important to me. It was a time where I felt reassured because I could see the steps that HR was taking to build the environment where I would be protected, and that was my big concern. Am I going to be laughed out of every meeting? Is everyone going to be staring at me the whole time? The answer to that [last question] is yes, by the way. There's nothing you can do about that.

–Kelly Worrall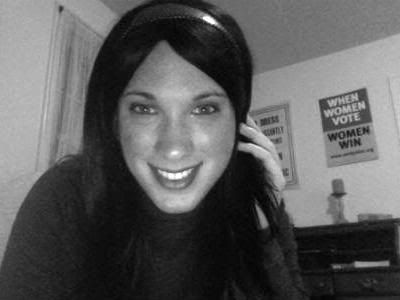 American University's 21 year-old Student Body president has finished a year in office and has celebrated by coming out and beginning to live as a woman. Sarah McBride describes why :
I go to school in an environment that's accepting. The hardest part for me was coming to terms with it in relation to my ego, in my relation to my ambitions and my dreams.

I realized as fulfilling as it was professionally to work on issues of equality and fairness, it only underscored my own internal struggles more.

–Sarah McBride
McBride had her "coming out" letter published in the school newspaper, The Eagle. It was also published in the Huffington Post.
Ariel (nee Andrew) Hawkins, 19, of Lincoln, CA isn't having such a good time of it. She was hired and fired on the same day by Massage Envy when she disclosed her status to the manager.
Hawkins came out last year, via Facebook after graduating from high school.
The steps for that day were to make sure she physically says to my face that I have the job and gather evidence that I had the job. My second checkpoint was some time in that career or timeline of having that job, because I already knew I had the job, the sooner the better but most likely sooner to get it (her transgender status) off my chest.

–Ariel Hawkins
She was replaced by another candidate for the job "with the company's best interest in mind". She was told that should a position become available in the future, she was welcome to apply.
A classmate's mother brought the situation to the attention of the news media. Laura Nielsen said it "maid me angry" about what happened between Hawkins and Massage Envy.
Hawkins own mother isn't so accepting. Her mother requires her to apply for 2 to 3 jobs per day, with the threat of kicking her out of the house if she doesn't.

Then that forces me to be homeless or move in and be a mooch when I don't want to or try and go to a homeless shelter. I've been homeless twice and I have already lived at two or three different people's houses.

–Hawkins
Since she recently lost her medical insurance, she isn't sure when she will make the surgical transition from male to female. At present, she is not even on hormones.
Since I'm stuck in a male body, I still dress that way. Sometimes I will dress up and go all out.

–Hawkins