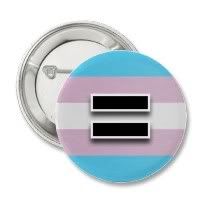 Both the House and Senate passed marriage equality in Maryland and the governor signed it into law. So what's next?
For some people, what's next is getting ready to fight a possible referendum in the fall. But wait! What about that other very important piece of legislation. We hope it is not going to be forgotten in all the hubbub. And we certainly hope that GLBT activists are not going to let Maryland legislators feel that they have done enough for our community at this time.
Senate Bill 212 stands at the forefront. It would forbid discrimination against people on the basis of gender identity in the areas of public accommodations, housing and employment, just like it is illegal to discriminate on the bases of race, color, religion, sex, age, national origin, marital status, sexual orientation, or disability.
Back in May of 2011, shortly after Chrissy Lee Polis was assaulted as she attempted to use a restroom in a Rosedale McDonald's, Gov. O'Malley issued a statement:
Even with Maryland's 'hate crimes' law, it is clear that more must be done to protect the rights and dignity of transgendered people.
At the time he committed to working on the issue. But then, when this year's session started, the issue was not found on his agenda.
Recently Baltimore County joined Montgomery County, Howard County and the City of Baltimore to include such protections.
Now we need statewide protections for the kids across Maryland who are not so lucky [as to live in those localities].

–Catherine Hyde of Howard County, who has an 18-year-old transgender daughter.
We now have a balkanized state where our laws do not cover all people equally, depending on where they live.

–SHaron Brackett, president, Gender Rights Maryland
The degree of discrimination that transgender people suffer is exceptionally severe. Many people question the right of transgender individuals to exist at all.

–Dr. Eva Hersh, a Baltimore physician who treats many transgender patients
Once again, the debate will no doubt focus on bathrooms. And our rights will be at the mercy of fear-mongering about us being voyeurs, pedophiles, and rapists. Oh, they may say they don't necessarily mean us, but rather people who will claim to be transgender for nefarious purposes, but what sort of society denies people equal rights because of the fear of actions by a third party?
Several religious advocacy groups have already filed statements of oppisition. The Maryland Catholic Conference argued that protecting transpeople from discrimination would be a
fundamental violation of our society's basic understanding of the human person.
The Maryland Catholic Conference would prefer we not be regarded as "human persons".
You're being deceived by an erotic element in the transgender condition.

–Peter Sprigg of the Family Research Council, which has been designated by the Southern Poverty Law Center as a hate group
Methinks Peter Sprigg has been spending too much time looking at online porn.
Even Sen. James Brochin (D-Baltimore Co.) told supporters during their testimony that he had problems with the way the bill was written. Brochin said he feared allowing transgender individuals into bathrooms with children, not because of concerns that they would be abused, but because they would be exposed to the idea of transgenderism while they were young.
My God! We shouldn't have children knowing we exist! They just might grow up to accept us as human beings!
The House of Delegates passed a similar bill last year (except that it did not include public accommodations), but the bill died in the senate in retaliation for the House failing to pass the Senate's marriage equality bill.
There's as much momentum for this, this year, as there's ever been. If not now, when?

–Brackett
Dana Beyer, Executive Director of Gender Rights Maryland published a letter to the president of the Maryland Senate in the Washington Blade.
It's time to grow a spine and do the right thing. This is a basic civil rights law. There really shouldn't be much argumentation about it.