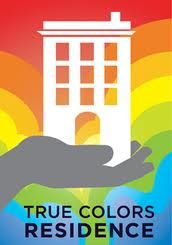 The True Colors Residence is a project of Cyndi Lauper, her manager Lisa Barbaris and the West End Intergenerational Residence, a non-profit that provides housing and support for homeless families and seniors.
The True Colors Residence will be the first permanent housing facility in the state of New York for homeless LGBT youth. Up to 40% of homeless youth in New York identify as LGBT.
In New York City, a very disproportionate number (up to 40%), of homeless youth identify as LGBT. Even more disturbing are reports that these young people often face discrimination and at times physical assault in some of the very places they have to for help. This is shocking and inexcusable!

That's why my manager, Lisa Barbaris and I are collaborating with Colleen Jackson and West End Intergenerational Residence to create the True Colors Residence, (TCR), a permanent supportive housing program for homeless LGBT youth 18-24 years old.

We'll be building from the ground up so our residents will have a brand new, modern building with studio apartments for each resident and both indoor and outdoor community space to socialize or attend education and recreation programs. Each resident will be responsible for paying affordable rent based on their income and will receive ongoing assistance in obtaining employment best suited to their individual interests and skills. Although TCR will not require participation in it's programs, a variety of social and educational support services will be available to all who request them. Our primary goal is to provide a physically and emotionally safe and supportive environment that will empower our young residents to be the self-loving, happy, and successful individuals they were meant to be.

–Cyndi Lauper
The facility on W 154th Street near Frederick Douglass Boulevard in Harlem will have 30 studio apartments and will open September 1.
There are fewer than 200 beds for homeless youth in New York City, and fewer than ten beds for homeless L.B.G.T. youth. So every new bed aimed at this new population is really a matter of life and death that could get kids off the street.

–Carl Sicilliano, founder and executive director of the Ali Forney Center, which provides temporary shelter for homeless youth
In 2009, Mayor Bloomberg's office created a 25-member Commission for Lesbian, Gay, Bisexual, Transgender and Questioning Runaway and Homeless Youth. The director of the commission is Jeanne B. Mullgrav, the commissioner of the Department of Youth and Community Development. The chair of the commission is Ana L. Oliveira, President and Chief Executive Officer of The New York Women's Foundation.
We are ecstatic that, with the opening of the True Colors Residence, more housing and services will be available to help our most vulnerable youth succeed and thrive. In 2010, Mayor Bloomberg's Commission on L.G.B.T.Q. Runaway and Homeless Youth report highlighted that LGBTQ youth are particularly at risk of leaving home. In response, the Commission recommended the addition of beds and specialized services for this population, so we are especially pleased to see this vision becoming a reality.

–Jeanne Mullgrav
That report is All Our Children: Strategies to Prevent Homelessness, Strengthen Services and Build Support for LGBTQ Youth. The commission's ten recommendations were:

1. ADOPT AN INCREASED FOCUS ON FAMILIES AND DEVELOP FAMILY AND ALTERNATIVE FAMILY SUPPORT STRATEGIES.

Train providers on the importance of family acceptance
Develop specific strategies to engage family members of transgender

youth
Identify and disseminate resources for families of LGBTQ youth
Offer activities for family and other support persons as part of

programming for runaway and homeless youth
Develop a range of mentoring options for youth and their parents

2. TEST INNOVATIVE APPROACHES TO DEVELOP FAMILY SUPPORT FOR LGBTQ YOUTH TO PREVENT HOMELESSNESS OR SHORTEN ITS DURATION.

Implement pilot programs based on therapeutic models designed to build family support to help youth avoid homelessness
Implement and evaluate a "Host Home" program model

3. CREATE A BROAD SYSTEM OF SERVICES FOR LGBTQ RUNAWAY AND HOMELESS YOUTH THAT OPERATES WITHIN A POSITIVE YOUTH DEVELOPMENT FRAMEWORK AND INCORPORATES BEST PRACTICES.

Promote policy and practice requirements based on best practice guidelines
Integrate best practices in City agency administrative policies and procedures
Create policies and protocols to ensure LGBTQ-affirming service environments and explicitly prohibit harassment and other unacceptable behaviors

4. BROADEN ACCESS TO RUNAWAY AND HOMELESS YOUTH SERVICES FOR LGBTQ YOUTH.

Incorporate additional outreach and drop-in center services to reach LGBTQ homeless youth who are less connected to services
Advocate for changes to New York State regulations to allow providers of runaway and homeless youth programs to serve young adults ages 21 to 24 years
Seek ways to expand the number of regulated shelter beds for LGBTQ homeless youth and young adults ages 16 to 24 by at least 200 over the next five years

5. CREATE COMPREHENSIVE AND COORDINATED HEALTH SERVICES INCORPORATING BEST PRACTICES FOR DELIVERY OF MEDICAL CARE TO LGBTQ ADOLESCENTS AND YOUNG ADULTS.

Provide client-centered, coordinated health services
Improve access to effective HIV/AIDS prevention and treatment services
Improve health care services for transgender homeless youth

6. IMPROVE ACCESS TO AND COORDINATION OF MENTAL HEALTH, SUBSTANCE ABUSE, AND TRAUMA TREATMENT SERVICES FOR LGBTQ RUNAWAY AND HOMELESS YOUTH AND YOUNG ADULTS.

Adopt strong, client-centered case-management systems for mental health and related services
Work to create better-coordinated services and heighten awareness of mental health issues
Train providers to identify symptoms of mental health, substance abuse and trauma

7. IDENTIFY AND IMPLEMENT EFFECTIVE PUBLIC EDUCATION STRATEGIES TO COMBAT HOMOPHOBIA AND TRANSPHOBIA AND PROMOTE ACCEPTANCE OF AND SUPPORT FOR LGBTQ YOUTH AND THEIR FAMILIES.

Launch a public education campaign on LGBTQ issues
Work with youth and providers to establish protocols for out-of-school

time programs and spread awareness of LGBTQ issues

8. CREATE AN LGBTQ-COMPETENT CITY WORKFORCE AND DEVELOP POLICIES AND PRACTICES THAT ARE SENSITIVE TO LGBTQ YOUTH ISSUES.

Highlight LGBTQ issues as part of Equal Opportunity Training for City employees
Provide ongoing, in-depth LGBTQ-competency training to frontline staff at all relevant City agencies
Include measures of LGBTQ-competency in performance evaluations of frontline workers
Designate the DYCD Runaway and Homeless Youth Coordinator as an LGBTQ runaway and homeless youth liaison with other City agencies

9. FORGE PUBLIC AND PRIVATE PARTNERSHIPS THAT INCLUDE THE ADULT LGBT COMMUNITY TO INCREASE RESOURCES AND FOSTER SUPPORT FOR THE COMMISSION'S RECOMMENDATIONS.

Encourage the adult LGBT community and not-for-profit providers to engage in sustained advocacy and fund-raising for LGBTQ homeless youth
Explore ways to expand employment and work experience opportunities for LGBTQ homeless youth
Encourage faith communities to increase support for and acceptance of LGBTQ youth and their families
Reach out to the law enforcement community to explore how to improve relations with LGBTQ runaway and homeless youth and increase mutual understanding

10. ENSURE ACCOUNTABILITY.

Conduct periodic assessments to evaluate progress in implementing the Commission's recommendations and report findings to relevant advisory bodies and create a process for community feedback
Refine data collection to take account of the Commission's recommendations and strengthen decision-making with regard to future planning and policy for LGBTQ runaway and homeless youth services