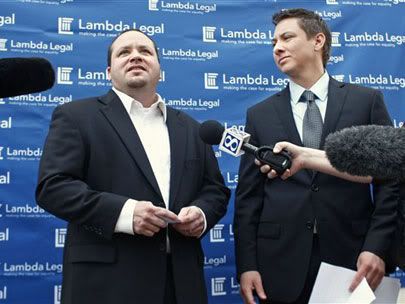 Alec Esquivel, 42, is an Oregon transman. He works as a law clerk for the Oregon Court of Appeals. Alec's doctors said it was a medically necessary procedure to have a hysterectomy because of his heightened risk of ovarian and uterine cancer due to the hormone therapy he began in 2001. Providence Health Plans, third-party insurance administrator for the state, and the Public Employees Benefit Board denied coverage for the procedure, stating
services related to a sex-change operation, including evaluation, surgery and follow-up services are not a covered benefit of your plan.
Alec is therefore suing the state of Oregon and the PEBB to cover his medical care related to the hysterectomy as well as $250,000 in damages and attorney fees.
Alec Esquivel was denied coverage for a medically necessary procedure specifically because he is transgender. This type of discrimination is unlawful and risks the health of hardworking, productive citizens of Oregon.
Providence's policy, as well as two other Oregon state employee health plans exclude, "all services related to sexual disorders or dysfunctions regardless of gender, including all Services related to a sex-change operation, including evaluation, surgery and follow-up Services."
Lamdba Legal's suit argues that the state government and the PEBB are subject to state law which prohibits employers from denying insurance coverage on the basis of gender identity (Esquivel v Oregon). We note that hysterectomies are routinely covered for other employees under the state's health plan.
The Oregon legislature outlawed this kind of discrimination in 2007 and the State has no place continuing to practice it.

–Jennifer Middleton, Middleton & Lee, PC
We are asking the court to apply the same law to itself. There should be no discrimination barriers to getting that care.

–Levasseur
What I'm asking for is equal access to medical coverage.
In an ideal world, Alec Esquivel's ovaries wouldn't make headlines.

The details of the transgender law clerk's reproductive organs would be known to only Esquivel and his doctors. But, instead, Esquivel has decided to sacrifice his confidentiality, thrusting his most private parts into the limelight to fight for his right to healthcare.

…

Esquivel has been living as a man since 2001, when he moved here to "escape from Nebraska" (as he puts it). He's legally changed his name, his gender, his birth certificate. For a decade, he has been diagnosed with Gender Identity Disorder, with the recommended treatment of getting a sex change. But the state's insurance providers-Providence and Kaiser-explicitly ban coverage for "all services related to sexual disorders or dysfunctions" including sex changes and hormone therapy.

So since 2001, Esquivel has been paying for the treatment for his diagnosed, mainstream-doctor-recognized disorder, shelling out thousands of dollars for hormones and a breast removal operation. But when the insurance companies refused to cover his hysterectomy this year, Esquivel decided it was time to sue. Not only does he not have the cash for the doctor-prescribed surgery (which can cost anywhere from $10,000-20,000), but he wants to change a state insurance policy that clearly violates the state's anti-discrimination law.

…

I hope it sends a clear message that we've entered the era where public agencies only have two options regarding transgender employees: Treat Gender Identity Disorder as a genuine diagnosis and cover it with insurance like you'd cover any other disorder, or get sued.

–Sarah Mirk, Sexual Politics: Public Parts
In June, 2008, the American Medical Association passed the following resolution:
RESOLVED, That our American Medical Association support public and private health insurance coverage for treatment of gender identity disorder as recommended by a physician.
Background
Health insurance plans routinely discriminate against transpeople
Treatment is Medically Necessary, Reconstructive and Not Cosmetic
I strongly recommend you take a look at The needs and trending policies of transgender health, which appeared recently in Bay Windows for some background on the issues surrounding transgender health.
We're a community with a complicated relationship with health services. To transition or even access health services, trans people are forced to interact with a field that doesn't want us there, doesn't see us, and/or enforces restrictive gate keeping. Transgender people have a remarkable lack of autonomy in their care, but this is starting to change.

–Emilia Dunham, Program Associate, Network for LGBT Health Equity, Fenway Health
Just one more thing. In researching this piece, I discovered that Alec Esquivel has been in the news before…about marriage equality.