(2 pm. – promoted by ek hornbeck)
Adapted from On This Day in History at The Stars Hollow Gazette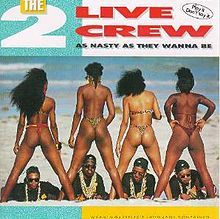 On June 10 in 1990, Luther Campbell and fellow 2LiveCrew members are arrested on obscenity charges

Though the First Amendment to the Constitution clearly states that the U.S. Congress "shall make no law…abridging the freedom of speech," free speech is widely understood to have its limits. It is dangerous and potentially criminal, for instance, to yell, "Fire!" in a crowded theater. But what about yelling "$&%#@!!" in a crowded nightclub? Lenny Bruce and other comedians tested the limits of that practice in the 1960s, but it was not until the late 1980s that the issue of obscenity came front and center in the world of popular music. The group that brought it there was 2LiveCrew, a hip-hop outfit led by Luther "Luke Skyywalker" Campbell. On June 10, 1990, just days after a controversial ruling by a Florida federal judge, Campbell and two other members of 2LiveCrew were arrested on charges of public obscenity after performing material from their album As Nasty As They Wanna Be in a Hollywood, Florida, nightclub.
In 1989, the group released their album, As Nasty As They Wanna Be, which also became the group's most successful album. A large part of its success was due to the single "Me So Horny", which was popular despite little radio rotation. The American Family Association (AFA) did not think the presence of a "Parental Advisory" sticker was enough to adequately warn listeners of what was inside the case. Jack Thompson, a lawyer affiliated with the AFA, met with Florida Governor Bob Martinez and convinced him to look into the album to see if it met the legal classification of obscene. In 1990 action was taken at the local level and Nick Navarro, Broward County sheriff, received a ruling from County Circuit Court judge Mel Grossman that probable cause for obscenity violations existed. In response, Luther Campbell maintained that people should focus on issues relating to hunger and poverty rather than on the lyrical content of their music.

Navarro warned record store owners that selling the album may be prosecutable. The 2 Live Crew then filed a suit against Navarro. That June, U.S. district court Judge Jose Gonzalez ruled the album obscene and illegal to sell. Charles Freeman, a local retailer, was arrested two days later, after selling a copy to an undercover police officer. This was followed by the arrest of three members of The 2 Live Crew after they performed some material from the album at a nightclub. They were acquitted soon after, as professor Henry Louis Gates, Jr. testified at their trial in defense of their lyrics. Freeman's conviction was overturned on appeal as well.

In 1992, the United States Court of Appeals for the Eleventh Circuit overturned the obscenity ruling from Judge Gonzalez, and the Supreme Court of the United States refused to hear Broward County's appeal. As in the Freeman case, Gates testified on behalf of Navarro, arguing that the material that the county alleged was profane actually had important roots in African-American vernacular, games, and literary traditions and should be protected.

As a result of the controversy, As Nasty As They Wanna Be sold over two million copies. It peaked at #29 on The Billboard 200 and #3 on the Top R&B/Hip-Hop Albums chart. A few other retailers were later arrested for selling it as well, including Canadian Marc Emery who was convicted in Ontario in 1991, and would later gain fame as a marijuana activist. Later hard rock band Van Halen sued over an uncleared sample of their song "Ain't Talkin' 'Bout Love" in The 2 Live Crew Song "The Fuck Shop". The publicity then continued when George Lucas, owner of the Star Wars universe, successfully sued Campbell for appropriating the name "Skywalker" for his record label, Luke Skyywalker Records. Campbell changed his stage name to Luke (and changed the record label's name to Luke Records) and the group released an extremely political follow up album, Banned in the USA after obtaining permission to use an interpolation of Bruce Springsteen's Born in the U.S.A. The 2 Live Crew paraphernalia with the Luke Skyywalker or Skyywalker logos are often sought-after collector's items.