(11 am. – promoted by ek hornbeck)
Cross posted from The Stars Hollow Gazette
After an earthquake that has now been upgraded by Japanese officials to a magnitude 9.0, with a tsunami that has devastated the northeastern region of the main island of Japan, it is now becoming evident that there are two nuclear reactors that may be in meltdown which would be a nuclear disaster on an unimaginable scale. The Japanese government has ordered the evacuation of nearly a quarter of a million people from the area and state of emergency has been declared for the area because of the damage to five nuclear reactors after two of the units lost cooling ability.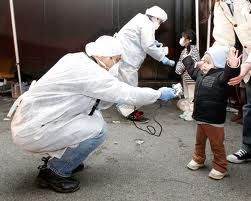 Japanese Scramble to Avert Meltdowns as Nuclear Crisis Deepens After Quake
TOKYO – Japanese officials struggled on Sunday to contain a widening nuclear crisis in the aftermath of a devastating earthquake and tsunami, saying they presumed that partial meltdowns had occurred at two crippled reactors and that they were facing serious cooling problems at three more.

The emergency appeared to be the worst involving a nuclear plant since the Chernobyl disaster 25 years ago. The developments at two separate nuclear plants prompted the evacuation of more than 200,000 people. Japanese officials said they had also ordered up the largest mobilization of their Self-Defense Forces since World War II to assist in the relief effort.

On Saturday, Japanese officials took the extraordinary step of flooding the crippled No. 1 reactor at Fukushima Daiichi Nuclear Power Station, 170 miles north of Tokyo, with seawater in a last-ditch effort to avoid a nuclear meltdown.

Then on Sunday, cooling failed at a second reactor – No. 3 – and core melting was presumed at both, said the top government spokesman, Chief Cabinet Secretary Yukio Edano. Cooling had failed at three reactors at a nuclear complex nearby, Fukushima Daini, although he said conditions there were considered less dire for now.
Japanese authorities rush to save lives, avert nuclear crisis
Sendai, Japan (CNN) — Japanese authorities are operating on the presumption that possible meltdowns are under way at two nuclear reactors, two days after a massive earthquake, a government official said Sunday.

Chief Cabinet Secretary Yukio Edano added, however, that there have been no indications yet of hazardous emissions of radioactive material into the atmosphere.

The attempts to avert a possible nuclear crisis, centered on the Fukushima Daiichi facility in northeast Japan, came as rescuers frantically scrambled to find survivors following the country's strongest-ever earthquake and a devastating tsunami that, minutes later, brought crushing walls of water that wiped out nearly everything in their paths.

Edano told reporters there is a "possibility" of a meltdown at the plant's No. 1 reactor, adding, "It is inside the reactor. We can't see." He then said authorities are also "assuming the possibility of a meltdown" at the facility's No. 3 reactor.
How the Japan Earthquake Shortened Days on Earth
The massive earthquake that struck northeast Japan Friday (March 11) has shortened the length Earth's day by a fraction and shifted how the planet's mass is distributed.

A new analysis of the 8.9-magnitude earthquake in Japan has found that the intense temblor has accelerated Earth's spin, shortening the length of the 24-hour day by 1.8 microseconds, according to geophysicist Richard Gross at NASA's Jet Propulsion Laboratory in Pasadena, Calif.

Gross refined his estimates of the Japan quake's impact – which previously suggested a 1.6-microsecond shortening of the day – based on new data on how much the fault that triggered the earthquake slipped to redistribute the planet's mass. A microsecond is a millionth of a second.

"By changing the distribution of the Earth's mass, the Japanese earthquake should have caused the Earth to rotate a bit faster, shortening the length of the day by about 1.8 microseconds," Gross told SPACE.com in an e-mail. More refinements are possible as new information on the earthquake comes to light, he added.
Japan Earthquake Alters Coast Line, Changes Earth's Axis
Geophysicist Kenneth Hudnut, who works for the U.S. Geological Survey, told CNN that the quake moved part of Japan's land mass by nearly 2.5 meters.

Experts say that the huge shake, caused by a shift in the tectonic plates deep underwater, also threw the earth off its axis point by at least 8 centimeters.
This is may well be worse than Chernobyl by magnitudes.