(9 am. – promoted by ek hornbeck)
UPDATE: "Japan raised the nuclear alert level from a four to a five, on par with Three Mile Island. This decision has shocked many nuclear experts who thought it should be higher." Please see my Comment below: "Thanks, RiaD!"
(cross-posted at firefly-dreaming.com)
From the AP: Diplomat says minuscule fallout reaches Calif.
– 1 hr 50 mins ago

LOS ANGELES – Government experts in the United States are keeping a close eye on any radioactive particles that could travel from Japan, and they may already be seeing trace amounts.

A diplomat who has access to radiation tracking by the U.N.'s Comprehensive Test Ban Treaty Organization told The Associated Press in Vienna that initial readings show tiny amounts of radiation have reached California. But it's not dangerous in any way – "about a billion times beneath levels that would be health threatening," the diplomat said, speaking on condition of anonymity because the organization does not make its findings public.

U.S. government experts also insist there's no threat to public health from the plume, but they are still closely monitoring the situation with detection monitors deployed along the West Coast. . . . (emphasis mine)
Obama also sought to reassure the nation:
Obama's statement came as he tried to reassure a worried nation that "harmful levels" of radiation from the Japanese nuclear disaster are not expected to reach the U.S., even as other officials conceded it could take weeks to bring the crippled nuclear complex under control. . . .
I went to NukeFree.Org, which has on-going updates of the whole situation. I noted the following — and while I cannot vouch for the accuracy of the content and I confess utter ignorance in the premises, I do know there are always attempts to downplay bad situations.
NY Times Maps Underplaying Extent Of Radiation

Kurt Nimmo

Prison Planet.com

Thursday, March 17, 2011

The New York Times has posted a slideshow based on a forecast issued by the Comprehensive Nuclear Test Ban Treaty Organization showing how weather patterns this week might disperse radiation from a continuous source in Fukushima, Japan. Small dots on the map show the position of monitoring stations.



March 18

(click on maps for larger view)

The radiation plume illustrated on the map is from the original release over last weekend. A far larger and more deadly plume of radiation from the explosions and fires earlier this week will soon follow.

"The forecast does not show actual levels of radiation," the Times admits. "Health and nuclear experts emphasize that any plume will be diluted as it travels and, at worst, would have extremely minor health consequences in the United States" (emphasis in the original).

As Infowars.com and Prison Planet.com have documented, the U.S. government, the Pentagon, and the Japanese government are all covering-up the actual amount of radiation escaping from the earthquake damaged nuclear plant.

It looks like the Comprehensive Nuclear Test Ban Treaty Organization is deliberately releasing misleading information. The CTBTO is an "international organization" associated with the United Nations.

"The projection, by the Comprehensive Test Ban Treaty Organization, an arm of the United Nations in Vienna, gives no information about actual radiation levels but only shows how a radioactive plume would probably move and disperse," the Times reported yesterday.
NukeFree.Org also lead me to read this article from Nuclear Information and Resource Service
Protective Measures from Radioactivity in North America!

These recommendations are for people in North America as of March 17, 2011

The amount of the radioactive release from the Fukushima sites is not known today. Very high radiation levels are reported at the plant site while lower, but still significant readings are reported in nearby towns.

Radiation from the Fukushima accident is expected to begin reaching North America as early as Friday, March 18, 2011. Current weather patterns indicate the initial plume is most likely to arrive in southern California. However, radiation continues to be released at Fukushima and thus will continue to arrive in North America for days to come, and perhaps longer. Eventually, slightly elevated radiation levels are likely to occur throughout North America and much of the world.

The radiation levels that will come to North America will not be large enough to cause acute symptoms or immediate health effects.

At this point, we do not believe it will be necessary-or feasible given the expected duration of elevated radiation levels-to take shelter. Nor is evacuation a feasible strategy, since after arriving on North America's west coast the elevated levels will continue to move to the east. We will post immediately if there is reason to believe that sheltering is necessary.

However, unnecessary exposure to radiation should be avoided when possible. Rain, in particular, can bring radioactive particles to the earth.

RAIN:

If it rains over the next several days, stay out of it if possible. If you get wet, put your clothes in the wash and take a shower.

Leave outerwear and shoes at the door so you don't track water in your home.

Do not collect rainwater for drinking or later garden use during the period of time when active distribution of radioactivity is happening. . . . .
Without any attempt to be an alarmist, it doesn't hurt to be aware, so I urge everyone to read and print out the information contained in the above protections. Note the print is very small, so you may want to copy and put it in Word and enlarge it there.
Some of you may or may not be aware of other problems involved — the latest from Japan!
Nuclear Crisis in Japan!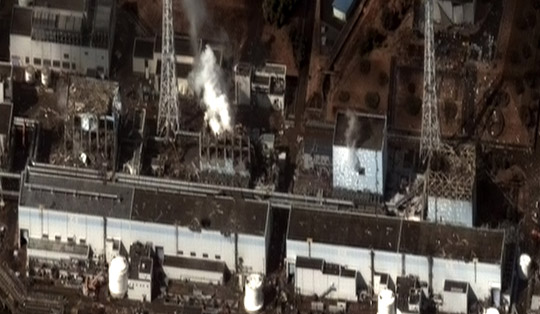 Nuclear Crisis in Japan: Updates on Fukushima reactors and aftermath of Japan earthquake. Updated 5:00 pm, Thursday, March 17, 2011. U.S. NRC chair reiterates statement that Unit 4 fuel pool has no water, says nearby onside radiation levels are lethal; water cannon and helicopter water drops appear to have had little effect; Germany moves embassy operations from Tokyo to Osaka; NY Gov. Cuomo calls for shutdown of Indian Point reactors.
~~~~~~~~~~
Now, some words about our own nuclear reactors. Congressman Dennis Kucinich was on the Ed Schultz Radio show this past Monday and a discussion concerning the U.S. nuclear reactors was had. Kucinich said that our own reactors are over 40 years old and have not been maintained and have the same design as those of the Fukushima types, which have now been found to have a flaw in their design, something having to do with the rods, as I recall.
I did not see the Ed Show, but Kucinich was on that show, as well, and here is a short clip of him discussing our U.S. reactors and asking for full briefing on nuclear issues, as well as his thoughts on the issues with nuclear power that the accident in Japan has raised.
Obama has reacted:
NRC to review safety of all US nuclear plants

Fri Mar 18, 8:02 am ET

WASHINGTON – The Nuclear Regulatory Commission will conduct a "comprehensive review" of the safety of all U.S. nuclear plants following what U.S. officials are calling the dangerous and complicated situation at Japan's damaged Fukushima Dai-ichi reactors.

President Barack Obama took the rare step and called upon the independent commission to conduct the review. (emphasis mine)

"When we see a crisis like the one in Japan, we have a responsibility to learn from this event and to draw from those lessons to ensure the safety and security of our people," Obama said Thursday.

Obama's statement came as he tried to reassure a worried nation that "harmful levels" of radiation from the Japanese nuclear disaster are not expected to reach the U.S., even as other officials conceded it could take weeks to bring the crippled nuclear complex under control. . . . . .
Bloody good idea, Mr. President!