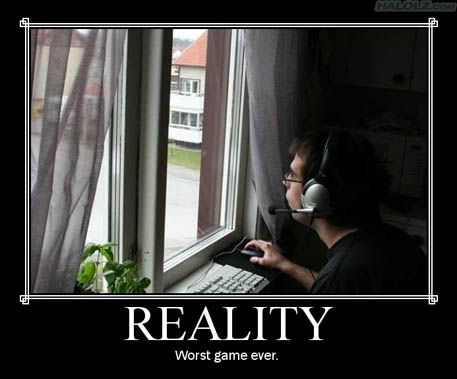 Most every spiritual system, be it institutionalized religion or various strains of spiritual practice that have survived the millennium in one form or another, all of them say something about the nature of reality itself.
The assumption being that we turn towards religion or spirituality because we have just finally said, "jesus, I just don't know what's going on any more and I'm not going to lie about it to myself any longer." Yes, pun intended.
Anyhoo, as my ma used to say.
I think the idea of heaven or paradise has something to do with the nature of reality in the suggestion that if we fully experienced existence, without our various original sins of ignorance, hubris, and just plain cluelessness, we'd all be happy as clams.
Without any change at all in circumstances, we could feel that this very moment is just great. If only … we experienced the nature of reality!
My mother was an uneducated woman, born in the old country in 1916, came over to the States and grew up in the midwest, married, had children.
She could add long columns of numbers in her head and ended up the Treasurer of any club she joined … the Sisterhood at our synagogue, and her Homemaker's Club, which lasted for over 50 years.
She and I would fight like wildcats when intellectualizing was concerned. On the one hand, Ma revered learning, in the traditional Jewish sense of her time and place. She did not, however, revere pontificating.
As that was my first religion, I had something to say about that! Ha!
I would rant, half-assedly trying to repeat the conversations my Pa and brothers would have on all sorts of things, but mostly the love of argument and sharpening of the mind.
My ma and sisters would taunt them if they got too rude, not being interested in that kind of thing if it was going to get broigus.
Long story short.
When I got older and pontification was just a brief memory of my idolatry, hee, I just relaxed and spoke with Ma and used my own words. It took so long for that to happen.
She beamed at me. It was over the phone, me in NYC and she in Milwaukee. But she beamed at me, I felt it. Won't ever forget it either.
She was uneducated by the standards of our society. I found out in her later years that she had no interest in learning anything worthless. Only the best would do. I found out that she had been taught by Pa's father, who was considered in our family lore to have been not entirely stupid, and a rabbi who refused to be a rabbi in the US, becoming instead a shoemaker.
We cannot hang on to the past, but we can gratefully use the gifts we inherited from those times. And, no doubt, we are shaping gifts right now to give anyone who needs them, down the road.
It's a continuity, that's for sure. My mother died on November 29, 1992. I can access what she gave me any time I like. Well that sounds geeky, but so what. I can also access someone like Rabbi Hillel, who lived thousands of years before I was born but was one of my first real friends when I was a little girl. There is no time and space when it comes to the transmission of love and wisdom.
So we got that going for us. Continuity.