Mad crazy busy these past few days. Productive, though, and I'll have some goodies to share here maybe later today. Meanwhile, in the midst of the remodel mayhem (garage/laundry room) and other stuff, Kid's school pants broke a button last night. Well, sometime yesterday, but it only came to my attention at about 10 P.M. last night. :-/
"Oh!" said I, "Let me go for the Grandma stash and find a button to replace it." I knew, beyond a shadow of a doubt, I'd find one to fit.
"Kid?" I said, "Remember how I told you that Grandma was the ultimate original Packrat? who grew up during the Depression and she found a(re)use for everything? No waste. She knew to recycle, before it was hip." So, yeah, I've got buttons for anything and everything.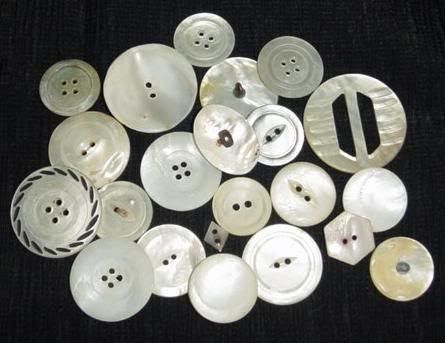 Sister N got the silver, a full 8 serving set. I could care less. I got Mom's sewing machine, with all the stuff (buttons!), and the Snowman mugs, and the Fostoria glassware, and all kinds of random things and I didn't really think much of it at the time. Mom started giving those kinds of things to us several years before she died at age 89 (in 2003). Somehow I got most of the cherished memories sentimental stuff. Not sure how that happened. 😉
Her teapot collection. I love that. It's not that the durn teapots are all that. It was the idea that she even had such a thing. A "collection". She started collecting, oh, I don't know, when she was in her 70's probably. First time in her life, I believe, she actually finally had time for a "hobby". Heh. She raised four daughters, sent us all to college, worked full time most of her adult life, and took care of the house, the bills, the ironing of those pleated Catholic school skirts, and her only guilty pleasure was reading books by the truckload. She was fond of Michener and the like.
I don't know what got me off on this topic. Kid's pants, had to have 'em for this morning. EMERGENCY!!! "M-o-o-o-o-om!"
One of my favorite things about Docudharma is the permission to post three a day. So you get to just be random sometimes. Or if you're me, most of the time, lol.
Home is the place where, when you have to go there, they have to take you in. ~Robert Frost