(11AM EST – promoted by Nightprowlkitty)
"Viewer Discretion" advisory on videos


Oakland Man killed by Bart Cop. Video made on cell phone by witness on nearby train. January 1, 2009
http://www.youtube.com/watch?v…
Today, November 5, 2010

http://www.sfgate.com/cgi-bin/…

A jury in Los Angeles County, where the trial was moved, found Mehserle guilty of involuntary manslaughter in July, acquitting him of the more serious charges of murder and voluntary manslaughter. Mehserle testified that he killed Grant accidentally, after mistaking his service pistol and his Taser.

The jury also found that Mehserle, a Napa County resident, had used a gun during the crime. However, Judge Robert Perry threw out the gun conviction today, saying it was not supported by the evidence, and gave Mehserle two years for the involuntary manslaughter conviction, the shortest term possible.

With credit for time he has already served behind bars, Mehserle will be eligible for release in about seven months.
The judge blamed "muscle memory" for Mehserle accidentally drawing his loaded gun instead of his taser.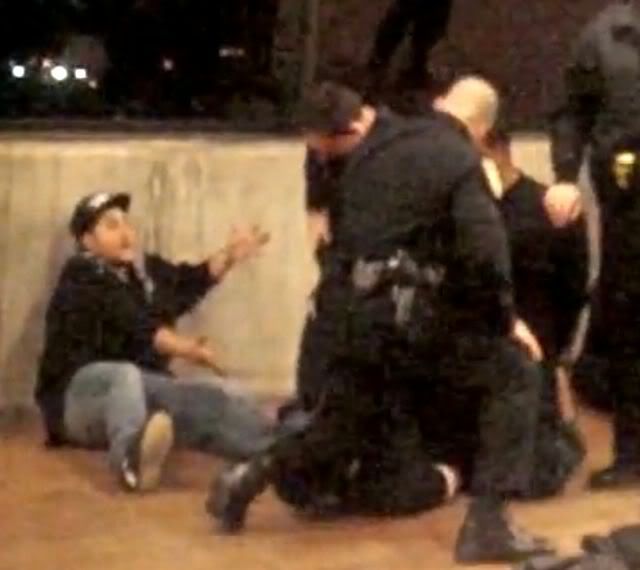 photo 1 January 1 2009. from witness video. Man who was seated next to Oscar Grant sees policeman Mehserle draw his gun and holds his arms out, his left hand is pointing towards Mehserle's hand which is visible in the center of the photo, on his holster. He is looking down at either his hand or the man seated on the floor, or both. Oscar Grant is now facedown on the floor. The policeman with the shaved head, back to the camera, has his left knee on his upper body. Witnesses in several videos I saw made by passengers in the doorway of the BART train nearby can be heard yelling at the police NO! before the gun goes off.

___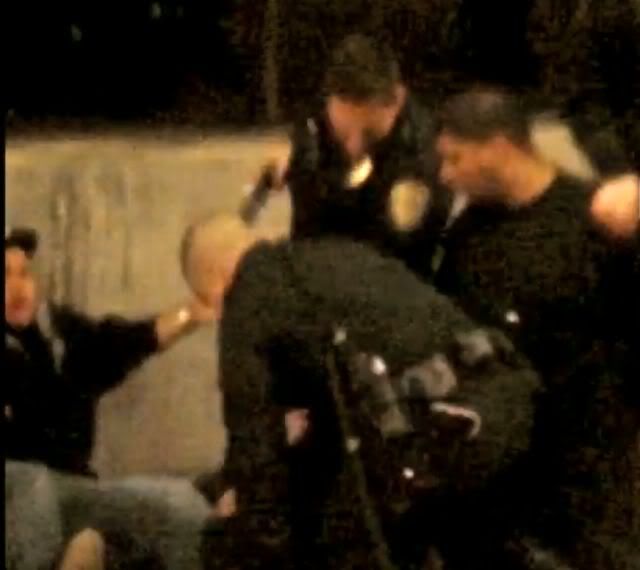 photo 2 January 1, 2009. from witness video. The gun is visible in officer Mehserle's hand a split second before the shooting. Witnesses are yelling no. no. no.

___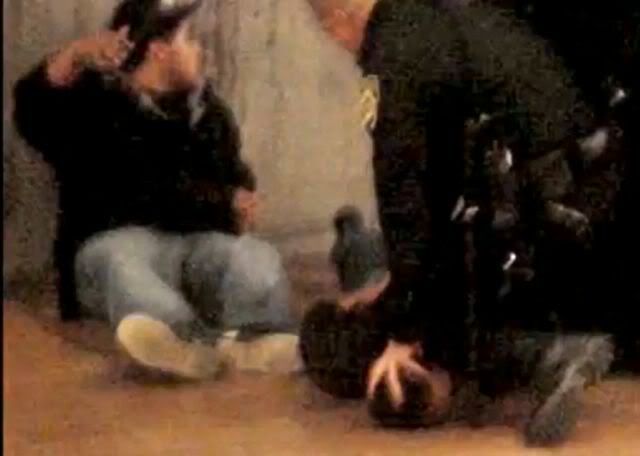 photo 3 January 1, 2009. from witness video. The officer in the foreground who had his knee on Grant can be seen holding his head down with his hand for a few seconds after the shot before they roll him over.
_______
Here is much slower loading witness video set, but much better visual quality, but no audio
http://www.youtube.com/watch?v…


Court releases dramatic video of BART shooting 5/24/2010. Minute 1:54 to 1:55 in the first segment is when the actual shooting occurred. Oscar Grant is first sitting on the floor, second from the left, then is pulled forward and held face down by the policeman with the shaved head in the foreground, who has his knee on his upper body. You can see the fingers of the policeman on Oscar's head holding it to the floor at minute 1:57. The man sitting next to Oscar has seen the other cop, Mehserle, pull his gun and is holding his arms out in beseechment right before the shot was fired, then he cringes.
An interview with Johannes Mehserle from Oct 29 before the sentencing is here: http://www.ktvu.com/news/25571… When asked why he thought this occurred, he replied, "I think only God knows why, I don't know." He wishes he had called in sick that day. He has a toddler aged daughter who was born within days of the shooting.
Oscar Grant leaves behind a six year old daughter Tatiana. A girlfriend, Sophina. An uncle, Cephus. And his mother, Wanda. http://oaklandlocal.com/blogs/…
This is why people in Oakland are upset tonight.