( – promoted by buhdydharma )
wanna re – caption this?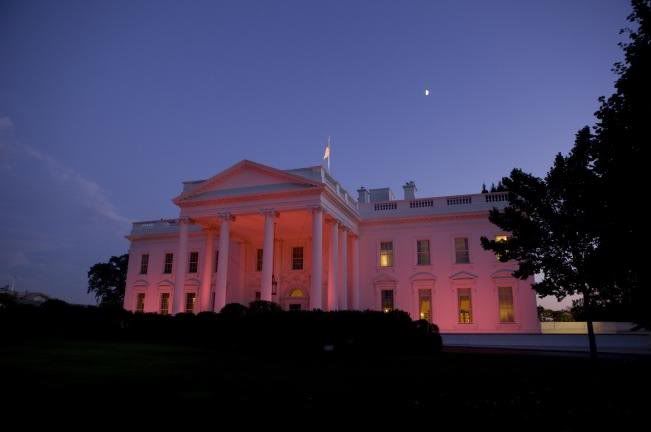 Photo of the Day: The White House seen from the North Lawn is bathed in pink light in honor of Breast Cancer Awareness Month Oct. 14, 2010.

(Official White House Photo by Lawrence Jackson)

See more official photos at http://wh.gov/photogallery
hattip to a dear longtime fb friend, (who's openly gay):
I LOVE THE PINK HOUSE…can we also say it's for the gays???
shrug. sorry, don't think so, Bruce.
By the way… just so you know… I mean, in case anyone's confused at all … Pentagon warns gay troops to stay silent for now…
WASHINGTON – The Defense Department on Friday warned gay troops that if they disclose their sexual orientation now, they could still get in trouble.

In a new memo, the Pentagon's top personnel chief cited a "legally uncertain environment" facing service members during a court battle over the 1993 law known as "don't ask, don't tell."

The Obama administration is appealing a ruling by a federal judge in California on Tuesday that struck down the law, which bans openly gay service members.

The Defense Department has said it will comply with the court order for now – freezing any discharge proceedings and technically ending its decades-long policy of discriminating against gays. But it is uncertain what would happen if the court grants the administration's request for a temporary stay on the ruling.

If the court agrees to the stay, it is presumed the military would reinstate the old policy.

"We note for service members that altering their personal conduct in this legally uncertain environment may have adverse consequences for themselves or others should the court's decision be reversed," wrote Clifford Stanley, the undersecretary of defense for personnel and readiness.

The Defense Department will continue not to ask service members or recruits about their sexual orientation and to "treat all members with dignity and respect," he wrote.
oh yeah, and hey you hippies, commies, and fags, buck up! (with all due respect I'm sure.)