(2PM EST – promoted by Nightprowlkitty)
The first Rule of Holes: When you're in one, STOP digging.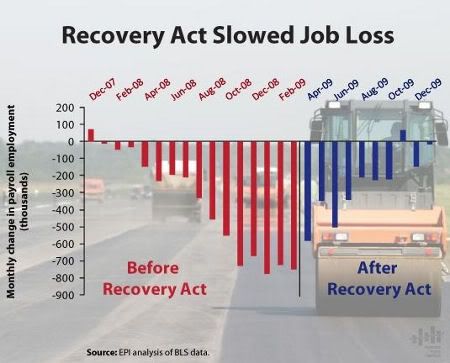 Stop Digging? Check!
Heck, even Erin Burnett (of CNBC) admitted the Stimulus is working, today on MTP … that
"Without the stimulus we would be significantly worse off than we are now."
— any serious economist says so. … She has the charts.
so do we.
Obama: 'We Are Climbing Out' of Economic Hole

FOXNews.com — Associated Press

Published February 05, 2010

WASHINGTON — The day after Congress raised America's debt ceiling above $14 trillion — potentially adding another $6,000 in debt to every man, woman and child — a surprisingly upbeat January jobs report that showed unemployment dipping below 10 percent prompted President Obama to declare that "we are climbing out of the huge hole that we found ourselves in."
"We are climbing out of the huge hole that we found ourselves in." per our current Commander and Chief. Check!
First Rule of Holes, followed. Lead on, Sir.
Question: How long will it take to climb all the way out?
Well, exactly HOW DEEP was that "Economic Hole" that the Bush TARP Bail Out program left us in, in the first place?
Well on an Historic scale that Hole, measured in Job Losses, was mighty DEEP, as this chart from a year ago shows:
G. W. Bush left us One Whopper of a deep hole of debt, to fill back in.
You might say, they left us a "Cratered Economy" of historic proportions.
Good thing we've "turned the corner" in recent months, and are finally starting to "see daylight" in that regard:
and for that updated version of this chart, through May 2010. (h/t to BobTrips)

Is that Daylight ahead?
The Democrats and the Obama Administration — have been trying to help Small Business to continue to rebound — to help them put the Unemployed back to work —
But the Republicans just continue to Block such efforts — purely for political reasons:
Republicans BLOCK Bill that would HELP Small Businesses –by jamess — Sep 03, 2010
Apparently, Republicans would rather keep digging that Crater — that THEY created in the first place!
Vote for the GOP — and get More of the Same!
Vote for Democrats, and get people back to work, and keep the Economy moving forward. Check!
The Dems will get us out of this GOP Hole. We always do — when given the chance.
We know what the Republican Fiscal Plan leads to. Don't we?

(that's assuming they even have "a plan" — one that goes beyond their standard rhetoric?)
Now, for some more sage advice from the late Molly Ivins:
from her last column, January 11, 2007:
We are the people who run this country. We are the deciders. And every single day, every single one of us needs to step outside and take some action to help stop this war. Raise hell. Think of something to make the ridiculous look ridiculous. […]
Thankfully one of the Off-budget Bush Wars, has finally been wound down, as Obama pledged to do.
Molly Ivins must be pleased about that.
As far as the "Hole of Debt" that War left — well that just another one of "those craters" that the Republicans are quite skilled at digging:
Why is it "Deficits don't matter" — whenever THEY are in Charge? – by jamess — Sep 01, 2010
What a bunch of fiscally responsible "operators" those Bushies were — HARDLY!
Paragons of Irresponsibility is more like it.
Never again. Not if recent history, from the last decade, can be brought to bear on upcoming ping-pong debate.
Backfilling THEIR Holes. Will. Take. Time.
and a willingness to "Stay the Course." to borrow a phrase.
Check. We need to give this time to work. Patience People.
These Holes weren't Dug in a Day … Now were they?