(11AM EST – promoted by Nightprowlkitty)
I want to point you to this very nicely written piece by HRW's G'mo attendee, Andrea Prasow:
The Man Gitmo Raised, Omar Khadr's trial is a reminder of everything that went wrong with justice at Guantánamo Bay.
It's not very long and she neatly recaps the back story for you, then touches on a couple of key points as well. Go read it. I'll wait. Okay, here's a teaser:
Khadr's trial was about to begin in January 2009, when the newly-inaugurated President Barack Obama ordered a stay of all military commission proceedings. Many believed that Obama would scrap the military commission system altogether, but that May, he announced his plan to revive an improved version of them. The resulting legislation did have better rules limiting the admission of hearsay and evidence obtained through coercion. So Khadr was charged yet again — this time with murder, attempted murder in violation of the laws of war, conspiracy, providing material support for terrorism, and spying. A military judge ruled this week that almost all of the statements Khadr made to interrogators were reliable, including those made following a threat of rape, and would be admissible at trial.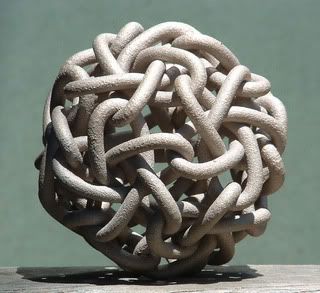 I, like most people, have dropped off the whole topic of Guantanamo and, brain like a sieve, I need the refresher. But I am also wondering about a few of those key points.
And so Khadr remains at Guantánamo, in largely the same predicament that he has been in for years — trapped on a legal road to nowhere. Khadr is essentially being tried for being the enemy. Battlefield killings by irregular fighters have not historically been considered war crimes.

But the legal theory underlying the prosecution's case seems to be this: U.S. forces can attack the enemy, but, if enemy fighters like Khadr shoot at U.S. soldiers, they are committing a war crime.

If he's convicted, the United States could end up regretting its argument: Setting such a standard could implicate CIA officers and other non-uniformed U.S. personnel who either intentionally or inadvertently take part in combat operations.
1. Why are we even "trying" a child soldier for War Crimes? (instead of the real war criminals… never mind)
2. Why isn't he treated as a P.O.W. and managed under those conventional international rules?
3. Why the hell isn't The Left (professional, amateur, or otherwise) screaming their our bloody heads off over this? (3.5. while we still can… with our Free Press and open public Internet)….?
We have a month (at least) to consider that now. The trial is now on hold due to sudden illness of his Defense Attorney. I wish him a rapid and strong recovery.
from FB The Campaign for JUSTICE for Omar Khadr: If you would like to send "Get well" wishes for Omar Khadr's defense lawyer Lt Col Jon Jackson, email them to endimpunity@amnesty.ca and I will ensure they are forwarded to him! Please put "get well messages for LtCol Jackson" in the subject line.