(9AM EST – promoted by Nightprowlkitty)
Freedom of (and from) religion is a core liberal value. There are good reasons why core liberal values are fundamentally American values embodied in our Constitution deriving directly from Enlightenment philosophy. The following anti-rational, blindly racist and stupidly insular sentiment (emotional outburst?) common to current right wing "thinking" is decidedly anti- or counter-Enlightenment in its expression on so many levels as to be automatically revolting to a modern, liberal mind:
"Everything I ever needed to know about Islam I learned on 9/11"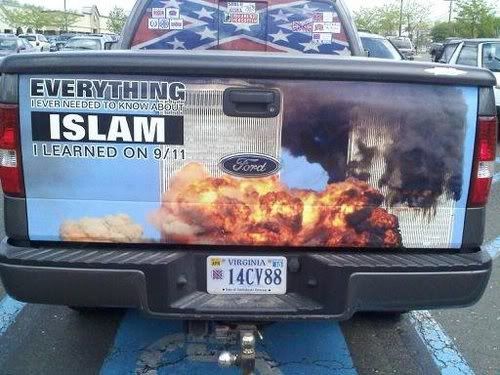 Liberalism defines modernity. The exact specification of liberalism will vary between taxonomists, but some very general themes emerge from a period of time designated as the Enlightenment.
By my provisional tally, liberal or Enlightenment values include the assumption of universal foundations in humanity (all humans are created equal, have a common human nature and are of equal moral worth and status), the reliance on reason (think for yourself, question blind obedience to church and state), the value of individual autonomy (personal freedom, self/democratic rule, freedom from slavery or enthrallment to arbitrary authority), the centrality of economics to society (individual property rights, self-interested competition in fluid markets, taxes, and the need for governmental regulation), and a belief in progress (e.g., evolving from faith or blind obedience to reasoned, personal enlightenment, improvements in social structure via self-rule and free trade).
In short, maintaining social cohesion through arbitrary authority (The divine rule of Churches and Kings) was rejected in favor of self-rule through a reasoned and mutually agreed upon social contract in which individual freedom and social cohesion were thought to be optimized. For those things that we must agree upon mutually, we rely on reasoned agreement, we set up a game fair to all, no matter how the table is turned. For maximizing individual autonomy, we allow one another to get our subjective freak on however one likes, as long as it doesn't impinge on the mutually contracted social agreement, helping to satisfy our urges for idiosyncratic emotional and spiritual subjectivities that arise by design or accident from a universal human nature.
There have since been post-modern attacks on modernity and liberalism, but we can argue about those at a later time. Currently, we live under a modern, liberal social contract.
If Howard Dean, Harry Reid, or anyone else wants to re-write the Constitution, we have a mutually agreed upon process for changing our core liberal values.
As far as I know, no laws currently prevent Howard and Harry from holding a seminar with Pam Geller on the evolution of Abrahamic monotheism during our military and cultural assault on other parts of the world, so let them get their personal freaks on in that respect, but they should quit informally fucking around with basic Constitutional rights.