First of all, do NOT change the name to something "nicer."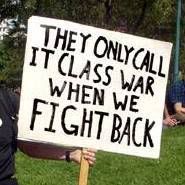 I've got bad news for you folks, there will be no Mission Accomplished in the Class War. There will be no great and glorious victory with flags waving above the battlements.
Class war is not about defeating the Rich, it is about scaring the hell out of them enough so that they give up power.
The Ruling Class (and don't worry we are NOT talking about YOU) only grudgingly accepted the New Deal because the idea of a true Class War, an all out uprising of the poor, the unemployed, foreclosed upon farmers, destitute Veterans, and yes….Leftist Agitators …scared the hell out of them.
And it was ONLY as a result of that fear, fear of something far worse than the New Deal, that the Ruling Class gave up a smidgen of their wealth and power to the scary peasants (and yes, now we are talking about you) at their gate.