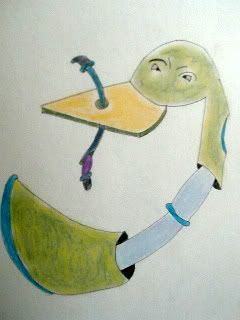 It was reported that young Indonesian surfers are providing "erotic services to Japanese women and other female tourists who flock to the island for discreet sex vacations."

A Chinese health food and cosmetics company is sending 10,000 of its best salespeople and their family members on a free trip to Tokyo as a reward for their good work.

A 35-year-old native of Nagano became the first Japanese ever to win the prestigious Concurso Internacional flamenco guitar contest in Murcia, Spain.

A 17-year-old from Kobe and an 18-year-old from Fukuoka won gold medals at the 51st International Mathematical Olympiad in Kazakhstan.

Asahi led all breweries in beer shipments during the first half of 2010, thanks in large part to "a new way of serving Super Dry at below zero temperatures at bars and other places."

However, overall shipments of beer tumbled 4.5 percent due to a "shift in consumer appetite to other drinks."

Headline of the Week: "Little Green Aliens Invading Coasts" (via The Asahi Shimbun)
STATS

6,137

Number of pilots employed by major domestic airlines, according to the transport ministry

3

Number of pilots that are female

752

Number of attacks against train station attendants and conductors nationwide in fiscal 2008, according to The Asahi Shimbun

869

Number of attacks in 2009
SCHOOL DAZE

A 60-year-old woman in Nagasaki broke the nose of an 18-year-old male high school student because he was sitting in a bus seat reserved for the elderly.

The MPD suspects that a 29-year-old elementary school teacher was involved in five incidents in which he "followed elementary and junior high school girls home from school and forced them into their own houses where he molested them."

Two female high school students in Hyogo set a house on fire in a bid to kill one of the girl's parents.

A rope stretched across a sidewalk in Chiba by an apparent prankster seriously injured a 17-year-old high school girl riding home from school on her bicycle.

If you've noticed a bunch of eggheads moping around recently, it's because Thomson Reuters has found that "the frequency that Japanese scientific research papers were cited in the last five years was lower than the world average."
Pays Off
Deserve To Be In Jail
Is Best Used For Garbage
Tokyo death chamber to be opened to media

Friday, July 30, 2010

Kyodo News

The Justice Ministry will open the execution chamber at the Tokyo Detention House to the media as early as August, Justice Minister Keiko Chiba said Friday.

Secretive practices surrounding the capital punishment system, including executions without prior notice to death-row inmates, their relatives and lawyers, have drawn criticism.

Execution chambers have been closed to the public, including the media, but Chiba has ordered the Tokyo facility to allow media access to stir debate over the death penalty.
New breed of corporate head choppers set up errant workers for decapitation

Kyodo News

TOKYO

Whatever the field of business, one can usually find some staff who simply aren't earning their pay. And others may not be good team players who stir up morale problems at the office.

To deal with these individuals, reports Weekly Playboy (Aug 9), a new occupation called "yamesaseya" has appeared. These are specialists who apply various forms of skullduggery to coerce unwanted regular company staff to submit their resignations.

"With the prolonged recession, companies are nearing the limits of what they can do to cut costs," says Mr A, who's based in the metropolitan Tokyo area. "As a last resort, the ones still not able to pull off a recovery have begun to try to force out regular staff."

Ordinarily, A goes on to say, it's almost impossible to dismiss regular company staff who have not committed some serious infraction of company work rules. So that's where he and his colleagues come in. Their most straightforward method is to conduct a preliminary study of the target's behavioral patterns.