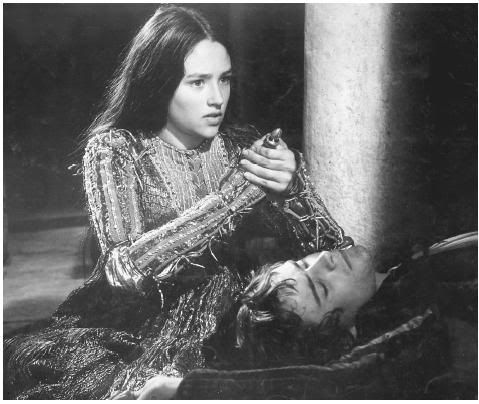 NOTE: I have other obligations this evening that will preclude me from being able to post an opening comment until much later this evening. If someone could post an opening comment for ponies on my behalf, I would be most appreciative. More information will be following in the comments section later this evening. Thanx.
Songs describing the myriad mysteries of love have abounded through the ages, dating back at least as far as that staple of the Old Testament, The Song of Solomon, which included some surprisingly racy language. For some unknown reason, the Protestant Sunday school teachers of this writer's youth seemed to neglect any discussion of this book.
William Shakespeare was as fascinated as anyone by the inscrutable and murky depths of love, perhaps most memorably explored in "Romeo and Juliet", ultimately leading up to the tragic conclusion, pictured at the beginning of this essay.
This week's selection was written by Mississippi Delta born James Milton Campbell, Jr. (1934-2005), blues singer and guitarist, who was best known for his hit R&B singles, such as "We're Gonna Make It" (#1), "Who's Cheating Who?" (#4), "Baby, I Love You" (#6) and "Feel So Bad" (#7). His primary influences were T-Bone Walker and other contemporary blues and rock n' roll artists. He was first discovered playing in local bars, and caught the attention of Ike Turner, which led to a record contract. He recorded several singles, which met with little success, leaving Sam Phillips' Sun label by 1955. Campbell's final album was released in May of 2005, near the time of his death following a stroke on May 4, 2005.
After having had little success with various labels, he started the Bobbin Robins label in St. Louis, eventually signing a distribution deal with Chess Records. As a record producer, he helped to launch the careers of Albert King and Fontella Bass, and began to achieve some success with his own recordings. His 1962 single, "So Mean to Me', climbed to #14 on the Billboard R & B charts.
By 1965, Campbell developed a more polished style that reminded listeners of B. B. King, eventually released two hit singles, "We're Gonna Make It", a blues-infused soul song, which topped the R&B charts and received airplay on Top 40 radio, which at the time was almost exclusively the domain of white artists. His next single, "Who's Cheating Who?" which peaked at #4 on the R&B charts.
Campbell enjoyed moderate success over the next four years, releasing another album in 1969, entitled, "Grits Ain't Groceries", which included the hit single by the same name. Following Leonard Chess' death, matters fell into disarray, leading to Campbell signing with the Stax label.
Campbell then released another album, adding complex orchestration, and scored a couple of additional hits, including this week's feature selection. The Stax label ran into financial difficulties and went bankrupt in 1975. He continued to record with a number of labels, and had his last hit in 1983 with the title track from the album, "Age Ain't Nothin' But a Number."
In 1988, Campbell was inducted into the Blues Hall of Fame and won a W. C. Handy Award. His last album, "Think of Me" was released in May, 2005. He died on May 4, 2005, from complications following a stroke.
Without further ado, this week's selection is the #9 R&B hit from 1972 by James Milton Campbell, Jr., better known as "Little Milton", entitled, "That's What Love Will Make You Do."
Little Milton was also (coincidentally?) the nickname for Gerald Bostock, the fictional author of the poem used for lyrics in the 1972 Jethro Tull album Thick as a Brick. Here is Little Milton's #9 (R&B) and #59 (Billboard Hot 100) hit from 1972, entitled, "That's What Love Will Make You Do." This writer would agree that his style by this time in his career is reminiscent of the immortal B. B. King…
Live in Chicago 1991 Magic Slim, John Primer, Nick Holt, Jerry Porter. Please excuse the sound quality, which is a little muffled and uneven…
The Jerry Garcia Band turns in a memorable interpretation durnig this live performance at the Warfield Theatre in San Francisco, CA on April 23, 1993…
John Farnham performed this live cover version in 2000, which includes some nice solo work…
MICROblue performs at Phyllis' Musical Inn in January, 2006…
Government Mule at the Alabama Theatre in Birmingham, Alabama on November 12, 2006…
Daniel Castro, one of my favorite artists, turns in a fine performance during one of his many appearances in San Francisco, this time at The Saloon. This writer first heard this this song (and his cover version) during a performance at Lou's Pier 47 in San Fran several years ago. Posted on youtube on June 10, 2007…
The Stink plays their acoustic guitar interpretation at Depot Square in Derry, New Hampshire on June 25, 2007…
Swedish blues? The Sven Zetterberg Blues Band turns in a fine performance which includes some great bass guitar work, percussion and Hammond organ solos. The band's website: http://www.svenzetterberg.com (in English)…Posted on November 19, 2007…
Valentino & the Piedmont Shieks showcase some fine blues harp work in this rendition, posted on February 25, 2008…
The Park Avenue Band from the Rochester, New York area turned in this rendition in August, 2008…
Here is a very respectable interpretation live at JJ's in San Jose, CA. Featured performers: Gene Washington, vocals; Frankie Ramos, tenor & alto sax; Bob Gomes, piano, organ and vocals; David Waddingham, bass and vocals; Scotty Griffin, drums and vocals; and Rory Brennan, guitar. Posted on September 05, 2008…
The name of this group is unknown in this performance from the Concerts In the Plaza 2008 series, in San Luis Obispo, California. This version includes some great three-part vocal harmonies…
The Calabash Blues & Boogie Band showcase some fine Hammond B-3 work in the performance from the Eden RiverFest 2009 from Eden, North Carolina…
Janiva Magness displays her considerable vocal talents in her rendition. Posted on September 30, 2009…
The Spencer Thomas Band turn in a fine performance in this January 10, 2010 sendoff party for this year's Austin Blues Society Best Blues Band, just prior to their trip to Memphis, Tennessee to compete in the annual international competition…
The Allman Brothers perform with Eric Krasno at the United Palace on March 16, 2010…
Loading ...