(bumped-4:30PM EST – promoted by Nightprowlkitty)
Bellagio Lobby
For those of you traveling to Las Vegas in the near future, I'd like to encourage you to stop by the Bellagio lobby to see some great glass sculpture, by Dale Chihuly, if you like that sort of thing.
More Chihuly is available in some of the Bellagio's nightclubs and for purchase in the Chihuly shop in Via Fiore.
My photos are not the best. My apologies for the inadequate skill and the bad eyesight. Official photos can be found here.
I took most of my images (inside) at night. There is a totally different vibe in the bright of day. Maybe you can get a sense of that from the lobby shots.
Close-up: Blue
I tried to zoom in on some of the individual flowers in the ceiling. It worked some times and sometimes was less than totally successful. My intention was to sample some of the individual colors. I was planning on sampling some of those colors for some future graphics.
Close-up: Peach
One problem you will probably encounter taking photos of this work is the jostling by the crowd. The Bellagio lobby has a way of being packed. And I've always had problems holding steady when shooting upward anyway, truth be told.
I work on the principle that you can't get better without lots and lots of trial and error. That I get more than my share of error is unfortunate, but I try to learn from it.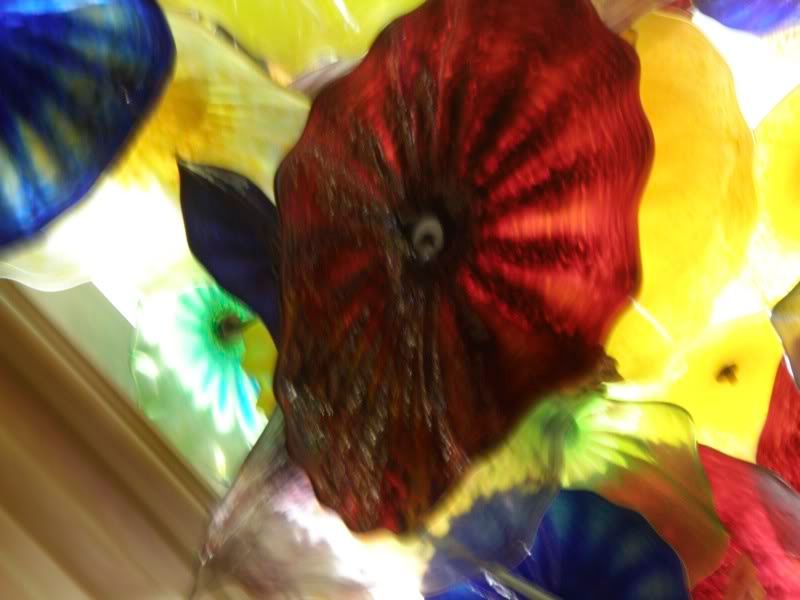 Close-up: Burgandy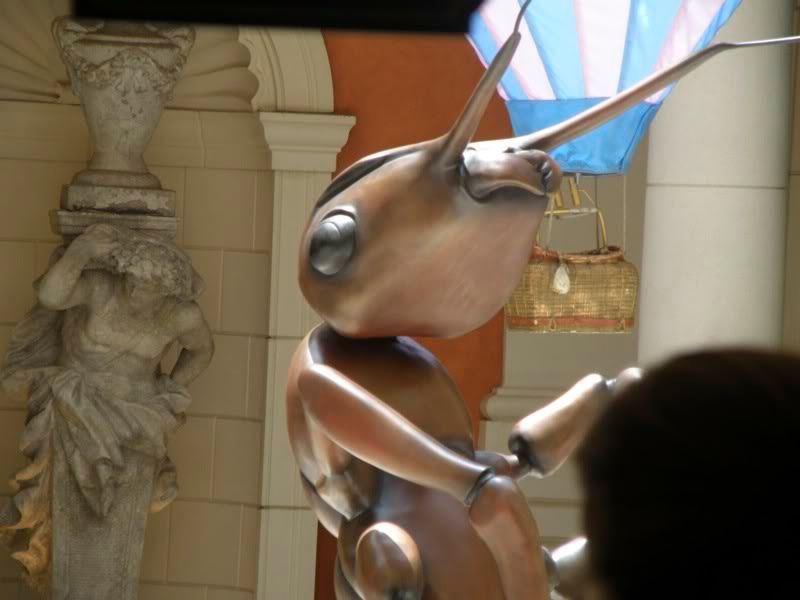 Check-In Ant, by Susan P. Cochran
If you walk past the lobby and enter the Conservatory, you can experience life from an Alice in wonderland persective, as designed by Stephen Stefanou and Susan P. Cochran…still having a Chihuly feel as well. Cochran did the ants, including the one behind the check-in counter. Stefanou designed the Conservatory exhibit. Besides the bronze ants there are giant water cans, a bucket and shovel, giant glass flowers and mushrooms, butterflies, bees and hot air balloons above, sculpted olive trees (live trees, hundreds of years old, which have been pruned a la bonzai, but much larger), and many kinds of flowers and other plants, as well as several water features.
And there is an obelisk on the spa side.
From the entrance
Flowers, Butterflies, a Bee, and the Ant Queen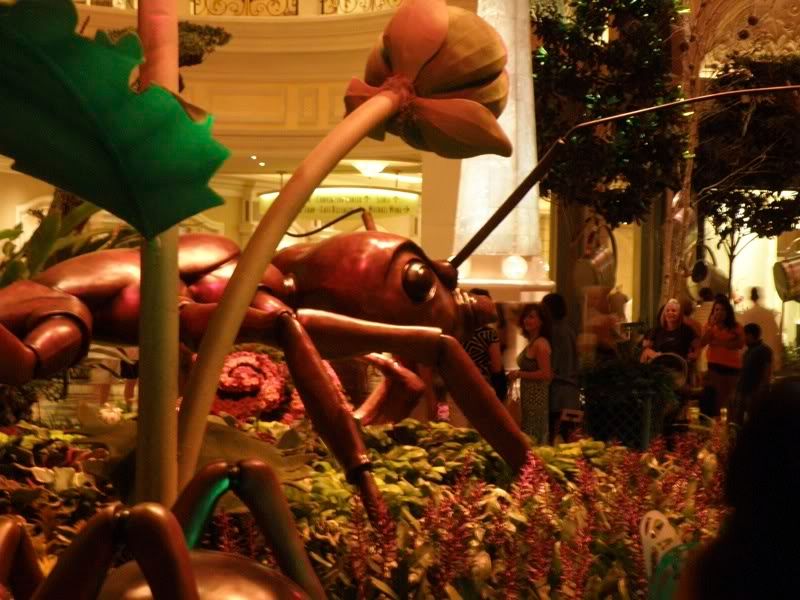 An Ant among the Flowers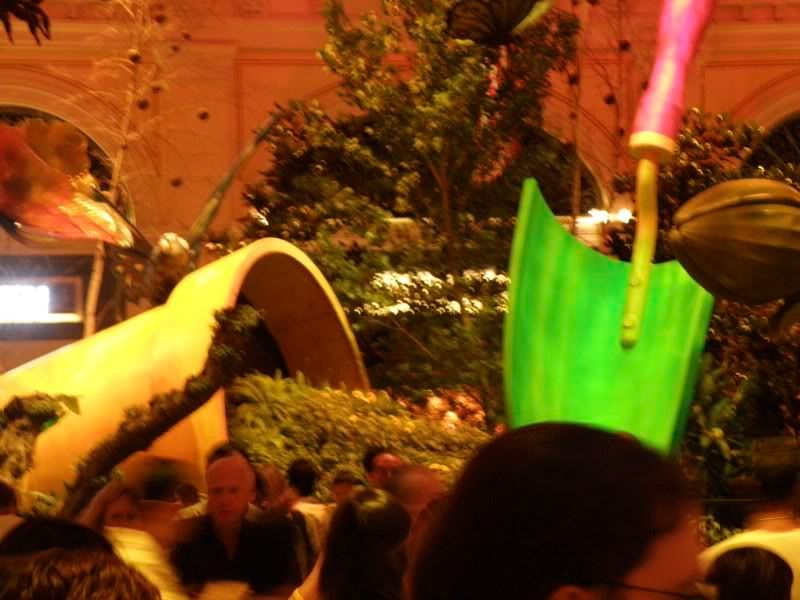 Bucket and Shovel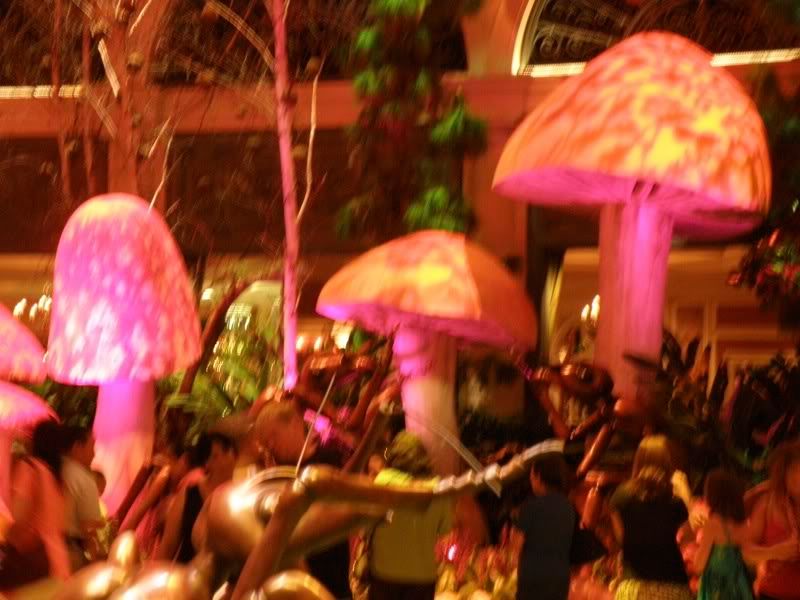 Mushrooms
The Obelisk
The last couple of photos are at the Patisserie. They have a 27 foot tall chocolate fountain (Guinness record), with three kinds of chocolate, a chocolate eagle, and art glass.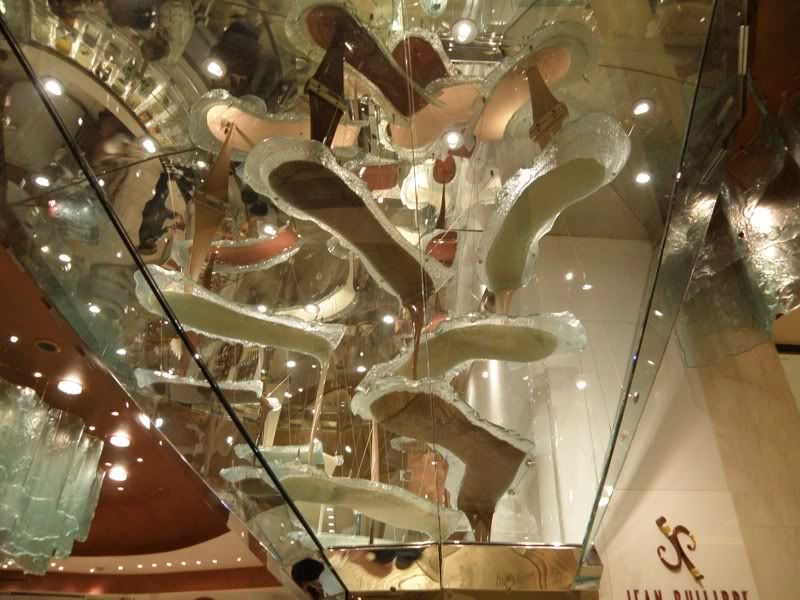 At the Patissierie: The chocolate fountain
At the Patissierie II
If you prefer video, I found this: