(9AM EST – promoted by Nightprowlkitty)
Gallery: Signs of trouble

Oil spill victims find an outlet for anger about the crisis and resentment toward BP.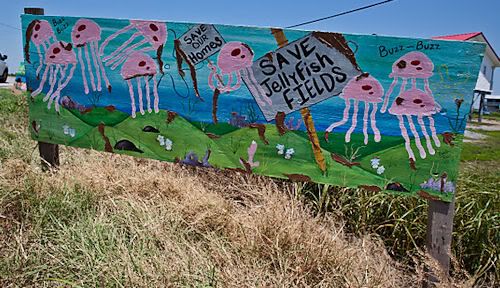 A WashingtonPost Photo Gallery …
Why have the Gulf Coast residents taken to Road Art — to express their on-going frustration?
Perhaps it's only a desperate cry for help?
Signs of the times: Oil-spill victims on Grand Isle post protest

By Ylan Q. Mui, WashingtonPost — Tuesday, July 20, 2010

If you want to know how residents here feel about the oil spill, just read the signs that are posted on seemingly every electrical pole, planted in front yards or hung on the 10-foot stilts that keep houses off the ground in case of flooding. Some are funny, like the six-painting SpongeBob series or the old toilet labeled "BP Headquarters."

Some are angry: "Cannot fish or swim. How the hell are we suppose … to feed our kids now?" Others strain for pointed puns, dubbing BP the "Bayou Polluters."

[…]

That means there is plenty of time to brainstorm new signs.

"I had to scream for help some kind of way," said Bobby Pitre, who crafted one of the most jarring displays. "It was like an SOS to the world."
Sending Out An SOS – The Police



http://www.youtube.com/watch?v…
Desperate Times, sometimes call for desperate measures …
Just ask some folks who have been through this all before …
Valdez, Alaska councilman gives oil spill advice:

Communities must 'be aggressive and go out there and do it yourself'

Russ Henderson, Press-Register — July 19, 2010

During an interview with the Press-Register, McCammon said Cobb was correct that massive "technological" disasters — in contrast to natural disasters like hurricanes — can have a strong and long-lasting political and psychological impact.

"The ending is ambiguous. Cause and effect are ambiguous. Many people are involved in extensive litigation," McCammon said.

After Exxon settled government lawsuits early, private claims were dragged out for decades and many Alaskans off the coast of Prince William Sound felt like "animals were given more priority than people," she said.
If recent activities of BP Lawyers, a few months out, are any indication — the Gulf Coast residents litigation woes, are only just beginning:



BP withholding Payments, to Prevent Fraud

by jamess — Jul 12, 2010



BP has a Jobs Plan — They want to Buy the Scientists

by jamess — Jul 16, 2010
Who will stand up and represent, the victims of this "Man-made Disaster of Technological" ?
Or will these un-Natural Disaster Victims end up, having to 'fend for themselves', against Teams of Corporate Lawyers, and endless reams of red tape? … with a constant parade of Appeal Court trials, for years to come?
[The Alaskan advice continues on a more hopeful, practical note … which summarizes the experiences of another Exxon-Valdez Survivor …]

[Dave Cobb] said it will be important to have a good, friendly working relationship with BP in the future, but if the company puts up resistance to needed changes "you have to be willing to push back against them."

In terms of economic recovery, Cobb said that all of the neighboring communities of the Gulf Coast will need to band together to share resources.

"Work with your neighbors — like at Prince William Sound we have Valdez, Cordova, Woodier and two native villages — so that you can all achieve recovery and have some kind of financial revenue to keep you going," Cobb said.

He said the oil spill should be approached as a large, difficult and long-term business problem that has to be dealt with head-on.

"You can't sit back and wait for people to help you," he said. "You have to be aggressive and go out there and do it yourself."
Dave Cobb, a fisheries biologist who was Valdez mayor from 1994-98 and has served on its City Council since 2000.
Well Gulf Residents, you see, you're not entirely on your own —
You still have … each other …
Shallow comfort I know, but perhaps better —
than counting on a Corporation — to keep its word, eh?