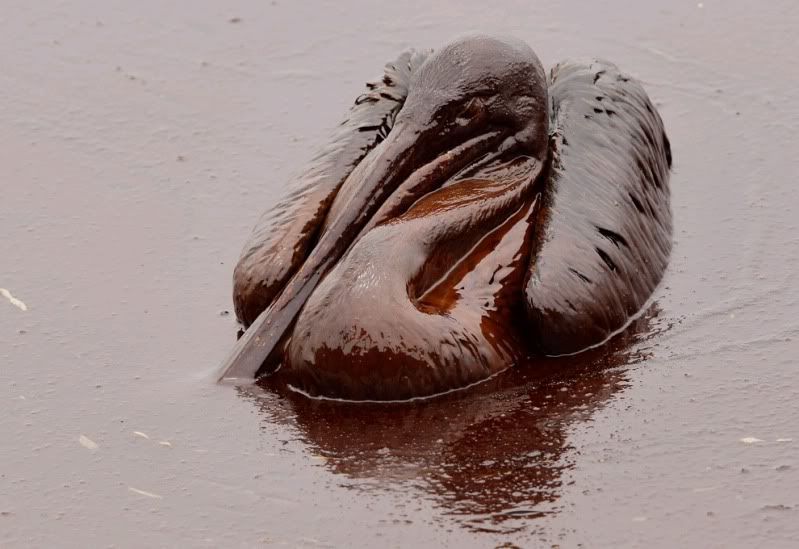 I more or less get it, okay? Do we really have to destroy the village in order to save it?
all photo credits: East Grand Terre Island along the Louisiana coast on Thursday, June 3, 2010. (AP Photo/Charlie Riedel)
I believe this is a close-up of the brown pelican pictured above hunkered in the sludge awaiting death. Even if someone rescued and cleaned her, she'd have one chance in a hundred of surviving, prompting some biologists to call for mass euthansia. In the close-up you can see the eye appears milky, but that is just the nictitating membrane, probably used as eye protection during diving, now drawn across the eye probably due to the irritation from volatile organic compounds. She's literally stewing in toxins until she dies. She cannot eat. It's a painful, noxious, drawn-out death, bearing no relation to either her experience or her instincts.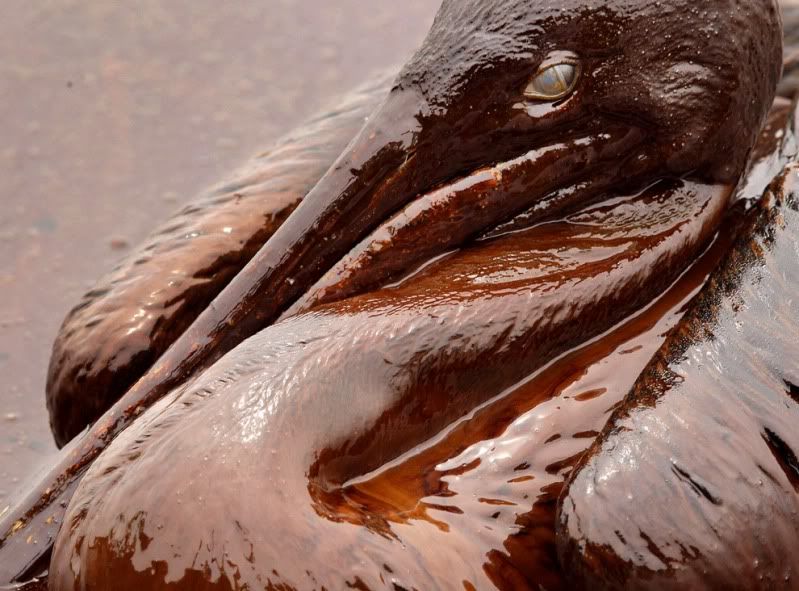 A German biologist says that efforts to clean oil-drenched birds in the Gulf of Mexico are in vain. For the birds' sake, it would be faster and less painful if animal-rescue workers put them under, she says. Studies and other experts back her up.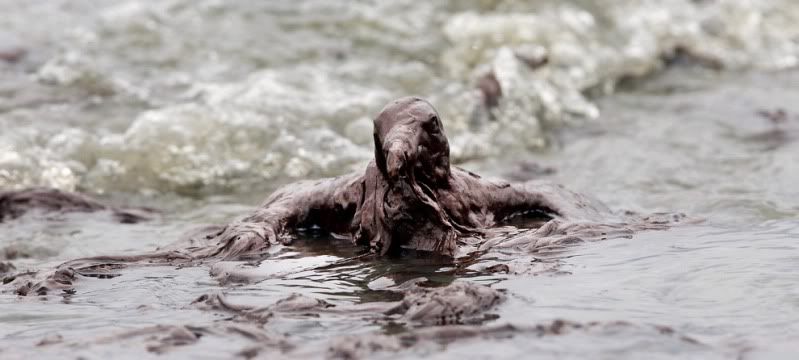 "According to serious studies, the middle-term survival rate of oil-soaked birds is under 1 percent," Gaus says. "We, therefore, oppose cleaning birds."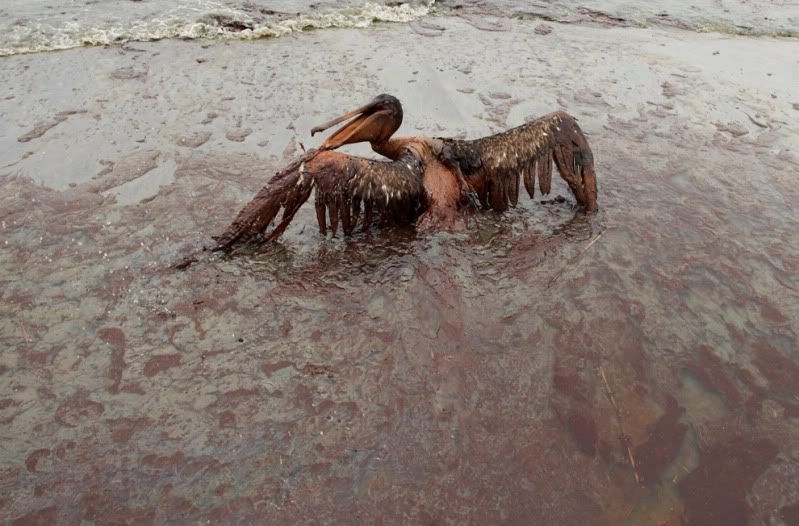 In the path of the spill are several large protected areas for wildlife, including a vital nesting area for thousands of brown pelicans which were only removed from the US Endangered Species Program last year.
Catching and cleaning oil-soaked birds oftentimes leads to fatal amounts of stress for the animals, Gaus says. Furthermore, forcing the birds to ingest coal solutions — or Pepto Bismol, as animal-rescue workers are doing along the Gulf Coast — in an attempt to prevent the poisonous effects of the oil is ineffective, Gaus says. The birds will eventually perish anyway from kidney and liver damage.
Once covered in oil, a bird will use its bill and tongue to remove the toxic substance from their feathers. Despite oil's terrible taste and smell, a bird will still try and clean itself because it can't live without fluffy feathers that repel water and regulate its body temperature. "Their instinct to clean is greater than their instinct to hunt, and as long as their feathers are dirty with oil, they won't eat," Gaus says.