(10 am. – promoted by ek hornbeck)
BP Hard To Pin Down On Oil Spill Claims

NPR, Morning Edition – May 24, 2010

Yuki Noguchi
BP has repeatedly said it would pay all legitimate claims resulting from the oil spill in the Gulf of Mexico, but such promises raise a crucial question: What exactly does "legitimate claim" mean?

[…]

BP has declined to define the term or provide examples.

BP American President Lamar McKay remained steadfastly vague during a Senate hearing this month. Despite prodding from Washington Democrat Maria Cantwell, McKay would not veer off of his message: We're going to pay all legitimate claims.

A BP spokesman declined to discuss the company's definition of "legitimate." In an e-mail, the spokesman said BP hired a firm called ESIS to assess all oil spill claims. As of last week, it had received nearly 16,000 claims. The spokesman said BP has in some cases paid some claims within 48 hours of receiving supporting documentation.
What exactly does "legitimate claim" mean? Good Question.
Perhaps this can give us a clue:
It seems that prior to our recent Crisis in the Gulf, a division of NOAA conducted a serious analysis to find out how important Fisheries really are to the Local Economies of the GOM Region.
2008 — Fisheries Economics of the U.S. (pdf)
National Marine Fisheries Service: Fisheries Economics (main web site)
According to these "independent experts" at the NMFS, both Commercial Fisheries and Recreational Fisheries, play huge roles in the Gulf Economy — Well, that is, they DID!
And what do Stock Market 'Oracles' have to say about the Mess in the Gulf, and the long-term impact on BP?
BP Bites the Bullet: Analyzing the Full Cost of the Gulf Oil Spill

The Market Oracle — May 10, 2010

Experts at the Harte Research Institute for Gulf of Mexico Studies in Corpus Christi estimated that as much as $1.6 billion of annual economic activity and services – including effects on tourism, fishing and even less tangible services like the storm protection provided by wetlands – could be at risk.

"And that's really only the tip of the iceberg," David Yoskowitz, who holds the endowed chair for socioeconomics at the institute, told the New York Times. "It's still early in the game, and there's a lot of potential downstream impacts, a lot of multiplier impacts."

At least 10 wildlife preserves in Louisiana and Mississippi – which nurture the region's $1.8 billion seafood industry – are at risk, as are billions of dollars in revenue from outdoor recreation, sport fishing, and beach tourism.

[…]

Analysts estimate that the Louisiana fishing industry could sustain $2.5 billion in losses, while Florida could lose $3 billion in tourism income. The total cost to the region could be $8 billion-$12 billion, according to estimates.

Federal laws enacted after the Exxon spill require the "responsible party" to pay for all the costs associated with the cleanup. And while there is a $75 million cap on economic damages such as lost earnings and damage to local resources, U.S. lawmakers are seeking to raise that cap to $10 billion.

"[BP] says it'll pay for this mess. Baloney," said U.S. Sen. Bill Nelson, D-FL. "They're not going to want to pay anymore than what the law says they have to, which is why we can't let them off the hook"

U.S. Sen. Bill Nelson has filed a bill that would increase oil companies' liability to $10 billion and put them on the hook for lost business revenues.

BP chief executive Tony Hayward – who promised to pay "all legitimate claims" privately balked at committing to paying all claims for economic damage caused by the company's oil spill, said Nelson.
By the way, those Market Oracles are cautiously optimistic on BP's long-term outlook:
"Depending on how bad the spill proves and how serious the public reaction is, we believe the most likely potential implications are" slower progress approving new leases and a smaller chance of lifting the moratorium on drilling in the eastern Gulf of Mexico, said Goldman Sachs Group Inc. (NYSE: GS) in a research note.
How about you?
Are you 'cautiously optimistic' on the Gulf Coast's long-term outlook — on its Economy, on its Ecosystem, its local Workers?
I wonder if Goldman Sachs Group Inc has any 'Buy Recommendations' on that set of 'Damaged Assets'?
Well Congress tried to do something to "re-balance the economic scales" recently …
However one very well funded Senator — stood up, and stood in the way.
(And we just shrugged. Business as Usual in the Senate.)
Democrats' effort to increase oil spill liability stalls

Alaska Sen. Lisa Murkowski objects to immediately taking up a measure that would have raised companies' liability caps to $10 billion from $75 million.

By Richard Simon and Margot Roosevelt, Los Angeles Times – May 14, 2010

Reporting from Washington and Los Angeles – In an opening skirmish over how much money companies should be forced to pay for oil spill damage, Democratic legislators Thursday failed to speed through legislation to raise liability caps from $75 million to $10 billion.

Their effort was thwarted by Sen. Lisa Murkowski (R-Alaska), a key oil industry ally who said that the bill would end up empowering only the "biggest of the big oil" companies to drill for American's offshore resources.

"This has been named 'The Big Oil Bailout Prevention Liability Act,' " said Murkowski, who objected to taking up the measure immediately.

The American Petroleum Institute, the industry's trade group, said Thursday that raising the cap could also increase the costs of exploration and production in the Gulf of Mexico by 25%, "which would threaten our nation's energy security, reduce government revenues and cost thousands of American jobs."

Sen. Bill Nelson (D-Fla.), a sponsor of the bill, expressed disappointment that "some of my colleagues decided to block legislation to hold BP accountable for this disaster" that resulted in the massive oil spill in the gulf. "We still don't know how bad it will be….I'm not even sure $10 billion would be enough."

He pointed to BP's recent quarterly profits, which rose to $6.1 billion from $2.6 billion a year earlier.
Somedays, it's like they say, the Senate is "the place where Good Ideas go to Die".
Perhaps we should have them move their "distinguished" Chambers out somewhere onto the Louisiana Coastline, where those 'Fossil Fools', would at least be in good company.
A BP spokesman declined to discuss the company's definition of "legitimate."
You'd think that maybe BP would not be so cavalier about the Damage, they have caused — and are continuing to cause.
Well they no doubt know that their profits, will hardly be impacted — given the sweetheart Liability Cap, that Big Oil finagled from Congress a few decades ago, after Valdez — a sweetheart deal that they will likely to continue to get from Congress. ( … long as Big Oil continues to grease those legislative wheels.)
It's just a 'drop in the bucket' — considering all the Real Cash Flow, that's at stake. Just a few days Profit, in the larger scheme of things. $75M is just an incidental Business Expense.
How nice of BP to "publicly disclose" their Profit data on their new "public" web site, intended to improve data monitoring transparency:

( http://www.bp.com )
Second quarter 2009 results

Release date: 28 July 2009

Tony Hayward, Chief Executive Officer, and Byron Grote, Chief Financial Officer, discussed BP's second quarter results.

Q2 2008 | Q1 2009 | Q2 2009

9,358 2,562 4,385 Profit for the period

(in Millions)
http://www.bp.com/extendedgene…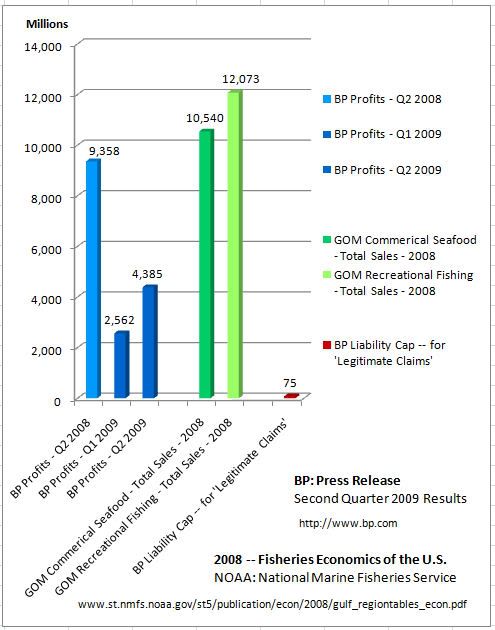 Granted, not all of those Multi-Billion Dollar Fishery industries will fail — but what if 1/5 of them do?
What if the Economic Fallout to those Fisherfolks, continues, year after year, long after BP has capped the Gushers, and moved on the "greener profits" …
What then? What will the $75 Million "Liability Limit" accomplish then?
$75M … just a 'drop in the bucket' —
I guess, The question should be, in Who's Bucket?
So those are some of what 'Legitimate Damage Claims' may look like —
— and indeed, it's long past time to Raise the Liability Cap, on Big Oil.

(imo).
Time to restart the discussion on 'Windfall Profits Tax' too. Call it a "Rainy Day Fund" — just in case of "some sort of" an Emergency.
Because Someone will end up paying for all those "hidden social costs" to the "local indigenous economies" —
SOMEONE Always DOES!
(And it's usually the Locals, who end up absorbing the REAL long-term Costs.)
BTW, Thanks for reading —
an informed Electorate, is an empowered Electorate.