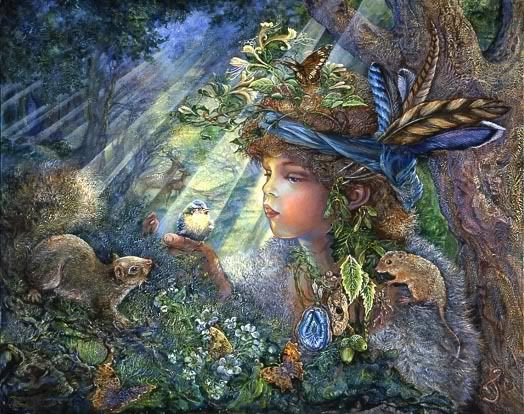 This week's selection is a hauntingly beautiful number written in 1947 by eden ahbez, an American songwriter and recording artist from the 1940s to the 1960s, whose California lifestyle greatly influenced the hippie movement. Beginning in the 1940s or earlier, ahbez wore sandals, white robes, shoulder-length hair and a beard, uncommon choices in those days. He camped out below the "L" of the Hollywood sign above Los Angeles, studied Oriental mysticism, claimed to survive on three dollars per week, slept outdoors with his family and subsisted on vegetables, fruits and nuts. He passed away in 1995, just shy of his 87th birthday.
The song was recorded by Nat "King" Cole, remained a #1 hit for eight weeks in 1948, and subsequently became a pop and jazz standard. The lyrics describe a fantasy of a "strange enchanted boy…who wandered very far" only to learn that "the greatest thing…was just to love and be loved in return." The first two measures of the song's melody are similar to that of Antonin Dvorak's 1887 "Piano Quintet No. 2 in A, Op. 81." It was not known if ahbez was familiar with Dvorak's work. The title of the song was derived from a Los Angeles-based group of which ahbez was a member.
Different versions of this song appear on the soundtracks of the following films: the 1948 film, "The Boy with Green Hair"; the 1990 film, "The Crossing"; the 1993 film, "Untamed Heart"; the 1999 film, "The Talented Mr. Ripley"; the 2001 film, "Moulin Rouge!"; and another 2001 film entitled "Angel Eyes." The story about the writing of this song was the theme of a 2000 Canadian television film by the same name.
To avoid any further suspense, this week's feature song, written in 1947 by eden ahbez, is "Nature Boy." Even if the title doesn't sound familiar, upon hearing the first few bars, most should find it familiar.
Among the versions this writer was unable to locate was an interpretation by Dick Haymes, released by Decca Records. It first appeared on the Billboard charts on June 4, 1968, remaining there for four weeks, peaking at #16.
Although there are quite a few cover versions that follow, each one is somewhat unique for one reason or another. In many cases, if the photo image on the video is static, I start the song, and either go to another window, or perform some menial task in the vicinity of my computer. If I'm reading or commenting on other Docudharma articles, I simply open another window for the DD site. If you are extremely pressed for time, I would particularly recommend that you be sure to see the versions by Nate King Cole and his daughter, Natalie Cole, both the solo and the duet with George Benson.
PLEASE NOTE: Due to previously unforeseen circumstances, I will be extremely busy until the first week of June. If the first reader of this diary could kindly enter an initial comment on my behalf (for ponies), that would be much appreciated. So, please understand if I either don't respond, or am not able to do so in a timely fashion.
The most successful version was recorded by Nat King Cole, first appearing on the Billboard charts on April 16, 1948, where it remained for fifteen weeks, peaking at #1.
The Frank Sinatra (with the Jeff Alexander Choir) recording first appeared on the Billboard charts on May 23, 1948, where it remained for four weeks, peaking at #18. Sorry for the sub-standard audio quality.
Bobby Darin's version first appeared on the U. S. Cash Box chart on June 10, 1961, peaking at #31 on July 15, 1961. It also appeared on the U.K. singles chart on June 10, 1961, peaking at #24 during a seven-week run.
Some of you may recall that Connie Francis performed one of the cover versions of "That'll Be the Day" last week. She and Darin had been an item, however, her father ran him off at gunpoint. She would experience four unsuccessful marriages, and later in life would say that the biggest mistake of her life was not eloping with Darin, as he had suggested.
Grace Slick and the Great Society recorded a cover version of this song in 1966, releasing it in 1967. The song also appears on their 1968 album, "How It Was."
Musicians: Grace Slick (vocals); Darby Slick (guitar); David Minor (guitar); Peter Vandergelder (bass); and Jerry Slick (drums).
This version is not my favorite, but after all, is Grace Slick, and is a different interpretation than any others appearing in this sequence.
The psychedelic rock band Gandalf recorded a version on their self-titled album for Capitol Records in 1969. I think this sounds much more like what I'd anticipate if it were performed by Grace Slick and the Jefferson Airplane.
Jose Feliciano's cover version appears in the 1971 album, entitled "Encore! Jose Feliciano's Finest Performances."
Ella Fitzgerald and Joe Pass (1976)
Central Line performs an up-tempo, dance club-like version of "Nature Boy" in 1983…
Mina (1983) performs a jazz-oriented interpretation, further enhanced by some fantastic photo imagery. The recording appears on her jazz album "Mina 25."
Here is Natalie Cole reprising her father's 1948 hit, turning in an excellent performance, accentuated by beautiful video footage, from 1991…
Natalie Cole & George Benson (date of performance unknown) perform a stunning rendition of "Nature Boy", featuring two voices and a piano, and despite the minimalism, nothing additional is needed…
From jazz singer Abbey Lincoln's 1995 album "A Turtle's Dream"
This interpretation by the incomparable Cher was performed in memory of her late ex-husband and singing partner as the closing and only song on her televised tribute to her personal and professional relationship with Sonny Bono. "Sonny & Me: Cher Remember" aired in May of 1998. During the special Cher credited Sonny as the one who pushed her out on stage, without which her later success would likely not have been possible.
Miles Davis' rendition of "Nature Boy" can be found on the 1999 album, entitled, "The Talented Mr. Ripley: Music From the Motion Picture."
Stephane Grapelli makes the violin sing in this beautiful interpretation from his 1999 album, entitled, "Stardust"…
David Bowie's version of "Nature Boy" was a major theme in the 2001 musical film, "Moulin Rouge!" and appears first on the movie's soundtrack. In the film, however, the song was sung by actor John Leguizamo, who portrayed the character of Henri de Toulouse-Lautrec during the opening scenes of the film. Massive Attack produced a version for the film's closing credits using the Bowie vocal. Both versions appear on the film's soundtrack.
Celine Dion performs her interpretation of "Nature Boy" on her 2002 album "A New Day Has Come."
Although George Benson included his arrangement of "Nature Boy" in the 1977 album, "Give Me the Night", this writer slightly prefers the more recent live version that follows. This performance took place at Auditorium Stravinski, Montreux, Switzerland, on July 12, 2007. He was quite ably assisted by Larry Williams, keyboards; Tom Hall, keyboards; Joe Turano, sax, keyboards, vocals; Michael O'Neill, guitar, vocals; Stanley Banks, bass guitar; Chris Walker, bass guitar; and Mark Simmons, drums.
Kurt Elling and the Sydney Symphony Orchestra perform "Nature Boy" at the Sydney Opera House on April 17, 2008. The baritone has a four-octave range. Elling was described by the New York Times as "the standout male jazz vocalist of our times." Among his many accolades is a Grammy Award from 2008.
Steve Miller, former rock star from the 1960s and 1970s, performs a moving version of "Nature Boy" as part of a Les Paul All-Star Tribute Concert on November 19, 2009, which was sponsored by the Gibson Guitar Company. This performance took place at Ryman Auditorium in Nashville, the original home of the Grand Ole Opry. John Colianni turns in some great work on the piano.
Additional note: Steve Miller was born into a musical family, and his godfather was none other than Les Paul, who taught him much about the guitar. In fact, his father, Dr. Miller, was the best man at Les Paul's wedding.
Loading ...