Obama arrived 38 days into the disaster, as BP worked to plug the leak with heavy mud.

That procedure is expected to continue for a couple days before its outcome is clear. AP
.
He will be briefed in Grand Isle, La., where the public beach has been closed since globs of oil started washing up a week ago. Buggie Vegas, who owns Bridge Side Cabins and Marina there, said Obama needs to see the disaster for himself.

"I think he's going to get the message when he comes down and sees how bad it is," Vegas said.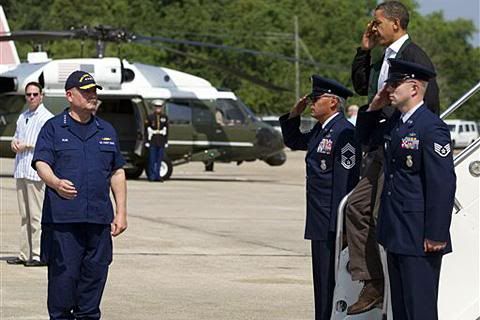 If the top kill fails, BP's next best hope for controlling even part of the leak is a tinier version of something that has already been tried: a steel containment box to cap the well. A 100-ton box lies junked on the ocean floor, abandoned by BP after ice-like crystals clogged it.

While BP officials say the smaller box shouldn't have that problem, it's clearly not their preferred method. It has been sitting in reserve on the seabed for more than a week while engineers first tried to siphon off oil through a mile-long tube.

That succeeded in collecting 924,000 gallons before crews took it out to allow room for the top kill attempt.

If the small box doesn't work, BP officials say they will go back to the tube, crossing their fingers that a relief well still weeks away from being drilled far enough to affect the leak will help stop the bleeding.

And even that's not a sure bet. Obama said Thursday that authorities insisted BP drill a second relief well as a backup since such wells often miss their mark.
So I guess I'll go shopping.
Then I'll go to the beach.
sigh.