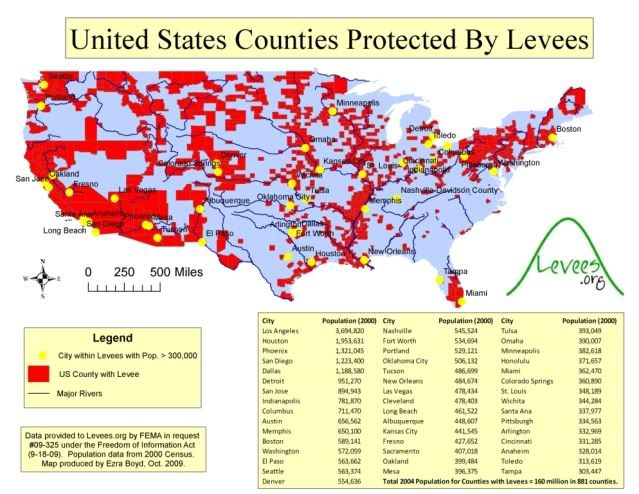 I'm on the levees.org email list and I got a message from them today:
Thanks to you, Levees.org was featured in the New York Times!

The article focused on our success in encouraging national media to report accurately on the man-made causes of the metro New Orleans flood.

And making the true story about the flooding as common knowledge as 'the sun rising in the east' will help the region recover.

This fine piece of journalism by reporter Brian Stelter greatly increases the reach of Levees.org message!

And it gives evidence that your ongoing efforts are paying off.

And that's good because when the American people understand that the flooding was a federal responsibility, they may understand that rebuilding is a federal duty.

Thank you for your support!

We're winning!

Sandy Rosenthal

Founder, Levees.org

levees.org
Here's the New York Times story.
The NYT notes that levees.org is giving out e-mail "awards" in recognition of journalists who take the time to add the couple extra words that keep the record clear on what happened to New Orleans during Hurricane Katrina.
Such as:
Julian Benbow, a basketball writer for The Boston Globe, received one for specifying that "the storm hit Monday, the levees broke Tuesday." The Post-Tribune of Northwest Indiana received one for saying that the Army Corps of Engineers' "system of levees failed in New Orleans." Eric Deggans, a television critic for The St. Petersburg Times, received one after writing a column about the HBO series "Treme," which is set in New Orleans. On his blog Friday, he called the e-mail message an "odd attaboy for a line in a column I thought was simple as saying the sun rises in the east."
A couple of simple words so we never again hear that what happened in New Orleans was a natural disaster. It was the failing of a federal organization, the Army Corps of Engineers. And it deserves a federal, national solution.
Congratulations to levees.com and their painstaking work to keep history accurate and to help the region and the nation.