(11 am. – promoted by ek hornbeck)
(Cross-posted at Wild Wild Left)
I'm told that discussing the issues is important. I'm told it matters. But what good does discussing the issues do when the politicians in Washington don't give a damn about the issues? All they care about is expanding corporate power so the corporate thugs they work for will reward them. It doesn't matter what the issue is, they twist and distort it until it can be used as a pretext and justification for maximizing corporate profits and increasing corporate control over everything.
If you're one of the few Americans who has a dollar left in your pocket, take a look at it . . .
I hope that clarifies the issues for you.
It explains why . . .
Much of the beef you eat has been exposed to fecal matter in processing. Your chicken has been contaminated with salmonella. Your stock animals and poultry have been pumped full of growth hormones and antibiotics. In most other countries, the government would act to protect consumers from this sort of thing; in the United States, the government is bought off by industry to prevent any effective regulations or inspections.

In a few years, the majority of all the produce for sale in the United States will be from genetically modified crops, thanks to the cozy relationship between Monsanto Corporation and the United States government. Worse still, due to the vast quantities of high-fructose corn syrup Americans consume, fully one-third of children born in the United States today will be diagnosed with Type 2 diabetes at some point in their lives.
Has discussing the issues prevented any of that?
No.
Has it prevented any of this?
It's not just the food that's killing you, it's the drugs. If you show any sign of life when you're young, they'll put you on Ritalin. Then, when you get old enough to take a good look around, you'll get depressed, so they'll give you Prozac. Meanwhile, your steady diet of trans-fat-laden food is guaranteed to give you high cholesterol, so you'll get a prescription for Lipitor. Finally, at the end of the day, you'll lay awake at night worrying about losing your health plan, so you'll need Lunesta to go to sleep.
Sleep is important. It provides nightly opportunities for you to forget about all the fecal matter, salmonella, growth hormones, antibiotics, Prozac, Lipitor, and Lunesta in your system.
Did discussing the issues prevent BushCo from raping America and everyone in it for 8 years? Did discussing the issues get real healthcare reform passed? Did discussing the issues prevent the Supreme Court from vaporizing what was left of American democracy with their Citizens United ruling?
No.
Do America and the world a favor, progressives, haul your asses into the streets. You can discuss the issues there, where it might actually have an impact.
You aren't ready to do that yet?
Then perhaps you should read this . . .
Birmingham became the poster child for a new kind of giant-scale financial fraud, one that would threaten the financial stability not only of cities and counties all across America, but even those of entire countries like Greece. While for many Americans the financial crisis remains an abstraction, a confusing mess of complex transactions that took place on a cloud high above Manhattan sometime in the mid-2000s, in Jefferson County you can actually see the rank criminality of the crisis economy with your own eyes; the monster sticks his head all the way out of the water.

The destruction of Jefferson County reveals the basic battle plan of these modern barbarians, the way that banks like JP Morgan and Goldman Sachs have systematically set out to pillage towns and cities from Pittsburgh to Athens. These guys aren't number-crunching whizzes making smart investments; what they do is find suckers in some municipal-finance department, corner them in complex lose-lose deals and flay them alive.
This is a gangster economy.
The families of workers killed in the West Virginia mine explosion know it . . .
They are beginning to bury their loved ones, as residents speak out against Massey Energy and government regulators responsible for the disaster. In an especially vindictive move, Massey refused to allow miners time off so that they can attend the funerals of their coworkers.

Massey has everything a mine operator could want. They buy off judges and have political connections. They disregard safety rules and get away with it. They make sure that an honest man will never last long as a safety inspector and maintain a blacklist of people who it will not hire. Speaking out against the company will affect not just a worker, but also his relatives and family members. Workers said that the police would not defend their families against even the most blatant robbery. The main role of the police, they said, was to protect company property.
And we cannot defend ourselves against even the most blatant corporate robbery because the main role of the government is to protect corporate property and profits.
This is a gangster economy. Every politician in Washington damn well knows it. But they will never do anything about it unless the streets of that crime syndicate they call a capital are filled with Americans who finally understand that discussing the issues hasn't accomplished a fucking thing, who finally understand that nothing is ever going to change unless there are massive protests in the streets, unless there is civil disobedience on a scale this country has never seen before.
I'm told that will never happen.
By progressives who like to discuss the issues.
While they dig for coal in this nationwide mine, while everyone they know digs for coal in this nationwide mine, owned by CEO's who buy off judges and have political connections, who violate the law and get away with it, who tell us every day with every action they take that our lives don't matter, that no one's life matters, that all that matters is corporate profit.
We can stay down here forever . . .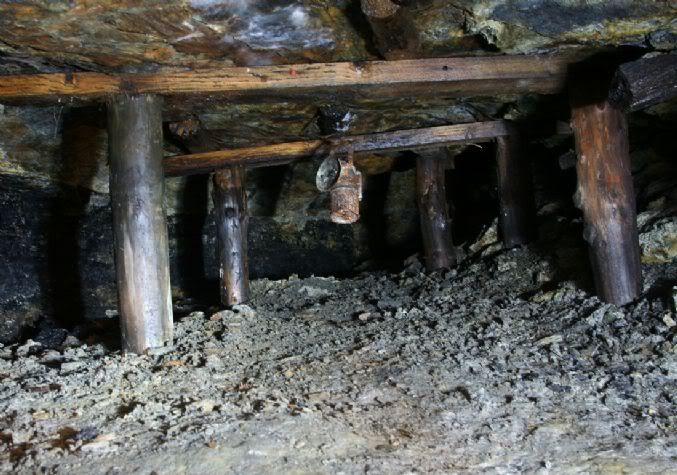 Or we can get out of this mine before it blows up, we can tell those mine bosses in Washington that our lives matter, we can tell them that in the streets, we can keep telling them that until this gangster economy is gone and we have an economy, a democracy, a political system and a government based on justice and equality instead of greed and exploitation.