(11 am. – promoted by ek hornbeck)
Last night, McClatchy reported that the first globs of crude oil from the wreck of the Deepwater Horizon were washing up on to the Louisiana delta shores of the Gulf Coast.
The wind forecast for today in the Gulf of Mexico near New Orleans, Louisiana, is from the southeast.

http://forecast.weather.gov/Ma…
Map of April 30 2010 Friday forecast of the BP Oil spill trajectory, in tan. Other days shown in other colors. Black asterisk at lower tip of light blue shows location of broken Deepwater Horizon well in the Gulf of Mexico. Image courtesy of NOAA


Thursday afternoon April 29 satellite photo, color enhanced, of the BP Oil Spill just about to touch shore, upper left. MODIS Terra 1 Channel 2, 11:49 am CDT, image courtesy of the Louisiana State University Earth Scan Laboratory.
*

*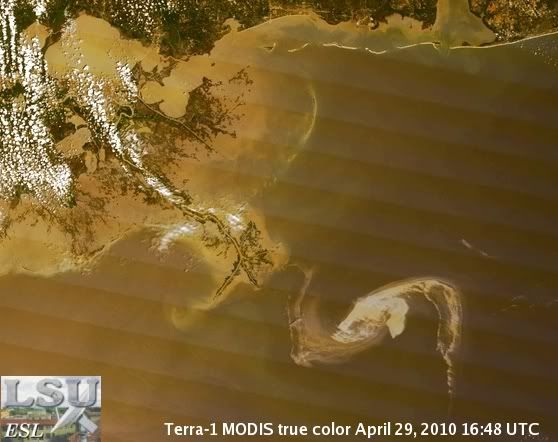 True color satellite photo of BP Oil Spill, taken Thursday afternoon 16:48 UTC = 11:48 am CDT, plume about to to touch shore, upper left. Terra 1 MODIS image courtesy of the Louisiana State University Earth Scan Laboratory
http://healthygulf.org/blog/ Gulf Restoration Network says they flew over the site last Sunday and Monday, 4 days ago, and did not see any active booming containment or skimming operations going on at that time. They have been posting images of the oil spill, as provided by the Earth Scan Laboratory at LSU, http://www.esl.lsu.edu/home/ and other weather related images of the Gulf of Mexico and Caribbean Sea.
From NOAA's Emergency Response page, latest update here:

http://response.restoration.no…

Situation: Thursday 29 April evening update

Today the Deepwater Horizon incident declared a Spill of National Significance (SONS). A SONS is defined as, "a spill that, due to its severity, size, location, actual or potential impact on the public health and welfare or the environment, or the necessary response effort, is so complex that it requires extraordinary coordination of federal, state, local, and responsible party resources to contain and clean up the discharge" and allows greater federal involvement. Estimates of the release rate increased to 5000 barrels (210,000 gallons) per day based on surface observations and reports of a newly discovered leak in the damaged piping on the sea floor.

NOAA is assisting the Unified Command in evaluating a new technique to apply dispersants to oil at the source – 5000′ below the surface, if successful this would keep plumes and sheens from forming. Work continues on a piping system designed to take oil from a collection dome at the sea floor to tankers on the surface; this technique has never been tried at 5000′. Drilling of a relief or cut-off well is still planned, but will not be complete for several months.

Dispersants are still being aggressively applied. Over 100,000 gallons have been applied. The test burn late yesterday was successful and approximately 100 barrels of oil were burned in about 45 minutes. Additional efforts are planned contingent on good weather.

With shore impacts looming, sensitive shorelines are being pre-boomed. Over 180,000 feet of boom have been deployed, and another 300,000 feet are forward staged. NOAA efforts have included: getting pre-impact samples surveys and baseline measurements, planning for open water and shoreline remediation, modeling the trajectory and extent of the oil, supporting the Unified Command as it analyzes new techniques for handling the spill. Natural Resource Damage Assessment (NRDA) activities are also underway.

Forecasts indicate persistent winds from the southeast through the weekend which will push surface oil towards shore

The State of Louisiana allowed shrimpers to start an early season today to get ahead of oil impacts

NOAA's Assessment and Restoration Division (ARD) is evaluating concerns about potential injuries of oil and dispersants to fishes, human use of fisheries, marine mammals, turtles, and sensitive resources

ARD is coordinating with Louisiana, Mississippi, and Alabama to evaluate plankton and trawl sampling efforts.

Baseline aerial surveys to assess marine life were conducted today with personnel from NOAA's National Marine Fisheries Service (NMFS), these will continue as needed.

In other words, they're going to try to apply something like industrial strength Dawn dish detergent and some sort of solvent to the crude bubbling out of leaky pipe area almost a mile underwater, and see what happens.
From across the pond, the Guardian, the news is realistic and grim. (Remember, that's the homebase of this oil company.) BP is planning to try to lower a steel funnel cap onto the well, but it is going to take 4 weeks, meanwhile, over 5 to 6 million gallons of oil could spill, (my calculation) and if that doesn't work, they would try to drill a relief well.

http://www.guardian.co.uk/envi…

from the video (Thursday's Press Conference) –

"It is our goal to not allow the disruption of traffic on the Mississippi River. This region needs this important economic lifeline, we did remarkable things with the DB32….. allowing ships to keep moving, we had it up and running in record time that's our goal in this we can not disrupt maritime commerce. "

– Rear Admiral Mary Landry

Our response is focused on stopping this thing as fast as we can, and actually fighting it much of it offshore, as the admiral has stated many many times, and then trying to protect the shoreline, and then where and when it does reach the shoreline, be prepared to clean it up.

Doug Suttles, Chief Operating Officer, BP Oil

President Obama – …. potentially the DOD to address the incident

The relief valve is the final and most assured final step, to drill down the 19,000 feet to where the formation is, and to block off where the well is now open.

This particular well took 90 days to drill. So we're just estimating that it could take up to 90 days to put the relief well in.

– David Hayes, deputy Secretary of the Interior
More from the Guardian UK NewsBlog latest updates:

10:50 am Dr Simon Boxall, National Oceanography Centre, Univ of Southampton

http://www.guardian.co.uk/news…

"Oil extraction from the deep sea is new and the technology used at the cutting edge. Well head incidents on land or in the shallow (50-100m) North Sea are relatively easy to cap and the methods are tried and tested. At 1500m the (well) head is as easy to get to as if it were on the moon. The water pressures are huge and the logistics very complex. This incident was unfortunately going to happen somewhere in the Gulf of Mexico one day and it has now done so. BP are in the unfortunate position of having to pioneer ways of dealing with it which are new and untested and this will take weeks if not months.

/snip

"Where intervention is needed is where the oil is pushed ashore into commercially or environmentally sensitive areas such as the Gulf coast's wetlands. Home not only to a thriving fishing industry but also a substantial nature reserve the potential for damage is enormous. Booming the area off with floating dams to protect these areas is the best option but the size of the spill will exhaust the world's supply of oil booms very quickly. Recovering the oil as it surfaces is also an option, but the mile journey from the sea bed means it doesn't surface as a neat pool to tackle. We just need to hope that the oil engineers can come up with a solution to cap the well soon and that the winds blow offshore in the meantime."

Shrimp fishing season was started early in an attempt to salvage some of the harvest. It is also nesting and breeding season for seabirds, shorebirds, otters, turtles, and the spill is near a tuna fish breeding grounds.
Finally, somebody from the government comes out of the mass produced coma of acting insouciant during an environmental disaster:


"It is of grave concern," David Kennedy of the National Oceanic and Atmospheric Administration, told The Associated Press about the spill. "I am frightened. This is a very, very big thing. And the efforts that are going to be required to do anything about it, especially if it continues on, are just mind-boggling."

The Governor of Louisiana, Bobby Jindal, declared a state of emergency Thursday, which allows the state to seek federal money and National Guard assistance. According to his office, at least 10 wildlife refuges in Louisiana and Mississippi are in the direct path of the incoming oil. Gov. Jindal has shown signs of recovery from his gaffe about volcano monitoring since Eyjafjallajokull, and is ordering the state to monitor the situation. http://news.yahoo.com/s/afp/20…
Per David Axelrod, on a talk show early this am, the WH is going to stop drilling new offshore wells until a study of what went wrong with this one is completed.
Senator Mary Landrieu, (D, LA) on Thursday, April 29, 2010 continues to be called a "moderate" by the MSM for statements like this:

"We must continue to drill. Should we have our oil coming 100 percent from Saudi Arabia or Venezuela or Honduras or West Africa? We have to take responsibility to drill where we can drill safely. Out away from our shores is as safe as we can be. We obviously have to improve our technology, and that we will. Retreat, we won't."
Kill all of our fellow creatures and plant life off, then ourselves, we might.